Global Flavours For Alluring Nut Snacks
Monday, April 27th, 2020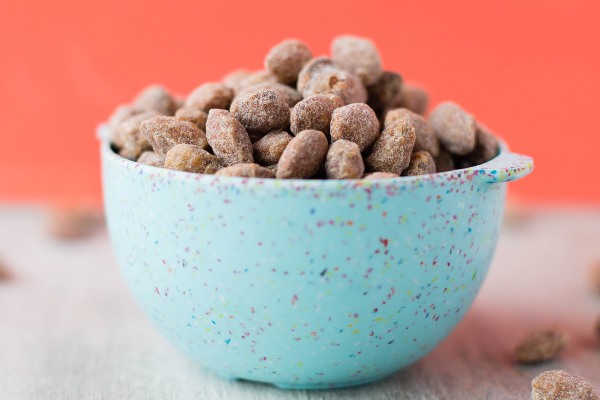 Trending: Mass Appeal For Coatings & Regional Tastes. By Heat And Control.  
Crispy, coated nuts with explosive flavour and crunch are timeless favourites for snacking. Popular around the world for centuries, nuts have maintained their popularity, catering to flavour preferences and consumer demand.
Global snack trend reports have highlighted the nut snack as a market segment to watch. Potential growth is driven by the perception that nut snacks are healthier alternatives to regular snack offerings. For consumers looking to choose healthier options when snacking, nuts have always been a core offering. Nuts, alongside avocado and salmon, are high in calories but are very healthy due to their nutritional value, making them a satisfying and healthy alternative.
Coating options and flavour combinations are limitless. With new exploration in coating flavours and finishes, the snack industry is unlocking new favourites beyond traditional salty and sweet. Exotic flavour recipes are used as a means of charging a premium price point or appealing to specific taste profiles in domestic markets and export.
AROUND THE WORLD
The coating drum by spray dynamics (a Heat and Control brand) offers reliable coating for nuts and other snack foods. 
There are many versions of flavoured dough-coated nut snacks made in batches for centuries around the globe and as such, they can appear in various forms. The most popular dough-coated nuts are whole roasted peanuts with baked-on coatings, designed to crunch open with flavour, each time you take a bite.  Deliciously crunchy and addictively salty-sweet, the Middle Eastern version is the Kri Kri—now popular around the world.
In Japan, there is an equivalent coated nut variety called Yoshino, or 'Dinosaur Eggs'. They are on the crunchy side and mixed with other rice cracker-style snacks. Japan is also known for savoury Tamari coated nuts.
Quality is immediately detectable in all nut snacks, defined by crunch, consistency, freshness and flavoursome ingredients. Savoury coatings are an area for potential growth for the coated snacks and nuts market in the next five years as consumers seek out low-sugar alternatives.
On the sweet side, candied and flavoured coated nuts are also very popular. Sugar-conscious gym enthusiasts have also inspired the development of nuts coated in a whey-enriched confection coating and dusted with cocoa, providing an extra hit of protein to support nutrition goals.
Candy coated nuts are traditionally sought after for celebrations and weddings. Other variations include chocolate, honey, salted caramel, mocha or yoghurt-coated nut snacks. In the past, snack manufacturers have focused on distinct snack offerings like nuts, salted or natural. In the future, the market will offer more evolved hybrid options and flavours like mocha-choc coated nuts, coated nuts in premium cereals or sprinkled on grab-and-go ice-cream cookies*.
The healthiest component of these more-ish snacks is the humble peanut. A study of over 120,000 people found higher peanut intake was associated with lower death rates*. The widely available ground nut contains protein, Vitamin C, niacin, manganese and folate. Peanuts also contain the same antioxidant superfood, resveratrol, found in red wine and grapes. As a source of healthy fats— consumers recognise the health benefits of nut snacks.
Nuts remain one of the most versatile snacks on the market. They're plant-based, a great source of protein, fibre and healthy fats. Nuts have been identified as a key snack industry pegged for growth—as a better for you option to other snacks. With the key whole-nut component, consumers perceive this snack option as healthier with better protein and fibre levels. It's often a go-to when catering for plant-based diets or for outdoor adventure snacks (in the form of nut bars and trail mixes).
With consumer purchasing decisions often being shaped by options and variety, the market welcomes new flavours and ongoing product innovation. From wasabi to sugar-coated, spicy barbeque and honey turmeric, there may be a flavour option for every discerning palate.
Reliable, consistent product is key to long-term success in the food industry. If product noticeably varies, it can be a major problem for food manufacturers who build their brand on quality and consistency. The Spray Dynamics range of coating systems by Heat and Control ensure even and consistent application and finish. Heat and Control offer everything you need to kick off your new coated nut project today. Fundamental to premium dough coating technology is the Centrifugal Batch Coating System—a fully automated batch coating system with unique centrifugal coating action that offers precise control of batch size and delivery of liquid and powder to maintain consistency of the finished product.
Typically, the dough coated nut starts with raw peanuts that have dough applied in the Centrifugal Batch Coating System where many layers can be applied (often as many as 25 layers). A sugar-based tack is applied followed with a flour and starch blend to build up the coating. The nuts are then either dry or oil roasted. Savvy food manufacturers seek systems that can output high volume continuous drying or roasting with uniform results, batch after batch.
For dry-roasted dough-coated nuts, experts recommend something alike the Rotary Dryer Roaster (RDR) which helps keep the product round but also roasts the peanut and creates the cracker crust.
These crispy, savoury balls are a popular snack food with a little hit of protein thanks to the nut inside. Engineered equipment creates these cracker-style nuts and Dutch Borrelnootjes nuts with the popular expanded bite. For oil roasted nuts, Heat and Control has a variety of suitable fryers and roasters.
Depending on your desired finish, the coating process can be achieved by processing on a dedicated piece of equipment—as part of a larger system of food production. For both oil or dry roasted nuts, we can use our two-stage seasoning system to create many different product options and flavours.
Combined oil and dry systems are used on snacks, like nuts, that lack natural tack. Slurries can be configured with dry ingredients for secondary coatings. Brine and starch coating are popular coatings for nuts throughout Asia—usually a water-based coating and done directly after the dry roaster and before the cooler. Making use of the heat in the nut from the roasting process, water flashes off leaving only salt behind. Some coatings are added to enhance the product to make them more visually or aromatically enticing. Other coatings are chosen to add and enhance the flavour on the finished product.
While nuts can be processed and package with multiple combinations, the best-selling to date have been roasted, seasoned, coated, and or glazed. Will the next big trend in nut snacks be one of these or a combination with new flavours?
YOUR BEST COAT
From simple salt and dry seasoning varieties to the application of sweet coatings like chocolate, yoghurt or candy coatings, coated nuts need equipment that can cater for full scope of flavours and finishes.
Modern coating solutions ensure the consistent application of coatings with two-stage coating systems delivering consistent, uniform application of liquid and dry coatings. The Two-Stage Coating System was engineered for calibrated dwell time and product-appropriate flight timing.  Accurately measured, spray-on liquids and dry powders applied by Two-Stage Coating Systems provide even coverage and ideal product consistency. A wide range of in-line seasoning systems and applicators can be tailored for oils, seasonings, vitamins, tack and release agents—ideal for perfecting the next big trend in nut snacks.
In-line seasoning and On-Machine Seasoning systems save valuable space in production facilities while ensuring even application for all batches. Flavours can be swapped efficiently and effectively to create multiple products each shift with minimal downtime.
Belt Coaters and the Slurry Spray Systems optimise the efficiency and quality of your process and finished products for snacks, confectionery and coated nuts. Engineered to maximise coverage and minimise waste, slurry spray systems can spray virtually any pumpable slurry, including seasoning, salt, anti-clumping agents, oil, or emulsion. Spray Dynamics is an industry leader for controlled application of liquid and dry ingredients including oil and water-based coatings, slurries, antioxidants release agents and other coatings.Selecting the best application method for coating will greatly affect the taste and appearance of the product. An investment in quality equipment can ensure a better, consistent product and save costly product giveaway. Superior product achieves the right balance of flavour application, good adhesion to the base product, and has been applied with the correct method, paired with gentle handling to ensure retention. Heat and Control's team of experienced system designers offer a wealth of insight to your projects' best system configuration for coating and seasoning. What do you want to create today? Contact Heat and Control to discuss how our solutions can add value to your operations.
*References available upon request.
Check these articles out:
Heat And Control's New Website Inspires New Product Development
Nestle Discontinues Low-Sugar Chocolate As Manufacturers Face Challenges In Developing Healthy Options
Microwaveable Crumb-Coated Snacks With Perfect Crunch
Research Earns Pistachios 'Superfood' Status For People With Desk Jobs
Mondelēz International Explores Evolving Global Consumer Snacking Trends
Snack Manufacturing: Potato Chip Manufacturing Thrives On Efficiency
Study Edible Nano-Coating Extends Shelf Life Of Perishable Food
High Pressure Processing: A Powerful Tool For The Food & Beverage Industry
"ZeroFry" For Crumb-Coated Snacks Without Ever Deep-Frying
SHARE WITH FRIENDS:
TAGS: