Gaining An Edge In Bakery
Tuesday, September 19th, 2017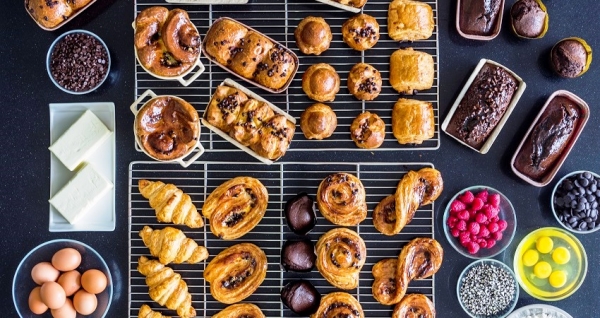 Bakeries and cafes are becoming more popular in Asia, as are their baked products and pastries. How can manufacturers continue appealing to consumers and gain an edge in the market? By Connie Kwan, co-founder & chief operating officer, Aalst Chocolate Private Limited
Catching on like wild fire, the hipster culture boosted the numbers of bakeries and cafés in Asia Pacific and this change impacted consumers' choices for baked goods. The growing awareness and preference of Western-style bakeries in Asia Pacific accounted for 76 percent of volume growth in pastries over 2008-2013 while cafés have witnessed a three percent value growth in 2015 to reach S$2.2 billion (US$1.61 billion).
Due to urbanisation and increased disposable income, consumers now enjoy novelties of baked goods and are willing to pay a higher price for them. The strong presence of artisanal retailers such as Bread Talk and Four Leaves in Asia Pacific ensures consumers can easily access artisanal baked goods. The expansion of new boutique bakery stores also contributes to the better performance of artisanal retailers.
With the new found sophistication in consumption patterns, consumers hunt for 'instagrammable' desserts to beautify their social media posts. The majority of consumers consider artisanal retailers to offer high-quality products and continue to innovate with new flavours. Retailers cater to these ideologies by coming up with unique desserts while ingredient manufacturers tap into the trend by creating product ranges tailored for artisanal users.
The Ability To Customise
With the need to face fierce competition among the other establishments, there is an increase in demand of customisable raw materials which retailers can use to create unique desserts/pastries that they can truly call their own. There is no doubt that chocolate manufacturers have to jump on the wagon and adapt their formulations towards the demands of consumers.
These demands can comprise that for the right ingredients, right intensity and the right aroma to create the desired taste. Personalisation, a big thing in the consumer industry as well at present, should also be possible for consumers, including customisations such as single origin, no added sugar, or soya substitutes.
Going Healthy
Health is a big trend in food. The growing global burdens of obesity and diabetes prompt consumers to question their habits. Medical researchers have linked sugar overconsumption to diabetes, cardiovascular disease, and hypertension.
Globally, an estimated 422 million adults were living with diabetes in 2014, compared to 108 million in 1980. High levels of consumer awareness of diabetes triggered the increase in diabetic bakery retail sales in Asia Pacific.
Ingredient manufacturers are expected to constantly develop innovative and healthier variants in order to cater to the increase of general health consciousness. Manufacturers have thus begun altering formulations to include less or no sugar, sugar alternatives such as stevia or sucralose, or other ingredients such as fibres with a sweet taste; these ingredients therefore do not compromise the taste of original products, but contribute to a healthier as well as diabeticfriendly range of bakery products.
Small Is Key
Artisanal bakery shops and boutique bakery stores tend to buy ingredients in smaller volumes due to the scale of their businesses and preferences for smaller packaging sizes so as to maintain freshness in their ingredients. Ingredient manufactures have to ensure products are packaged appropriately and in line with current trends, but many have production machines that only produce a single packaging format, causing them to lose out to competition.
The importance of rightsizing is the key to win. For example, with one of the brands by Aalst Chocolate which serves the food industry, they have invested heavily in the production line for these smaller packaging and maintain freshness by working with their supplier to determine the best material to use for individual packaging.
This enables them to create smaller yet 'freshness guaranteed' packaging options to the retailer to satisfy the market. Retailers can hence have the flexibility of portion control without the pressure of ordering a huge minimal quantity.
Sourcing For The Best, With Caution
As competition intensifies in the bakery segment, everyone is looking to differ from others in terms of taste and appearance and believe the relative importance of value-added and quality. Competitors are always looking to get ahead of the market and constantly improve their product ranges.
To create the best desserts and pastry, ingredients are the key; choosing and meeting the right suppliers (even if they reside on the opposite half of the globe) can make a world of difference, and food safety should still be a priority.
Purchasing manager of Aalst Chocolate Esther Lim commented: "Some of our suppliers do have agents or distributors in Asia, however it's best for us to head directly to the principal to look and taste their full product range of ingredients, and also check if their facilities are certified. Food safety is always the primary concern for us."
"It is imperative to act responsibly in order to meet both present and future demand," emphasised Richard Lee, the company's founder and chief executive officer. With a broad network of suppliers in key cocoa-growing regions, the company can ensure a reliable supply chain even in unforeseeable complications.
Looking Into The Future
The bakery segment does not look to slow down anytime soon in the near future especially in Asia. Sales of bakery products in Asia are likely to increase twofold due to regional economic growth and the accompanying increase in purchase power according to Euromonitor International research.
With more emerging markets growing economically and their middle class consumer numbers on the rise, bakery products, which are still seen as luxurious foods in some places, will likely be in high demand. However, as consumers are becoming more aware and educated of the importance of health, ingredient and bakery manufacturers need heed the current consumer trends of using healthier and natural ingredients in order to stay competitive in the market.
SHARE WITH FRIENDS:
TAGS: