Future-Proofing Food Handling Processes With Advanced Conveyor Technology
Friday, August 3rd, 2018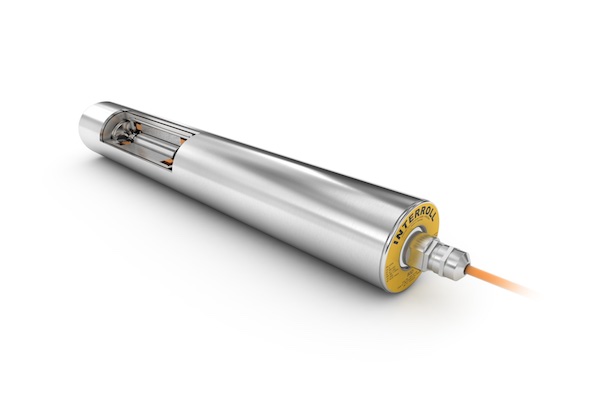 Managers are increasingly turning a keen eye toward equipment modernisation to cut costs, increase operating efficiencies and reliability, and integrate with Industry 4.0, says Stefan Hamacher, Technical Sales Drum Motors And Controls, Technology, Interroll Group.
As growth in various manufacturing industries continues to increase, powered conveyors have become the heart of modern-day material handling systems. Research conducted by Interroll Group estimates that the Material Handling Equipment Manufacturing (MHEM) market was valued at 120 billion CHF in 2015 and will continue to grow at a CAGR of up to seven percent by 2020. This growth is driven directly by the increasing need to handle larger volumes and more diverse materials and goods. With this changing landscape—as well as the demand for faster and more precise workflows—facility managers are faced with a compelling reassessment of their current conveyor systems to maintain competitive advantage and meet increasing efficiency requirements.
The trend is particularly relevant in the food handling and food manufacturing industries. Managers are increasingly turning a keen eye toward equipment modernisation to cut costs, increase operating efficiencies and reliability, and integrate with Industry 4.0 to customise conveying processes for a vast array of different goods, all while also maintaining and improving hygiene and food safety throughout their facilities.
One significant area of focus in conveyor systems is a trend toward drum-motor drive technology. Although external gear motors are traditionally used to power belt-conveyors systems, drum motors offer a major advantage due to the fact that the drive mechanism is fully enclosed in a crowned stainless steel or cylindrical steel shell with caps and seals at each end. This shields the drive components from contaminants, a worthy design element to consider for food environments where hygiene and thorough, regular cleaning are critical. The sealed case also makes the motor easier and more cost-effective to fit, service, repair and clean.
Drum motors offer significant advantages over traditional gear motors for the food industry by outperforming gear motors in terms of hygiene, ease of installation and maintenance. They also have advantages in terms of overall energy efficiency, while also mitigating workplace noise and minimising space requirements.
Asynchronous VS. Synchronous: A Choice Worth Considering
Future-proofing food handling conveyor systems may also require facility managers to make a choice between asynchronous and synchronous drum motors. Asynchronous motors are more commonly used in industrial environments because they are robust, comparatively cheap to manufacture, and can operate at constant transport speeds without the need for additional electronic control systems.
In comparison, synchronous motors can satisfy a considerably wider range of applications and offer a host of advantages when installed in food manufacturing and processing conveyors. Consider:
Customisable velocity. When using synchronous motors, the range of possible transport speeds is significantly larger compared to asynchronous motors. For this reason, synchronous motors suit more versatile flowing processes, where goods may need automated packaging—as required for dairy, poultry and other food items.
It is possible for asynchronous motors to operate at variable speeds, but only by installing adjustable frequency drives that are within the design limitations. Unfortunately, these drives can be expensive. If your operations require installing a variable frequency drive, consider opting for a synchronous motor designed to function with a variable frequency drive and not the older asynchronous technology.
Advanced automatic filling. In addition to offering a wider range of speeds, synchronous motors enable quick and frequent start-and-stop capabilities. This is an optimal control feature when handling intermittent flows of materials, such as the mechanical filling of food containers and jars, or with the processing and sealing of meat and more multifaceted goods.
Synchronous motors can also include sensor technology, which boasts significantly more precise speed and positioning behaviours—a necessary requirement in automated food-cutting processes, for example.
Added overload flexibility. Synchronous motors are more "overloadable," meaning the conveyor belt can handle loads at maximum capacity multiple times in a shorter time period without experiencing electrical or mechanical problems. This is especially useful when the belt is required to speed up or slow down quickly and dynamically, down to the millisecond.
Improved energy efficiency. Unlike in an asynchronous motor, the magnetic field in a synchronous motor's rotor is generated by permanent magnets and does not require additional energy to create a magnetic field. This allows the motor to operate at higher efficiency levels over a broad range of time using less electricity to generate the same mechanical power, which helps reduce the overall cost of running the machine.
Reduced contamination risks. Synchronous motors, as well as some of the newer generations of asynchronous systems that include a "platform motor," are certified by The European Hygienic Engineering & Design Group (EHEDG). This makes drum motors increasingly more suitable for fish and meat processing and handling, where hygiene is critical to prevent foodborne illness, contamination and bacteria growth.
Increased power. Compared with an asynchronous motor, synchronous motors can pack more power into a smaller dimensional space, due to the small frame of the permanent magnet rotors. Conveying systems equipped with smaller drum-shell diameter synchronous motors are significantly better equipped to transfer small goods to a downstream conveyor belt, which is a typical apparatus for bulk bag and bottle filling of grains, cereals, liquids and processed foods.
Worth The Investment
A forward-thinking deployment of drum-motor conveyors can help facility manufacturers generate considerable savings in their day-to-day operations—and not just because of the higher reliability, improved hygiene, ease of installation and lower energy costs, but from a wide range of application integrations that will also save space and reduce maintenance needs. Incorporating drum motors into conveying systems, especially with versatile and efficient synchronous technology, will future-proof food handling systems to accommodate an evolving industry landscape shaped by dynamic new trends and regulations.
Want more insider news? Subscribe to our e-book now!
SHARE WITH FRIENDS:
TAGS: