Food Safety During A Global Pandemic
Wednesday, December 23rd, 2020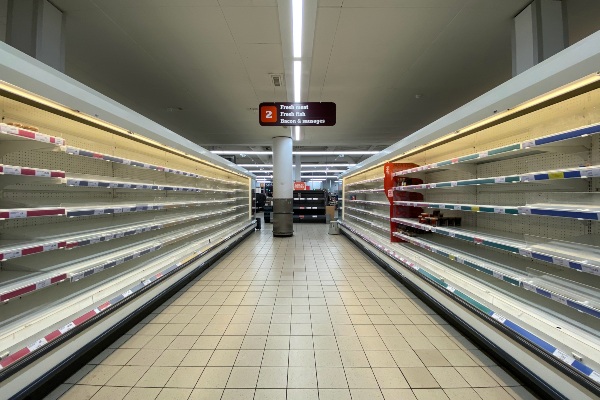 It is clear that in the F&B industry, the adoption of digital solutions is essential as safety and risk compliance becomes paramount. Blockchain technology, artificial intelligence, and intelligent packaging designs, among others, will lead to a more resilient, robust, and safe food supply chain. By Dr. Nadiah Ghazalli, Chemicals Materials and Nutrition Unit at Frost & Sullivan
The COVID-19 pandemic has brought the issue of food safety into stark focus, particularly in the face of an increasingly globalised agri-food supply chain. Early reports traced the novel virus to an unregulated wet market in Wuhan, China, where close proximity of humans and live wild animals that harbour the coronavirus was thought to facilitate the zoonotic jump. The novel virus has since spread across the world, infecting more than 35 million people as of early October 2020 and causing the deaths of 1 million people. In terms of economic impact, the IMF has estimated that global GDP growth will decline by -4.9 percent this year, along with millions out of jobs, businesses shuttered, and the supply chain upended. 
New Safety Measures
While the global shutdown was devastating to many, the F&B industry was mostly spared due to the essential nature of the sector. New safety protocols were implemented in workplaces and plants: physical distancing, compulsory mask wearing, frequent hand washing, regular sanitation of surfaces, and daily temperature checks. There is increased pressure on the industry players to assure the consumers that 1) their product is safe to consume, and 2) their employees are working in safe conditions. At the same time, the industry also needed to ensure continuous production at such a critical time, particularly with the closures of international borders and trade flows. 
Throughout the supply chain, food safety surveillance and regulations were also increased as more became known about the virus. A study published in early September showed that SARS-CoV-2 can survive up to 8 days on chilled salmon, prompting China to increase safety measures that included testing for presence of the virus on food packaging, and instituting import restrictions and penalties for safety breaches. It is important to note that there is no evidence that coronavirus can be transmitted through food consumption, but the finding exposed yet another contamination risk within the supply chain. Now, close to a year since the virus was first discovered, the situation continues to be fluid, and will remain so until a vaccine is discovered and distributed.
Consumer Trends: Health & Safety First
Consumers are prioritising food safety and health as a result of the pandemic. There is an acute demand from consumers to know more about the origin and nutritional value of their food, and a surge in interest for immune-boosting ingredients. Concerns about dining out, compounded by stay-at-home measures in many APAC countries, resulted in the popularity of home cooking. Industry experts have also observed an accelerated shift in preference towards plant-based diet, stemming from the increased awareness of zoonotic diseases, and strengthened by the understanding of health and environmental advantages of reducing meat intake. Consumers also became reliant on e-commerce solutions, with food and grocery deliveries seeing an explosive rise during the lockdown.
Safeguarding The Food Supply Chain With Digital Solutions
The food supply chain of today is highly interconnected and complex. Many countries have come to depend on imports to meet some of their staple nutritional needs, and vulnerabilities in the supply chain can severely undermine food security during a critical time. These gaps came to light in the wake of the global trade shutdown in the first half of 2020. According to FAO, which carried out a COVID-19 impact assessment on the food supply chains in APAC, these weaknesses include insufficient storage infrastructure, low diversity of supplies, and dislocation of labour.
How do we solve for these inadequacies and prepare for the uncertainties that lie ahead? Digital solutions based on blockchain, artificial intelligence, and intelligent packaging are some of the emerging technology trends that are set to transform the F&B industry. 
Blockchain
Blockchain technology, which is essentially an immutable ledger that records every single transaction by every single participant, is particularly timely in the context of the need for end-to-end traceability. IBM's Food Trust is a blockchain platform that allows companies to identify cracks in the supply chain and quickly pinpoint the cause of a food safety breach. The modular nature of the platform also allows the user to integrate with compliance management and data management modules to enhance visibility.
There are already stakeholder initiatives in place to support blockchain implementations. The Asia Pacific Provenance Council was established in May, a joint initiative between Australia and China, with the main objective of establishing a blockchain-based financing system for food supply. Earlier this year, Australia published the National Blockchain Roadmap, identifying the agri-food sector as one of the key beneficiaries. Given the popularity of the Australian brand, wide adoption of blockchain technologies by Australian suppliers would likely trigger a ripple effect in the rest of the APAC region. Importantly, it will foster more robust market connectivity between producers, suppliers, and end users, leading to a more resilient supply chain.
Artificial Intelligence
Artificial intelligence will also play a key role in food safety and compliance. Kewpie in Japan has utilised AI-based object recognition to distinguish between defective and quality potatoes that are processed into baby food. The AI-assisted quality control has reportedly resulted in US$ 100,000 in savings per production line. KanKan AI, based in China, has launched a facial recognition software that can be used to monitor mask-wearing compliance in food handling establishments with 96 percent accuracy. 
APAC is well-positioned to be the central hub for AI innovation. China has pledged 1 trillion RMB by 2030 to realise their Next Generation AI Development Plan. Similarly, Singapore, India, and Japan have launched strategic AI roadmaps that include talent development, R&D investments, and technology incubators. Japan will also implement a standard data format to facilitate big data analytics.
Intelligent Packaging Design
Packaging plays an important role in ensuring food safety, and is perhaps the most important tool from the viewpoint of a consumer. In the days of the pandemic, minimising packaging waste had been relegated to a lower priority due to the more pressing concern of maintaining high standards of hygiene. During the 8-week lockdown in Singapore, deliveries of packaged meals and groceries accounted for an additional 1400 tons of plastic waste (S. Bengali, 2020, LA Times), with the rest of the region showing similar trends. It is an unfortunate consequence at a time when most countries in Southeast Asia are beginning to take concrete steps to ban single use packaging and improve solid waste management. However, many view this as inevitable but temporary setback, and companies and consumers alike are still steadfast in their commitment towards sustainable packaging. 
Indeed, there is a pressing need, now more than ever, to provide sustainable packaging solutions without compromising on hygiene, safety, and quality of the content. There is also the opportunity to add functionality to packaging that will integrate well with track-and-trace solutions, such as smart labels and biosensors for in situ and real time detection of foodborne pathogen. Despite the low risk of viral transmission through food consumption, consumers are understandably cautious of any potential cross-contamination during handling of the product. Active packaging incorporated with antimicrobials, such as silver nanoparticles (AgNP), is an area of active research. AgNP has also shown antiviral activity against the novel coronavirus in laboratory conditions, giving it tremendous potential for food packaging applications. For market ready solutions, incorporation of QR codes and RFID tags can streamline traceability throughout the value chain, while augmented reality content on the packaging can promote consumer engagement and brand loyalty.  
In A Nutshell
It is clear that in the F&B industry, adoption of digital solutions is essential, as safety and risk compliance becomes paramount. Government and industry stakeholders, including consumers, can also play their part in creating a conducive ecosystem not just for large enterprises, but for those operating in a smaller scale as well. Blockchain technology, artificial intelligence, and intelligent packaging designs, among others, will lead to a more resilient, robust, and safe food supply chain. 
Check these articles out:
Zebra Study: Only Two In 10 Consumers Have Complete Confidence Their Food Is Safe To Eat
Cracking The Food Safety Code In A Global Supply Chain
Euromonitor report: COVID-19 to Slow Sustainability But Create New Opportunities In Southeast Asia
FMCG Brands Capitalise On Innovation Trends To Drive Business Growth In The New Normal
Challenges & Opportunities In The Halal Market Within Southeast Asia
Tetra Pak Acquires eBeam Development And Manufacturing Operations For Sustainable Packaging Lines
SHARE WITH FRIENDS:
TAGS: