Eyeballs On Elderly Nutrition
Wednesday, September 13th, 2017
The Silent Generation and Baby Boomers make up the fastest growing consumer markets in the world. However, food and beverage manufacturers have barely scratched the surface in this market sphere. Why and how should one venture into this overlooked market? By Jane Rochstad-Lim
Around the globe, we are faced with one of the most challenging demographic events—population ageing. It is estimated that over 4.3 billion people lived in the Asia-Pacific region in 2014, constituting 60 percent of the world's population. Out of this number, 330 million were persons aged 65 and above. As the birth rate across the region dwindles, this number is expected to double in the next 20 years.
The challenge that the Asia-Pacific region faces with population ageing is not only the enormous increase in percentage, but also that life expectancy has increased significantly. According to the World Bank, life expectancy in Southeast Asia increased from 63 in 2000 to 68 in 2013 and in the Western Pacific, life expectancy increased from 72 in 2000 to 76 in 2013. The healthy life expectancy at birth in Southeast Asia was 54 in 2000 and increased to 59 in 2013. In the Western Pacific the figures were 65 and 68 in 2000 and 2013, respectively.
Faced with a rapidly increasing ageing population, governments struggle with the dilemma: how do you promote good health and improve the quality of life of the elderly? Also, how can the food and beverage industry contribute positively to their health?
ANALYSING THE MARKET
A study by Nielson showed that of all participants surveyed, the Silent Generation (aged 65 and above) worldwide scored the lowest (24 percent) in terms of willingness to pay a premium for health attributes. As for functional foods that reduce the risk of disease, promote good health, or are socially/environmentally responsible, only 16 percent of the Silent Generation are willing to pay a premium, and even fewer (12 percent) are willing to pay for gluten-free products.
But does this mean that manufacturers should forget about them altogether?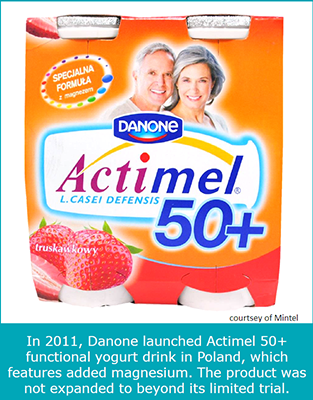 One probable reason for these statistics is that older consumers are more sceptical and critical of health claims and of the quality of food and beverage products, especially in ready-made meals. The Silent Generation is more concerned about the following health and dietary concerns compared to other age segments: heart health, salt consumption, sugar consumption, fibre consumption, bone health, immune system health, and hydration. This is established by Nielson's study, which found that sugar-free and low-sugar products are very important to the older age groups, with the Baby Boomers (aged 50-64) and the Silent Generation attributing to 37 percent and 33 percent, respectively. However, they are less concerned with their meat and protein intake and least interested in fortified/ functional ingredients than other age groups.
Global food manufacturers have responded to this trend by changing their claim categories for food and drink launches targeted at seniors. According to Mintel, the top five claim words in 2013 were 'Plus' at 41 percent, 'Convenience' and 'Minus' at 37 percent, 'Functional' 35 percent and a steep drop for the fifth word, 'Natural' at 14 percent. Only one percent of products used the 'Free from' and 'beauty enhancing' claims.
Two percent used ethical and environmental as a claim. But as the generation becomes more technologically savvy (new data shows that 59 percent of the Silent Generation in the US now use the Internet) and more informed through research and mass media, the demand for natural foods is set to rise. Baby Boomers are also set to help to grow the market, as they represent the second largest demographic group to view health attribute ratings as important in their diet.
In terms of spending power, both the Silent Generation and Baby Boomers have a much greater disposal income than those aged between 20 and 49, as many are choosing to stay in the workforce past 65 for financial security and they generally have less debt to pay. According to UN in 2010, the labour force participation of the Silent Generation was around 31 percent in developing regions, and eight percent in the developed region.
As life expectancy and disposable income increase, many industries have hopped onto the bandwagon of the ever expanding market for 'anti-ageing' products, from skincare focusing on the reduction of fine lines and wrinkles, hair-care products to target thinning and grey hair, to dietary supplements.
EYEBALLS ON ELDERLY NUTRITION
Nutrition deserves special attention among the elderly. As people age, the access and consumption of good nutrition is essential for optimal health and the maintenance of a good quality of life. Food influences are also known to affect the quality of life for the elderly. In most cases, elderly people who show interest in food and have retained a good appetite, are observed to be mobile, free-living and have the ability to live relatively independently, all of which are qualities associated with successful ageing.
Apart from nutrition, healthy ageing is also associated with a wide variety of factors such as physiology (chronic diseases, neurological changes, hormonal and sensory changes), cognitive functioning, and social and lifestyle changes. Other external factors include cultural, social and economic factors.
One of the biggest differences between the nutritional needs of adults and those of the elderly is that the elderly require less energy from their food. In a healthy elderly, the need for protein increases as lean mass is lost and metabolic rate decreases. Optimal protein intake is of paramount interest, especially for the frail and unhealthy elderly; this is because medications may lead to a loss of appetite or interfere with normal nutrition metabolism and requirements. Without intervention, this can lead to illness and malnutrition.
Taking all of the above factors into consideration, one can understand that the elderly is a heterogeneous group for which the requirements for functional food and supplements is extremely varied, creating a market sector that has much potential for growth.
So, is there a one-recipe-fits-all formula for the elderly?
No, says Ciaran Gerard Forde, principal investigator at the Nutritional Sensory Sciences, Clinical Nutrition Research Centre Singapore. "It's a very heterogeneous population and so it is difficult to say if they are all suffering from deficiencies or insufficiencies of specific micronutrients."
The Silent Generation and Baby Boomers consist of people with a large variation in functional abilities and physical and mental health. Instead, what would be more effective would be tailored interventions to combat chronic diseases and age-related changes, such as vitamin D and calcium supplements for bone health, low GI foods to manage glucose flux in type 2 diabetes, and appropriate protein quality and quantity with appropriate physical exercise to manage muscle loss, he added. Apart from their different nutritional needs, marketing a food or beverage product specifically for the older adults can be a challenge. Most people do not consider themselves as elderly, or want to be associated with words that have negative connotations of being frail and infirm. That saying, there are products that have seen success.
A good product case study is Cal-in+, a yoghurt that is specially formulated for adults by Yoplait and General Mills. The product was marketed to protect against age-associated losses in bone mass. Jayne Trovill, a famous and active ice dancer in her late fifties acts as the brand ambassador.
The success of the campaign is apparent; Euromonitor International recently reported that sales of the brand have increased by 18 percent in Western Europe over the last two years to reach US$10.5 million.
While it is important to provide food choices, it is equally important to promote awareness of the importance of healthy eating and physical activities to support healthy ageing and reduce the risk of chronic disease, support mental health and prevent disability. For older consumers, maintaining an interest in food and cooking is important and will help to stimulate appetite. It is also important to consider the social aspects of eating among the elderly, such as consuming meals with family or friends to promote the intake of healthy meals and reduce nutritional risk, said Forde.
LOOKING AT THE CURRENT PRODUCTS IN ASIA-PACIFIC REGION
According to the UN, the older population is predominantly female. In 2013, there were 85 men to every 100 women aged 60 or more. Asia was the only region to release products positioned for both women and seniors in 2013, but none were targeted specifically for senior women.
In the Asia-Pacific region, Japan and China are the biggest markets for new elderly-targeted products launches globally between 2009-2013, owning 45 percent and 37 percent, respectively. The two countries are also the most active in terms of product development with senior claims during the same period. The region's elderly-targeted product launches in 2013 covered 13 categories (Figure 1). However, according to a survey by Mintel, 57 percent of Chinese adults aged 55 to 84 agreed that there are currently lack of products designed for their age group suggesting, that there is a lot more opportunities for innovation in this market.
DESIGNING ELDERLY FRIENDLY PRODUCTS
To meet the needs of this diverse and rapidly growing population, food manufacturers should take note of the following suggestions for food and packaging modification:
Realistic portion sizes
Due to a lower level of activity, reduction of overall caloric requirement and a decline in height and weight, the elderly food portion should be smaller than that for the younger generation.
Visualisation of sizing
The general population may prefer to buy produce in bulk as they see it as value for money, but the elderly, who usually lives away from the family, finds big packaging a hassle as it is heavy to move around and contains too much to consume before the expiry date.
Nutrient-dense foods
Due to their reduced appetite and caloric needs, it is important that the elderly consume foods that are dense in nutrients such as protein, so as to provide maximum nutrition per bite.
Include micronutrients
A relatively new field of research, micronutrients can be added to food to help with malabsorption.
Texture modification
As the majority of the elderly will encounter problems with chewing or swallowing at some point of their lives, it is advisable to increase the moisture level of their food to compensate for lower saliva production. Also, soft food should be in small portions that can be swallowed easily without the risk of choking.
Packaging
With reduced motor skills, the design of the food and its packaging should be planned in such a way that it is easily handled, cut and eaten. A good rule is the 'one hand spoon' test, where the food can be eaten with a spoon or fork, using only one hand. The design of the packaging should be easy to open and the usage of bigger fonts for labelling should be implemented to accommodate their poor eye sight. Also, to be sensitive to the perception of 'elderly', manufacturers should take a measured approach in labelling products.
And finally, studies show that the Silent Generation continues to enjoy food the way other younger generations do. Therefore, to help maintain food enjoyment, it is important not only to create a good product, but also to effectively promote food intake, healthy ageing and age friendly packaging. Globally, 40 percent of people aged 60 and over either live alone or with their spouse. This is extremely important to take note when designing food products for the elderly population, not just in terms of nutrient and convenience, but also to help save on food wastage.
SHARE WITH FRIENDS:
TAGS: