Exploring The Space Between Dairy And Non-Dairy
Wednesday, November 21st, 2018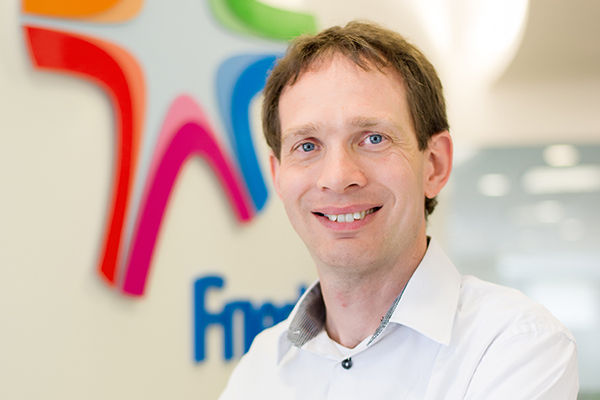 In this article, we explore the trends driving the tea and coffee market in Asia Pacific, and the latest innovations that are meeting the apparently conflicting demand for healthy, convenient, yet indulgent drinks. By Luc Steenwelle, Product Group Manager Beverages Asia Pacific, FrieslandCampina Kievit
The market in Asia as a whole is witnessing continued growth in the speciality coffee and tea sectors as a burgeoning middle class adopts new habits in beverage consumption. But with frothy cappuccinos and milk cap, or cheese tea, high in the popularity stakes, how can manufacturers also address growing concerns about diets high in fat in sugar?
The four main trends driving the coffee and tea market in Asia Pacific are indulgence, experience, health and digitalisation. Let's look at each of these in turn.
Indulgent Influences

According to the research agency Nielsen, the number of middle-class citizens in ASEAN countries is set to rise from 150 million in 2015 to 400 million by 2020, accounting for 55 percent of the population. As this new middle class explores the latest trends, the coffee shop experience is becoming increasingly popular. Research from Mintel reveals that three out of the five fastest growing retail coffee markets are in Asia.
Now, consumers are seeking to replicate the coffee shop experience of indulgence in the home, married with the convenience of speed. Be it a luxury cappuccino over breakfast, lingering with friends over a latte or a milk cap tea in the evening, the trend is towards a more creamy and milky taste.
A further challenge facing manufacturers is to tailor end product attributes to each region's particular preferences in terms of flavour, colour, 'milkiness' and so on. The figure below indicates how expectations vary, with the size of the balls denoting the important of the characteristic.
Extra Experience
As the coffee shop concept gains momentum, enjoying an exciting drink away from the home is no longer just a thirst-quenching necessity. It has become an experience in itself, with new products to try and comfortable areas to hang out with friends, or pass the time in a relaxed atmosphere. Modern millennials in particular want not just a quick fix of caffeine, but a complete experience worthy of a social media post. Today, colour, shape, texture and aroma are as important as flavour and mouthfeel.
In the quest to create memorable moments and secure brand loyalty, categories are increasingly becoming blurred. A drink can be a meal in itself (a breakfast smoothie anyone?), savoury flavours are finding their way into sweet treats—witness the explosion of salted caramel flavours—and in the RTD sector, high protein sports drinks are now combined with coffee.
For the manufacturer, the challenge today is to find compelling new ways to appeal to customers, and deliver an exciting and innovative experience is likely to gain traction on social media and thus boost sales. With this comes a move towards more milky beverages as served up in the 'coolest' coffee shops. To enhance the whole experience, many new innovations now include a frothy foam layer, including instant applications for enjoyment at home.
Better For You
The quest for a healthier lifestyle is dominating the market in Asia, as it is in other parts of the world.
Consumers want a guilt-free coffee shop treat, and that means demand for reduced or 'good' fat, lower sugar and organic alternatives. Customers look for labels they understand, with transparent information, shunning e-numbers and long chemical compounds in favour of 'real' ingredients they recognise. Products that promise to support a healthy lifestyle without compromising on taste and experience can boost sales. Indeed, new innovations are now blurring the lines between the coffee and the lifestyle/nutrition categories with high-protein coffees coming into the market. There is also a growing trend in alternatives to coffee, such as matcha, turmeric latte, charcoal latte and taro latte which by their exotic nature are seen an indulgent treat, but are also perceived to be healthy.
The concept of 'clean label' has gained dramatically in traction over the past two years via both online news and on social media. The term is no longer restricted to the food and beverage industry, and is now used by consumers to express a desirably healthy lifestyle that is both cool and accessible. Today, consumers are proactively participating in the conversation about 'clean label' rather than simply commenting or 'liking' social media posts. The graphs below illustrate consumer engagement via online and social media.
Coupled with consumers own concerns, health issues have led governments in various countries to introduce taxes and other incentives to encourage healthier choices. A total of 26 countries have now taken heed of World Health Organisation advice and interpreted the recommendations into legislation. These include the Philippines, Brunei and Thailand.
This growing awareness of health in relation to what's on the label favours dairy and milk products which are seen as natural and familiar.
Drinks Go Digital

Digitalisation is also an important market driver. The increasing purchasing power of millennials makes them an important consumer group. Their focus on showcasing their lives on social media means that it's more important than ever for products to look a certain way so that will be photographed and shared. Online consumers can easily see trends from other parts of the world, which then quickly become global.
Consumers in Asia Pacific are highly engaged in social media. There are over one billion smartphone users across Asia Pacific, and 91 percent of connected users share updates and photos of what they are doing on social networks. The number of Instagram and Snapchat users in Asia Pacific doubled between 2014 and 2016.
Buying behaviour is also changing fast, with products increasing ordered—and reviewed—online. Targeting influencers, appearing in the top rankings on review sites, and online promotion are increasingly important. While taste, lifestyle and consumer habits are still often local, requiring localized concepts, these need to be based on global trends to really deliver success. This 'glocalisation' is a key trend in today's markets.
Dairy Delights

As demand in Asia for coffee shop-style beverages increases, the use of dairy products to create a frothy foam on a cappuccino or a milky cap on a cup of tea comes into focus. So, what are the benefits for consumers of real dairy ingredients?
First of all, dairy is a natural product that is associated with healthy eating and high quality. Many authentic coffee drinks are already made with evaporated milk or sweetened condensed milk, so the concept of dairy is comfortingly familiar. Dairy products also work well with foaming Italian specialities such as cappuccino which are gaining in popularity in Asia.
One of the most important aspects of food products for consumers is being able to recognise and understand the ingredient list. Dairy applications provide that simplification. However, using 100 percent dairy ingredients is not always desirable. They can have a short shelf-life, the flavour is not always well balanced, and they are not completely stable when mixed with coffee. Importing dairy ingredients can also prove tricky as well as costly for manufacturers.
Dairy Done Differently
Non-dairy alternatives such as creamers allow end product flavour to be customised to different countries' expectations and individual preferences. They enable manufacturers to achieve a better balance between the taste of the tea/coffee and the creamy/milky/sweet notes consumers crave.
Shelf-life of up to 24 months promises greater flexibility in use than pure dairy ingredients, which is a key advantage. In terms of costs, non-dairy is a more affordable option for the growing middle class in the Asia pacific region looking for an upmarket alternative to traditional tea and coffee.
However, using all non-dairy has one major disadvantage, and that is how the ingredients appear on the label. In many countries, this means a long list of ingredients, some of which sound familiar, descending into many which do not. This does not serve growing consumer demand for a 'better for you' label with recognisable ingredients.
So, what is the answer for manufacturers looking to meet the growing trend for indulgent coffee-shop and out-of-home drinks with a frothy foam, milk or cheese cap and superior sensory properties, while at the same time delivering the comfort of a transparent ingredients list in a healthy and convenient solution?
Hot Hybrids
The apparent dichotomy between indulgence, health and convenience may well lie in a hybrid solution that marries a high percentage of dairy ingredients with non-dairy applications. Hybrids promise the best of both worlds by allowing for applications that cater to today's consumer demands and trends.
High-dairy creamers allow manufacturers to claim the dairy credentials consumers seek, without the formulation difficulties that are associated with dairy. Today's deliciously indulgent instant beverages offer a 3-in-1 solution that marries the premium taste, mouthfeel and texture consumers associate with an out-of-home treat with the convenience of an instant drink. They combine the fresh and natural properties of dairy with pleasing taste attributes and an extended shelf-life.
Conclusion
A fast-expanding middle-class in Asia, the sharing of experiences on social media and growing awareness by consumers and governments of the importance of a healthy diet are key drivers in the development of the tea and coffee market in Asia Pacific.
While historically there has been something of a divide between pure dairy solutions—which are familiar, natural and authentic—and more affordance non-dairy alternatives which fail to meet the 'clean' label trend, today's hybrid solutions promise an exciting new direction.
By marrying the attractive sensory and labelling properties of dairy with the processing and shelf-life benefits of non-dairy, manufacturers can now tap into the growing market for healthy indulgence in the beverages market.
Want more insider news? Subscribe to our e-book now!
SHARE WITH FRIENDS:
TAGS: