Ecolean Produces Packages For Liquid Food For A Reason
Wednesday, April 15th, 2020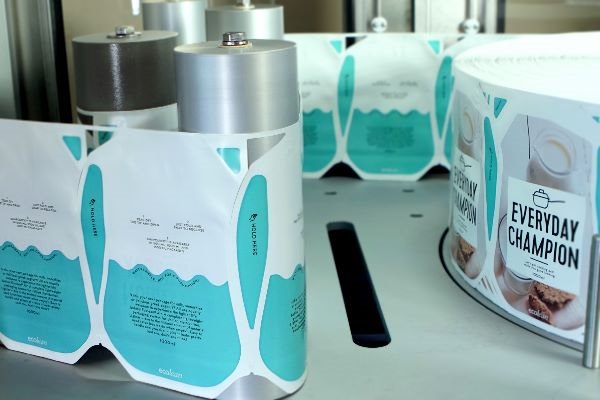 Ecolean's approach to packaging is light, to the benefit of both consumers and the environment. Producing lightweight packages using as little raw material as possible has been in the global packaging producer's DNA since the start.
With less resources used, a beneficial reduction of environmental impact can be seen through the entire life-cycle of the packages. Lighter package means lighter transport and less waste. Combining the lightweight packages' environmental responsibility with consumer convenience is equally important. The consumers using the Ecolean packages daily around the world, testify to the packages ease-of-use. To begin, just tear off the tip to open the package and hold the air-filled handle while pouring. Since the packages are flexible, you can easily squeeze all the contents out, leaving food waste to a minimum.
"We believe that we can make a difference," says Hanna Jeppsson, Communications Manager, Ecolean, "by aiming at optimal packaging—this balances food safety with low environmental impact and consumer convenience. Balance is everything and when you get this equation right, you really make a difference, for the planet as well as in consumers and customers everyday life."
Ecolean was founded in 1996 in Helsingborg, Sweden. The concept of using a minimal amount of raw material to produce a unique flexible lightweight package and efficient filling system, was established by people with great knowledge and long experience within the global packaging industry.
Today, Ecolean is a fast growing and globally expanding company that continuously develops its products in order to meet new customer and consumer demands. Ecolean offers liquid food producers around the world, its unique lightweight packages for liquid food for both chilled and ambient distribution.
Food Safety
Ecolean's ambition is to make it utterly reliable and at the same time easier for dairy and liquid food producers to manage the aseptic filling process. The food treatment, the filling equipment and the package need to form a contamination-free chain where risks are controlled or avoided. Ecolean's choice of a non-chemical alternative, using e-beam technology for package sterilisation ensures that food contact surfaces are never exposed to any chemicals. They have also separated sterilisation from the filling machines, which allows it to be handled under controlled conditions at their own plants.
Aseptic packaging is designed to protect liquid food from production all the way to the consumer, with taste and texture as unaffected as possible. Ambient packaging also has a lower environmental impact, since no energy is needed to keep dairy products or other fresh beverages cool during distribution.
"Ecolean has always had a lighter approach and sustainability as part of our complete offering, it is in our DNA. When we launched our first aseptic packaging solution for ambient distribution in 2008, we were one of the first packaging suppliers to use e-beam technology as a sterilisation method, which ensures that food contact surfaces are never exposed to any chemicals during manufacturing or filling. It was ground-breaking at that time. We are still leading, but see a few other packaging suppliers starting up," says Paul Mellbin, Senior Advisor, Ambient Technology at packaging manufacturer, Ecolean.
Ecolean's lightweight packaging solution includes aseptic, flexible packages made from polyolefins and up to 35 percent chalk, without the use of aluminum. The ready-to-fill packages are sterilised using electron beam treatment, hermetically sealed and distributed on reels from Ecolean manufacturing plants. Before opening, filling and sealing in the filling machine, the outer surfaces of the packages are re-sterilised using a system of 1 percent peroxide spray and UV light.
"The fact that our type of sterilisation process is separated from the filling machines and performed at the Ecolean manufacturing plants, is quite unique in the industry and something we are very proud of," says Mellbin. "We believe that in the future, customers as well as consumers will demand better processes and a more transparent approach by its' suppliers."
Read more about Ecolean's unique lightweight packages for liquid food here: www.ecolean.com
Check these articles out:
Health-Consciousness Fuels The Demand For Functional Dairy Blends
Taste Is The Top Reason Consumers Eat Plant-Based Proteins
Givaudan x UC Berkeley: New Protein Sources
Globaldata: APAC F&B Packaging Industry Severely Hit By Coronavirus Outbreak
Roquette Improves Plant-Based Cuisine With New Ingredient
High Performance With A Small Footprint
Bunge Loders Croklaan Introduces Betapol Plus: The Next Generation OPO For Infant Milk Formula
Plant-Based Foods Gaining Global Currency
Novozymes Launches Online Calculator To Help Dairies Develop Products With Less Sugar
Nutraceutical Excipients Manufacturers To Discover Promising Applications
SHARE WITH FRIENDS:
TAGS: