Discover The Flavour Journey With KH Roberts
Thursday, September 13th, 2018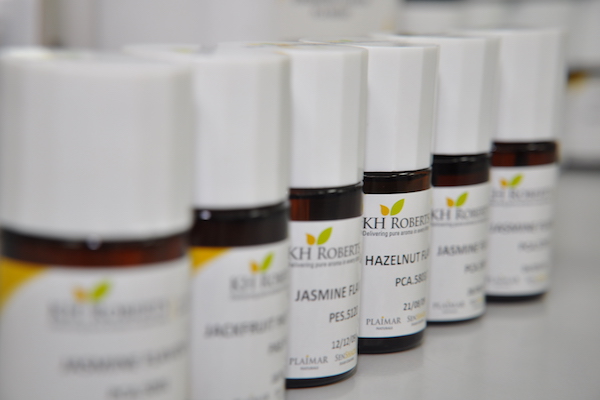 On 18 July 2018, KH Roberts commemorated its 50th Anniversary with the official opening of its new state-of-the-art integrated flavour manufacturing facility in Singapore. The facility spans over 100,000 square feet and was built on a total investment of more than $20 million.
In light of this development, APFI speaks to Mr Tan Pok Kiam, General Manager—Sales And Group Marketing, and Ms Kelly Awyong, Technical Manager And Senior Flavourist from KH Roberts, to gain insight into the company's successful operations and product portfolio.
What factors would you attribute to KH Roberts' long-term success?
Since the beginning of KH Roberts' establishment in 1968, the company had set its sights beyond Singapore and started establishing early trade relations in international markets. KH Roberts had been manufacturing for sale out of Singapore as early as the 1970s. The business expansion continued and by 1990s to early 2000s, KH Roberts had established regional flavour manufacturing and direct sales presence in markets such as Malaysia, Indonesia and Thailand.
Today, KH Roberts has extensive international manufacturing and sales networks. In addition to the company's early internationalisation strategy, KH Roberts' long term commitment to flavour innovation and research and development (R&D), product quality and talent management are crucial factors that will continue to put KH Roberts on the global stage. Backed by our strong R&D capabilities and established best-in-class manufacturing standards, we have made known in the markets our strengths in flavour product quality and profile authenticity that our customers attest to.
How do you help your clients develop new products? 
We have regular sharing and update sessions with our key customers on market trends and new flavour developments. Through this and other communication platforms, we gather customers' input on their new product development plans and briefs—where there are specific product or flavour requirement, our flavourists and technical team will come together to develop or adapt existing flavour profiles to meet the target. Direct and open communication between our team and the customers is crucial in determining the customer's successful adoption of the flavour. As flavour creation and development is a professional work of both science and art, a good understanding of the target market's consumer taste preference also helps in successful flavour creations. With 50 years of flavour innovation and expertise, KH Roberts has amassed a rich library of flavour formulations for various product applications.
Our new integrated flavour manufacturing facility also includes a full-fledged flavours R&D centre, equipped with flavour creation, sensory evaluation, analytical testing, product development and bench-top chemistry capabilities. Integrated to the facility is a dedicated pilot plant space for small scale product development and test production, enabling customers and collaborators to test new pre-commercial and new technology-based products prior to commercial production. These capabilities, along with our people, have helped KH Roberts deliver flavours that are behind many successful food and beverage products.
How do you ensure quality, safe and authentic products?
KH Roberts was one of the earliest flavour houses in the region to attain the Food Safety System Certification 22000, a globally recognised food safety standard, for its manufacturing facilities. Employing smart technologies, automation and digitisation at our new integrated flavour manufacturing facility in Singapore, we have also commissioned a state-of-the-art automated liquid distribution and dispensing system—a core capability in our new facility.
The customised automated system is the first-of its-kind in the industry that synergises both automation and scalability of production batch sizes. The purpose built integrated manufacturing facility together with the automated flavour production system reduce reliance on manual labour, extend production uptime, minimise risk of product defects and consistently meet stringent food safety requirements.
Over the past five decades, flavourists from KH Roberts would have seen the rise and fall of consumer demand for various trending flavours. Are there any noteworthy, quirky or 'one-time-only' flavours you'd like to mention?
'The rise and fall of consumer demand for new flavours and food products are closely related to mankind's insatiable hunger for new things and experiences. Food fads that we see so often now are in fact a consequence of that. Therefore, to keep up with this demand, the flavour industry is compelled to not only create new flavours, but also re-invent old flavours in new or unusual food applications. For instance, the salted egg that our grandparents ate with their congee has found its way to flavoured snacks, zi-char dishes and even French croissants. Durian, a love-it or hate-it flavour was often used in cakes and baked goods but it is not uncommon to see durian-flavoured coffee and spreads these days.
In this sense, flavours will never really be quirky but it is the unusual applications and combinations of flavours in food products that could be attention-grabbing and trendy. Therefore, the success of flavours actually relies a lot on the rise and fall of the actual food products in the market. In addition, a flavour that has gained very short popularity in a certain food might be 'revived' in another food application some time down the road, so flavours are never really 'one-time only'.
The demand for natural flavouring has increased in recent years, due to strong preferences from Millennials. How does KH Roberts meet this demand?  
"Natural" has been the marketing buzzword for much of the past decade and it has certainly evolved into the fastest growing segment. In recent years, concerns have been raised with regards to long term sustainability and cost viability of such natural materials. KH Roberts is always in constant engagement with our customers to understand their product strategies, and we work to strike a balance between customers' expectations and the natural flavours' performance. To meet this growing demand, we have adopted a natural flavour development roadmap to look at both current and long-term natural flavour trends.
Want more insider news? Subscribe to our e-book now!
SHARE WITH FRIENDS:
TAGS: