Dairy Packaging And Its Disruptors
Monday, September 30th, 2019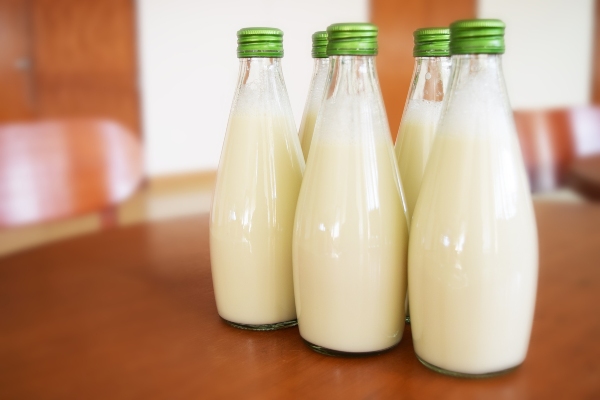 Given its already wide consumption in consumers' daily diet and the increasing rise of healthy eating and snacking, the dairy market is set to continue a steady overall growth. By Shikhar Aggarwal, Senior Director—Visionary Sciences, Asia Pacific, Frost & Sullivan.
From packaged food to food services, dairy forms an integral part of our daily diet. It can be consumed directly as an end-product (e.g. milk, yoghurt and so on), or indirectly as an ingredient (e.g. butter, cheeses and so on) in cakes or pizzas. Given its already wide consumption in our daily diet and the increasing rise of healthy eating and snacking, the dairy market is set to continue a steady overall growth.
Dairy In Asia
Amongst all the dairy products, milk is the largest consumed dairy food in the world, followed by butter and cheese. Yoghurt is purportedly the fastest growing segment within dairy foods; however, its growth over the years has been volatile. This is partly due to influencing factors such as yoghurt's perception as a functional food especially as a probiotic but is also known to have high sugar content.
Whilst matured markets such as Europe holds the largest dairy market share, approximately US$165 billion, The Asia Pacific region represents the fastest growing market for the dairy industry, which is fuelled by a rapidly growing population and burgeoning middle class. APAC currently holds approximately 28 percent of the total dairy market with an estimated value of US$142 billion in 2019.
Dairy Packaging Trends
Dairy packaging is an integral part of the dairy food and beverage processing industry. Packaging conveys nutritional information, product branding, protection and security. Additionally, due to the short shelf-life of dairy based foods, packaging also plays a critical role in the storage and distribution of dairy products. Whilst the dairy market is expected to continue a steady growth, changing consumer tastes towards non-dairy based products is a growing headwind for the dairy industry and companies will have to compete to retain customer loyalty.
Millennials are a major disruptor to traditional business models due to their values and preferences. They are redefining the concept of "healthy" and "nutritious," often scrutinising a product's nutritional and ingredients label for preservatives, artificial flavours, colouring, sweeteners and genetically modified organisms. Through these factors, dairy companies will have to adapt their packaging to connect and engage with customers. Some of this can be seen in rising trends such as:
On-The-Go
Catering to an increasingly mobile society, the on-the-go trend will continue to be an important factor for today's fast paced consumer. Small packaged dairy products will enable consumers to grab an item for lunch or as a snack as they proceed about their day.
Convenient Single-Serve Packaging
As consumers become more conscious about the calorie content in their foods, products that are pre-measured to suit their serving requirements as a snack or meal can be one way to connect with today's consumer. Single-serve packaging has become a way to not only provide portion control for food products but also promote healthy diets by limiting overeating due to an abundance of opened food.
Single-serve packs also allow consumers especially millennials to try a greater variety of products at their own pace and convenience. These packs appeal to millennial consumers' desire for more choices and their sense of adventure, where they often select foods with intense flavours and textures.
Small Sized Containers
With increasing urbanisation and the advent of smaller households, consumers are beginning to look for products that do not go stale or spoil easily whilst also containing minimal to no preservatives. This has resulted in a shift towards favouring smaller containers rather than large single containers. Traditionally, large single containers have appealed to suburban consumers, where households can range between four to five people. This, however, leads to wastage in urban households that can average from one to three people and are unable to finish a large opened container of dairy product before it becomes stale. The use of smaller sized containers appeals to smaller urban households as it minimises wastage and the use of preservatives.
Packaging Designs
The design of dairy food packaging such as stand up pouches for shredded cheese results in less shelving space being used for a particular volume of dairy product, which helps consumers by occupying less space in their refrigerators. This design benefit can also be seen in supermarkets and hypermarkets, which remain the dominant retail channel for food, often accounting for more than half of sales. A pouched based packaging design is able to maximise the number of products that can be displayed on a store's shelves.
Packaging designs also have an impact on logistics; for example, the use of square, stackable milk jugs in the US enables milk processors to ship more milk in the same amount of space. Whilst not without its drawbacks, such as its cumbersome design resulting in consumers spilling milk when pouring, a suitable packaging that appeals to consumer comfort and sustainability may exist between the traditional milk jugs and square jugs. Square milk jugs have been adopted by chains such as Costco and Walmart in the US.
Simple Labels
Consumers tend to look for products with clean and simple labels. With the rise of more nutrition discerning customers, simple labelling allows customers to easily find nutritional information and make their purchase decisions. Comparatively, crowded labels risk alienating consumers by causing them to select other products in favour of cleaner and simpler labels that can tell them what they want to know quickly.
Eco-Friendly Material
Consumers are also increasingly environmentally conscious, with most often considering the waste generated from their lifestyles and practising sustainable living whenever possible (e.g. recycling, banning single use plastics, etc.). This growing trend has given birth to various industries centred on environmental sustainability such as edible utensils, biodegradable packaging and incorporating recycled plastics as materials for shoes and athletic wear.
Dairy consumption in Asia was estimated to be approximately 165 – 170 million tonnes in 2017, generating a large amount of waste from its packaging. As consumers continue to drive sustainability trends, all industries will have to change their practices or risk losing existing and new customers to competitors that incorporate sustainability in their products.
Figure 5. Glass packaging is becoming more mainstream due to its ability to be recycled and reused as many times as necessary.
Looking Forward
The Asian diary market is expected to continue its strong growth, with milk leading the way. However, dairy exists as a subset within the larger food industry and is thus affected by similar issues affecting the food industry. Dairy growth is thus expected to experience some headwinds due to various consumer perceptions such as health and wellness, sustainability, and convenience.
There are conflicting claims on dairy's health benefits, which has resulted in different product migration habits. Whilst some consumers shy away from dairy, others are also known to favour dairy such as butter and milk. To reinforce health claims, dairy companies have begun reducing sugar content in yoghurts, generating clear and concise labels for discerning consumers and packaging single serve dairy packs for portion control.
Single serve dairy packs also address consumer convenience and certain sustainability concerns such as wastage due to an overabundance of food. Further sustainability concerns can be addressed by the use of eco-friendly materials that will continue to be a growing trend giving rise to biodegradable and recyclable packaging materials.
Further reading:
AAK Launches COBAO Pure⁠—A Breakthrough Chocolate Bloom Retarder
Nestlé's New Blockchain Platform
Sidel Joins Ellen MacArthur's New Plastics Economy Global Commitment
SHARE WITH FRIENDS:
TAGS: