Cutting Energy And Operational Costs To Maximise Capabilities In The Cold Chain
Friday, June 28th, 2019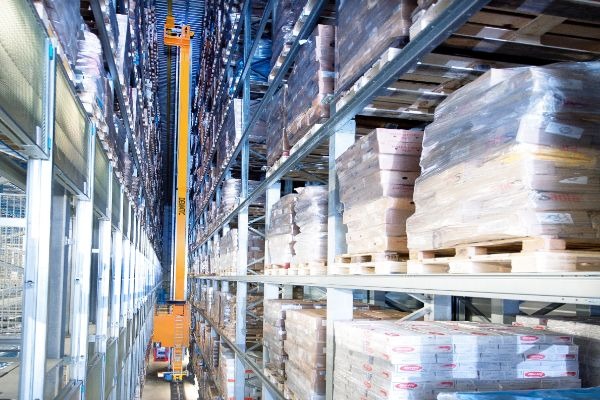 Having automated their production lines, many companies are turning to logistics automation to further optimise their complete production and logistics operations, reduce costs, and improve customer service levels. Contributed by Dematic (Malaysia) Sendirian Berhad.
The cold chain sector is evolving quickly in Asia, expanding to meet the changing dietary habits of an increasingly wealthier, more connected population. This is posing challenges for cold chain operations, with the need to handle growing volumes and ever-expanding range of products as their companies seek to meet consumer demands. At the same time, cold chain operations are facing challenges from rising energy costs, increasing labour costs and lack of labour availability—compounded by the fact that workers typically don't want to work in sub-zero environments—along with food safety and full traceability requirements and the need to guarantee continuity of the cold chain from production to the retail shelf or to the customer's doorstep.
Having automated their production lines, many companies are turning to logistics automation to further optimise their complete production and logistics operations, reduce costs, and improve customer service levels.
This paper looks at how the latest developments by Dematic in Automatic Storage and Retrieval Systems (ASRS), Automated Guided Vehicles (AGVs), Multishuttle Buffers, as well as Goods-to-Person, ErgoPall and robotic order fulfilment technologies are addressing the challenges cold chain operations are facing and providing them with a competitive edge.
ASRS Maximises Storage Capacity And Reduces Energy Costs By Up To 40 Percent
By maximising storage density and allowing greater storage heights, ASRS systems require up to 60 percent less space compared to conventional manual pallet storage. As a result, operations can reduce the cubic volume required to store products, resulting in significant savings in energy required for cooling. Reducing the building dimensions also minimises the primary sources of temperature loss including the floor, ceiling, and walls, which equates to a more cost-effective refrigeration system.
The doors to the automated freezer warehouse are smaller and open less often, providing additional energy savings. Without operators, ASRS systems also require significantly less lighting, further reducing energy consumption.
Dematic's ASRS clients have realised energy cost savings in the range of 30 to 40 percent.
Reducing Land Footprint, Locating Storage Next To Production
By increasing storage density and allowing greater storage heights, ASRS reduces the required land footprint. This reduces land costs and opens up options for locating cold storage facilities closer to customers.
Due to the smaller footprint, ASRS also allows storage to be built next to production facilities, eliminating the need for costly refrigerated road transport between the factory and the warehouse. No longer does production have to stop if the staging area in the factory gets congested—for example, if a truck gets held up and can't do a pickup—as the ASRS acts as a storage buffer between the factory and transport. Risks of breaks in the cold chain are reduced, along with less product damage and waste associated with additional handling and transportation. Saving space with ASRS may also free up land for expanding production lines.
Reducing Labour And Operational Costs With ASRS
ASRS fully automates the process of product storage and retrieval, eliminating 'touches' by operators, and thus, greatly reducing warehouse labour and operating costs. Productivity gains of up to 30 percent can typically be achieved with ASRS.
ASRS also reduces waste, damage to products and equipment associated with forklift trucks, and typically have lower maintenance requirements compared to forklift leasing and maintenance costs.
AGVs: Integrating Processing Lines And ASRS For Increased Reliability And Flexibility
For consolidated production and distribution facilities, automating the complete process from end-of-production line palletising through to an ASRS increases the complete system's redundancy and resilience. This eliminates potential bottlenecks to critical process operations—which can occur in manual systems, for example, if an operator leaves accumulated pallets at the end of a processing line.
While pallet conveyors and monorails provide robust and reliable links between production and automated storage, the ideal solution for operations that are looking for maximum redundancy and flexibility are Automated Guided Vehicles (AGVs). Aside from providing reliable and cost-effective pallet transport, the flexibility of AGVs means that as throughput requirements, pickup and delivery destinations change, pathways can be easily adjusted and additional AGVs readily added to the fleet.
Multishuttle Buffers: Optimising The Production-Storage Interface
Production lines and storage can be further integrated and optimised by implementing Dematic's Multishuttle buffers between the two processes. This is particularly suited for meat, poultry, fish and seafood operations, where a high proportion of the product range is relatively low volume and where partial or mixed-product pallets are used.
The Multishuttle Buffer is an ASRS case storage and sequencing engine. Product coming off the production line can be consolidated in the Multishuttle Buffer (with active-freezing if the application requires it), and sequenced out to the palletiser, prior to transport to the ASRS.
The solution can be deployed to fit within virtually any space, reducing the size of temperature-controlled zones and driving down associated cooling costs. The solution significantly reduces the number of workers needed, as well as pallet truck and forklift movements, reducing operating costs.
Optimising Order Fulfilment In The Cold Chain
Case and item picking are becoming more common in cold chain operations across Asia as retail grocery customers request smaller quantities of products rather than full pallet loads. While technologies such as Voice Picking—where an operator is directed and confirms picks by voice—can improve productivity and accuracy, the latest Goods-to-Person (GTP) and ErgoPall solutions from Dematic provide a significant step up in productivity and accuracy.
While in a traditional order picking system, pickers travel to storage locations which takes time, in GTP and ErgoPall systems, the products are delivered directly to a picker at a workstation to fulfil the order. The performance benefits are immense: while in a traditional picking system, a picker may typically do 80 order lines per hour, with Voice, this may increase to 120 order lines per hour. In a GTP system, operators can handle 300 to 500 order lines per hour. What's more, while the product is stored in freezers, the workstations can be located in a chilled zone, providing a more comfortable working environment for operators and eliminating the need for anyone to work in harsh freezer environments.
Recent technological advancements in robotics for mixed-case palletising and order assembly applications are driving towards true zero touch-processing and lights-out solutions.
Other Benefits Of Logistics Automation: Customer Service, Safety, Security, Visibility And Traceability
Automating the processes of end-of-production line product consolidation, palletising, transport, storage, order fulfilment and despatch improves customer service levels by ensuring optimal process flow, inventory availability, maximum inventory, order accuracy and faster order responsiveness.
By eliminating the need for operators and forklift trucks, logistics automation significantly reduces the health and safety risks associated with manual handling in cold logistics operations, as well as reduces product damage and wastage. In turn, eliminating human touches also improves food safety and security of stock, and facilitates operational visibility and full traceability of product through the cold chain.
Conclusion
Dematic's cold logistics customers across the Asia Pacific region, including food & beverage manufacturers and Third-Party Logistics companies, are realising the significant benefits delivered by ASRS, AGVs, Multishuttles and the latest Order Fulfilment technologies. These solutions allow operations to maximise storage capacities, improve productivity and reduce labour-dependency, improve customer service levels, optimise the interface between production lines and warehousing, improve safety and security and realise substantial savings on energy and operational costs. With the cost of automation falling significantly in recent years, the business case and return on investment of these technologies has never been greater.
SHARE WITH FRIENDS:
TAGS: