Creative Beverage Trends In Asia: Identified by Artificial Intelligence
Tuesday, November 17th, 2020
Discovering new trends and early signals in beverages can be easier, with the help of artificial intelligence innovations.
It's no secret that the global pandemic has compelled a change in the everyday consumer's lifestyle and consumption. Fuelled by monotony in isolation, the world has seen the emergence of experimental home cooking, thanks to a glut of Tiktok, YouTube and Instagram creators. With that comes a renaissance of imaginative and zany food trends birthed from the likes of Whipped Coffee, Cloud Bread, and even Pancake Cereal. 
Food and Beverage (F&B) companies are constantly pushing the envelope in flavour combinations, especially in the beverage sphere, where early adopters in Asia have come up with innovative beverage creations like Caramel Custard Yoghurt drinks and Dalgona Lattes.  
The curious case of new flavour combos emerging in recent months was explored by AI Palette's AI powered Foresight Engine into the consumption of beverages in seven major Asian markets. The trends that were discovered by the Singapore-based start-up's Machine Learning solutions provided reasonable evidence that F&B companies are raring to innovate and adapt to the ever changing consumer demand; whether in unusual flavour pairings, or the intersection of health and taste. 
Taking Fun & Decadence To The Next Level
The crossover appeal of food and beverage kicked into overdrive in the past few months as we saw the development of products like Caramel Popcorn Milk Tea and Butterscotch Milk Tea from Singapore's Bober Tea. Similarly, Thailand's Bake Brothers introduced a yoghurt drink topped with saccharine sweet caramel custard. 
While the marriage of desserts and drinks are nothing new, the momentum in which such products are produced (and reproduced at home) reveals the average consumer's inherent need for novel and decadent flavours. 
This thirst for ingenuity was further explored by Singapore's Liho Tea, as they hopped on the whipped coffee bandwagon with their Dalgona Blueberry Latte, Dalgona Brown Sugar Pearl Coffee and even Dalgona Yuan Yang (Coffee with Tea). The launch of these Dalgona beverages was already anticipated due to the virality of the trend, and this was a perfect example of how companies can perfectly translate a trend that was mostly created at a home setting into an actual product at quick service restaurants in the retail landscape.
The Importance Of Immunity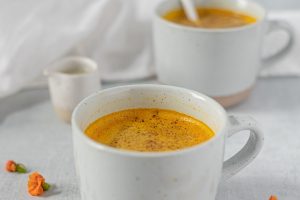 Pooling millions of data points across different public sources like social media, search trends, recipes, and menus, AI Palette's Language Agnostic solutions uncovered positive insights towards immunity boosting beverages amidst the pandemic. 
The global health crisis has brought upon greater interest in nutrient-rich products to aid in the body's defence against diseases. In Indonesia, traditional herbal remedies like Jamu; a concoction of Curcuma and Red Ginger, saw significant growth in engagement. The younger generation of Indonesians also showed interest in Jamu, leading to modernised spinoffs like Jamu soda. 
During the quarantine period, consumers have also dabbled in the art of Kombucha making, with the cult fermented beverage consumed for its many benefits, including building immunity, detoxing, and as a great source of probiotics for gut health. Kombucha is currently emerging as a driving force in fermented beverages, with compelling combinations like Guava/Chilli, Mango, and Black Plum appearing in the India market. Most notably, the beverage saw a massive uptick in India and the Philippines as it rose by 162.2 percent and 450.3 percent year-on-year respectively. 
Uniquely Asian Flavours To Suit The Local Palate
Asian consumers have always shown a strong preference for local flavours, a trend that has only been further accelerated by the coronavirus pandemic. In 2020, Asian consumers are seeking solace in the familiar which has led to a strong demand in authentic local flavours. 
Traditionally Asian flavours like Black Plum and Lychee were emerging trends in Fermented Beverages for India, with this trend backed by the growth of Kombucha in the country. The trend of utilising healthy and regional flavours does not just stop there as products like "Haldi Doodh" or Turmeric Milk, and "Tulsi Doodh", or Holy Basil Milk, was launched in April 2020. These flavours are known throughout the country given its status as an immunity booster.
Citrus fruits like Grapefruit also expressed a rise of 45.9 percent year-on-year engagement in China, as the nation embraced the vitamin-rich fruit in Fermented Beverages, Carbonated Drinks, and even Dairy Beverages. 
New Formats and Pairings  
Flavour pairings continue to be pillars of creativity in beverages, as we see intriguing combinations like Mango and Chilli in fermented beverages. Mango and Chilli are often found in salsas, chutneys or street food dishes, but seeing pairings like these is encouraging and paves the way for future collaborations of contrasting textures and flavours. 
Formats have also taken a big jump in capturing the attention of people in isolation. Throughout the past few months of the peak of pandemic, companies have launched DIY bubble tea kits and even 5-litre bottles of the evergreen milk tea. The concept of changing the format was a consequence of the worldwide lockdown, but could it spawn into other types of formats in the future as countries are beginning to open up? 
Predicting the Next Big Trend in Beverages
The future of flavours and ingredients appear to be vibrant as we look into what lies ahead of us. Consumer demands are evolving rapidly and are heavily influenced by factors that resonate with them during the time they are living in. Consumers are constantly looking towards fresh products to counteract their mundane lives in isolation, or consuming inventive food and drinks to live a healthier lifestyle. 
While it is early to pinpoint the next big trend, the discovery of emerging and growing trends is a significant step forward. Predictive analytics tools from companies like AI Palette can help identify early signals of emerging trends and help corporations create new and innovative food and beverage products.
Check these articles out:
GEA Launches ABF 2.0 Filling System For Shelf-Stable, Sensitive Beverages And Milk-Based Drinks
Dairy Permeate Versatility Meets Food Industry and Consumer Demands
Organic Soft Drinks Global Market Declines Amid COVID-19
Asian Consumers More Into Healthy Eating Than Western Counterparts
FrieslandCampina Kievit Sets Sight On Creamier And Foaming Creamer Market In Philippines
USDEC: U.S. Center For Dairy Excellence Opens In Singapore
What Consumers Want In Natural Food
SHARE WITH FRIENDS:
TAGS: