Creating Colourful Products That Cater To Modern Consumers
Tuesday, April 5th, 2022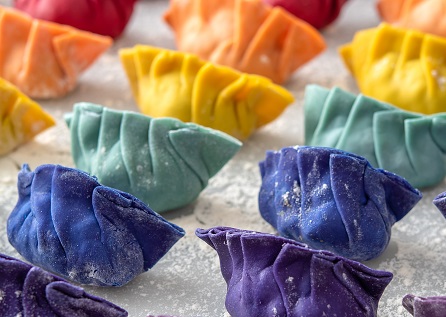 In 2022, shoppers are seeking out joyful food and drink experiences with exciting colours – while also paying increasing attention to products' impact on their health and the health of the planet.
Contributed by Maartje Hendrickx, Market Development Manager, GNT Group
---
After living with COVID-19 for more than two years, consumers are now looking to experience moments of joy and excitement – not least through their food and drink choices. 
As part of its 2022 global consumer trend 'Enjoyment Everywhere,' Mintel points to a growing demand for exciting new products that amplify flavours, colours, textures, aromas, and interactivity as a result of the pandemic. The market research firm notes that, in the Asia-Pacific region, social media is playing a key role in driving playful food and drink content and activities.
Innova Market Insights' research, meanwhile, shows that more than half of all consumers worldwide want to be more adventurous with their food and beverage choices post-Covid-19*.
The Importance Of Colour
Colour can play a vital role in developing exciting food and beverage products. Multiple studies have shown that it plays an important role in determining expectations and experience of flavour. Shades that match up with flavour expectations have been shown to help increase the perception of sweetness in beverages, the richness of orange juice, the pungency of salsa, and the richness of chocolates.
Shades that defy flavour expectations, meanwhile, have the potential to generate a powerful buzz. Some of the most famous examples from the global market include clear and gold cola, green ketchup, blue raspberry desserts and confectionery.
Today, there is a clear demand for eye-catching products. A survey carried out by FMCG Gurus shows 65 percent of consumers in the Asia-Pacific region like the food that they eat to have bright and intense colours. In addition, 56 percent say they like products with new and experimental colours, with 64% of these shoppers saying they make products fun and exciting.
Natural Formulations
Nonetheless, the pandemic has also created an increased focus on health, leading consumers to take greater interest in how their food and drink is made. 
In Asia-Pacific, 69 percent say they are being more attentive to natural ingredient claims as a result of Covid-19. Nearly two-thirds (65 percent) also seek out products with recognizable ingredients*. More than seven in ten (72 percent) shoppers in the region now say they are concerned about ingredients that sound chemical.
It can be a challenge for brands to create colourful food and drink products that match up to the growing demand for clean and clear labels. Artificial colours and even natural colours with chemical-sounding names can limit a product's appeal.
Plant-based colour concentrates – made from edible fruit, vegetables, and plants using traditional physical processing methods – can provide an effective alternative. Due to the way they are created, these concentrates qualify for cleaner and clearer label declarations in much of the world.
A survey of Asia-Pacific consumers also found that colours made from the concentrated juice of fruit, vegetables, and other plants are the most attractive choice for Asia-Pacific consumers, with 63 percent considering them to be appealing or very appealing.
Sustainability In Focus
Mintel's 2022 trends also highlighted consumers' increased need for a sense of control due to the pandemic, with food and drink brands needing to empower shoppers to make confident decisions. This not only involves making label information easy to understand to support health considerations but also showing measurable progress on environmental and ethical commitments. 
It's clear that sustainability and ethics have never been more important. In fact, both Innova and FMCG Gurus placed sustainability concerns at the head of their top global trends for 2022. The latter's research shows 75 percent of Asia-Pacific consumers have become more concerned about the environment as a result of the pandemic, with many wanting to see claims such as non-GMO (81 percent), reduced carbon footprint (74 percent), and minimal use of water (41 percent) on food and drink. Nearly half (49 percent) also want to see initiatives around the ethical treatment of farmers (49 percent).
Recent years have seen a significant rise in many of these claims. Mintel data shows 'GMO free' claims in new product launches increased by 24.3 percent worldwide between 2016 and 2021, while Innova found there was 56 percent year-over-year global growth in on-pack carbon emission communication between 2020 and 2021.
Food and drink brands, therefore, need to take every ingredient into account – including colours – to deliver the positive environmental claims these consumers want to see when they turn to the label. 
Future-Proof Colours
EXBERRY® colouring Foods are plant-based concentrates that can tick every box for the modern consumer. Its range of shades covers the whole rainbow and they can be used for almost any food and beverage application.
Concentrates are made from non-GMO fruit, vegetables, and plants grown by farmers working as part of our vertical supply chain. GNT is also working towards a range of ambitious sustainability targets for 2030, including reduced water use and cutting its overall product environmental footprint by 25 percent. 
*references available upon request
MORE FOR YOU:
Nature's Treasure Box: Plant-Based Ingredients To Support Today's Lifestyle Choices
Filling Cans In Enhanced Hygienic Design
Rethink Energy With ADM Next Generation Energy Drinks
Digitalisation In The Midst Of A Pandemic
How Has The Pandemic Forced Us To Adapt In The Food Manufacturing Industry?
Apollo Celebrates 175 Years
The Advantages Of Automated Food Packaging
Sustainable Decision
The Growing Trend Of Seeds: How Can Companies Benefit From Effective Processing?
To not miss our exclusive articles, follow us on our social media platforms LINKEDIN, FACEBOOK, TWITTER
WANT MORE INSIDER NEWS? SUBSCRIBE TO OUR DIGITAL MAGAZINE NOW!
SHARE WITH FRIENDS:
TAGS: