Conveying Innovation In Food Processing
Tuesday, September 19th, 2017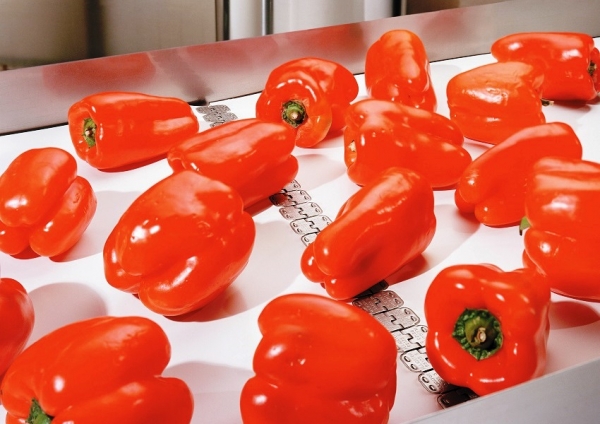 Avoiding food contamination is one of the primary concerns in the food and beverage industry today. The conveyor belt system is the key location where food ingredients and products are processed and transported. How can manufacturers protect their consumers from being exposed to tainted products, yet increase productivity and sustainability of production lines? By Jerry Loh, sales & marketing manager, Southeast Asia, Flexco
One of the most common reasons for food recalls today is the detection of unclaimed allergens. Frequent scandals involving tainted food occurring across all food sectors ranging from meat, poultry, fish to dairy products and infant food have shaken the public's confidence and trust in manufacturers on a global scale. As food safety controls are becoming much tougher in order to protect the consumers, food manufacturers now face greater pressure to meet these industry regulations while concurrently coping with the rising price of food ingredients and operation cost of food processing lines.
Food manufacturers will need to adopt innovative and credible solutions in order to gain brand credibility and consumer preference within the competitive market. Some manufacturers have reservations on whether extra investments in improving existing facilities and quality control methods can help them in the long run. Initial investment due to such shifts in trends may be costly but the downtime for product recalls caused by cross-contamination along inefficient production lines is detrimental to the brand image, leading to a heavier loss in revenue.
Safeguarding The Consumers
Today, it is inevitable to recognise that food consumption is expected to rise in most Asian countries, with products of greater variety—in different forms, sizes and through different channels. As the disposable income is rising for the middleclass and their dietary habits improve and diversify, the demand for meat, fish, fruit and vegetables is expected to grow exceptionally fast.
Consumers in Asia are also looking for credible and high-quality food products at the same time. According to Food Industry Asia, food safety will still have the largest influence over consumer purchasing decisions this year. In such a dynamic market, there has been no better time for food manufacturers to focus on delivering safe and high-quality products to the consumer's table, and the regulations are reflecting the same trend.
With series of food safety scandals occurring ever so often across all food sectors, food safety regulations are becoming much tougher than before. Being qualified by the global food safety certifications from organisations such as United States Department of Agriculture (USDA) and Global Food Safety Initiative (GFSI) is one thing, but achieving higher standards of food safety means much more in food processing industry. Top-notch food safety should be considered as the priority by food manufacturers because it reflects on the brand's image, positioning in the market and consumer's final purchase decision.
In a typical food production line, raw ingredients and processed products are transported along a conveyor belt system. This means that the conveyor belt system could be the easiest location to be exposed to contamination, and food manufacturers need to be fully alert about its safety and sanitisation. Therefore, a proper conveyor system is necessary to prevent contamination risks and extra costs arising from production hazards of faulty products and possible recalls.
Even if some regional entities may not have felt the necessity to improve the quality of conveying systems yet, the trend will certainly change in the upcoming years starting from 2016. In light of tougher food safety regulations and higher consumer expectations, the certification for conveyor belt solutions will soon become a necessity in order to secure consumer confidence.
Clean And Safe Splicing All The Way
In a conveyor system, preparation and splicing of the belt is a basic procedure to join the belt ends together and create a moving cycle. Naturally, choosing which belt material to use and how to splice the belt becomes the most important decision to make.
Recently, monolithic belts are commonly used in food processing, due to its improved surface hygiene. Yet, the improved hygiene standard may have deteriorated depending on which method is being used for splicing and maintenance.
Using a heat wand or heat gun is one of the most common procedures to splice these belts. However, this causes moisture in belt ends to form unwanted pinholes that harbour bacteria on the belt surfaces. This compromises the hygiene of food products that are being transported along these surfaces. Therefore, specially designed splicing tools are essential in food processing sites to mitigate contamination risks.
Innovative splicing tools can provide contactless heating to prevent hazardous environment and minimise the possibility of operator injury that can occur from being exposed to heated machines. With a preheat function, such tools are also able to prevent the unwanted pinholes caused by moisture, eliminating risks of bacteria growth. Integrated instant heating systems also shorten the splicing time to just one minute, providing quick cycle time for the manufacturers.
Alternatively, a fully portable unit that includes all essential systems for belt splicing into a single solution would be ideal for manufacturers. Being an integrated solution, it gets rid of the need for external equipment and therefore prevents potential cross-contamination that often comes from using a mixture of tools for belt maintenance.
Also, being portable, facility operators are able to conveniently use it instantly at anytime, anywhere without any difficulty where belt splicing is needed, instead of juggling several components on the jobsite and spending valuable downtime to assemble the equipment. Tools such as these allow users to save time and money with only two components—a press and a power cord. Plugging in the unit is all that needs to be done in order to start splicing.
Avoiding Sticky Scenarios
Belt optimisation procedure is crucial to maintain the sustainability of production facilities and the quality of end-products. A conveyor system's best performance is achieved with the reducing of product scrap during production and effective cleaning procedure. Currently, majority of the existing belt cleaning devices are home-made solutions which can result in unsatisfactory sanitisation.
For example, these solutions have blade designs with insufficient tension, surface finishes, angles and crevices which leave loopholes in belt cleaning quality and allow bacteria to amass in the system. Ineffective cleaning devices can also cause food remnants to build up on the conveyor's pulleys and structure, or on the underside of the conveyor. Solutions to prevent bacteria harbouring, contamination and eliminate inefficient operations, such as cleaning the belts and facilities every so often can be very time and human resource consuming.
Advanced solutions such as cleaners constructed with only FDA-approved materials and USDA certified for meat, poultry and dairy applications can effectively tackle the limitations that homemade tools have. By reducing carryback by up to 60 percent compared to home-made cleaners, these cleaners reduce materials building up on belt and conveyor components, carryback that falls off from conveyor systems and cause additional clean up, and cuts excessive time and effort needed to spend cleaning and maintaining the system.
In other words, there are less incidents of production process being paused to clean the belts, allowing for faster production cycles and higher throughput rates, leading to improved productivity and decreased downtime—ultimately enabling a higher profit to be achieved. Optimisation of the conveyor belt system can also lengthen the conveyor system's life span as it prevents damage of each components and helps maintaining the entire system to sustain for longer.
Gaining The Competitive Edge
Recent innovations related to solutions for conveyor belt systems not only ensure food safety, but can also help food manufacturers protect their revenue and productivity by eliminating risks of lost production; not to mention the aftereffect of constructing a reputable brand image portraying a clean, harm-free and healthy food provider in the market.
Effective conveyor belt maintenance and solutions support food manufacturers to leverage on proactive regulatory compliance as a competitive edge in response to the needs of Asian consumers—higher quality of goods and safe foods for consumption. Current conveyor system providers are committed to bring user-friendly, safe and innovative conveyor system solution to food processing facilities, and will continue to do so in order to meet the industry needs and standards.
SHARE WITH FRIENDS:
TAGS: