Combating The Curse Of Food Wastage With Digitisation
Thursday, February 20th, 2020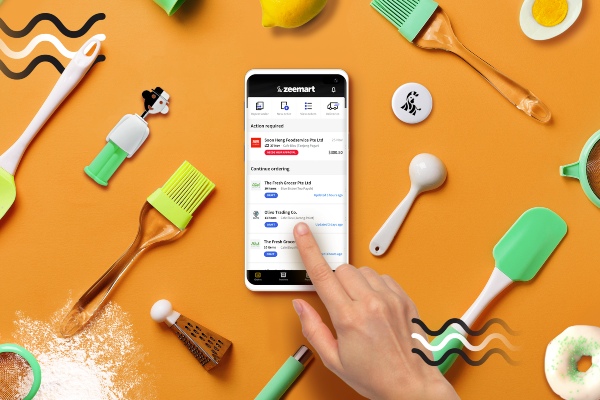 The F&B industry is in the throes of a 'food-tech' revolution, which is already posing some tough questions on business sustainability for many operators.
Food presents one of the greatest ironies of our times. On one hand, humankind is faced with a grave threat of severe food shortage and hunger as we grapple with the challenge of feeding close to 10 billion people by 2050. On the other hand, there is an equally alarming rise in food wastage globally.
According to the Food and Agriculture Organisation (FAO), around a third of the food produced worldwide for our consumption—totalling a whopping 1.3 billion tonnes—is wasted. This is estimated to cost US$2.6 trillion annually, which is enough to feed 815 million poor people in the world.
Asia is amongst the biggest culprits, with South and Southeast Asia alone contributing to a quarter of global food waste. Even in Singapore, data from the National Environment Agency (NEA) shows that food waste has risen almost 30 percent over the past decade and accounts for 10 percent of the total waste generated in the country.
Any wastage is a blot on the efficient utilisation of limited resources; in the face of an impending shortage, it demands urgent corrective actions.
The Problem: From Procurement To Plating
Unfortunately, the wastage problem pervades the entire food chain, right from the farms to the consumer's plate. The reasons are manifold, from gaps in the supply chain to changing consumer behaviour. For instance, an NEA study (conducted Feb 2019) found that 85 percent of Singaporean residents eat out at least once a week, with about one in 10 respondents noting that they do so every day. The astounding growth of food delivery services also points to this shift in dining habits.
The correlation between the increased 'eating out' (or 'ordering in') culture and greater food wastage is hard to ignore. While raising awareness and bringing about an attitudinal shift towards wastage among consumers is critical, enabling F&B operators to plug the leaks in their supply chain perhaps has the potential for creating a more immediate impact.
Neeraj Sundarajoo, CEO and Co-Founder of Zeemart notes: "In my experience of working with players of different sizes in the HoReCa (Hotels, Restaurants and Catering) industry across several countries in the ASEAN region, the lack of instant visibility into the procurement and inventory of food items is one of the biggest reasons for wastage.
"Very often, these operators either over-order or order too far in advance from multiple suppliers. This is because the manual and paper-based order management processes they follow don't give them the requisite visibility into what they really need, by when. Consequently, this leads to excess inventory and wastage of food items that can't be consumed within their expiry dates.  The impact on the bottom line of the businesses due to these inefficiencies isn't hard to fathom either.
"The F&B industry must only look at the agriculture/ food production sector to find its solution to the wastage issue. It is well-known how Big Data and Data Analytics are playing a pivotal role in transforming bulk farming to address the potential food shortage crisis. Digitisation has disrupted one of the oldest and seemingly unlikeliest industries, which is now beginning to reap the benefits of significantly greater yield. It is time for F&B operators to replicate that success by turning to some first principles: getting a firm handle on where, when and how much supplies they order."
Digitisation & Data—The 'Not-So-Secret' Sauce
For a business that deals in perishable goods with short lifespans, timing is critical. Digital sourcing, procurement and order management go a long way in ensuring that the business has total control over this aspect. Web-based applications, in particular, provide 'operations intelligence' in real-time, not only allowing an operator to plan and manage purchases better, but also respond faster in case of any unforeseen problems with the delivery of goods. The business can be proactive and rely on leading indicators rather than acting on lagging indicators, as is often the case.
The time and resources required for manual order and invoice management have a direct impact on the bottom line of the business. Moreover, the susceptibility to human error makes it very expensive. With ever-increasing input costs, increased competition and the fast-changing environment in the food business already putting enormous pressure on margins, such costs pose an existential threat for F&B players that don't adapt quickly.
Electronic invoices and vendor payment management contribute to better cash flow management, the lifeline of most businesses. One shouldn't also underestimate the value of the strong relationships that are forged as a result of timely and seamless payments to vendors.
However, beyond these more obvious benefits of improved efficiencies and time & cost savings, the potential of digitisation to truly transform the business and cut waste is enormous. Looking into the future, for example, a digital system could track the quantum and nature of food waste from a consumer and that data can be compared with the inputs to make necessary changes in procurement. A case in point is the NEA study mentioned earlier in this article which found that carbohydrate-rich foods like rice and noodles are amongst the most commonly wasted food items when people dine out. Restaurants that build the capability to generate insights like these can take positive actions to cut waste, say, by cutting portion-sizes of carbohydrate-rich foods.
Digitisation creates avenues for many such "micro-steps" that cumulatively have a positive multiplier effect.
The Answer To The Sustainability Challenge
The F&B industry is in the throes of a 'food-tech' revolution, which is already posing some tough questions on business sustainability for many operators. It also has the other sustainability challenge—from a broader, environmental perspective to contend with.
It is not an easy challenge by any means, but neither is it an insurmountable one if the entire F&B ecosystem were to collectively address it along with the right support and regulatory framework. The Singapore government's Zero Waste and Go Digital programs are great steps in this direction. But it will be prudent to operate in the F&B space to recognise that this is a mere beginning and the industry has to traverse a long way to achieve 'Zero Waste' goals.
Contributed by Neeraj Sundarajoo, CEO and Co-Founder of Zeemart.
Check these articles out:
High Pressure Processing: A Powerful Tool For The Food & Beverage Industry
Spotlight On Soy Plant Protein
Tetra Pak Collaborates With Hexagon In Smart Plant Engineering Platform
Seaweed—The Superfood On The Rise
FHA-Food & Beverage Spotlights Tech Innovation And Industry Transformation In New FoodTech Zone
Reducing Food Waste In Produce Processing
SHARE WITH FRIENDS:
TAGS: