Coding For Success In Food And Beverages
Tuesday, September 19th, 2017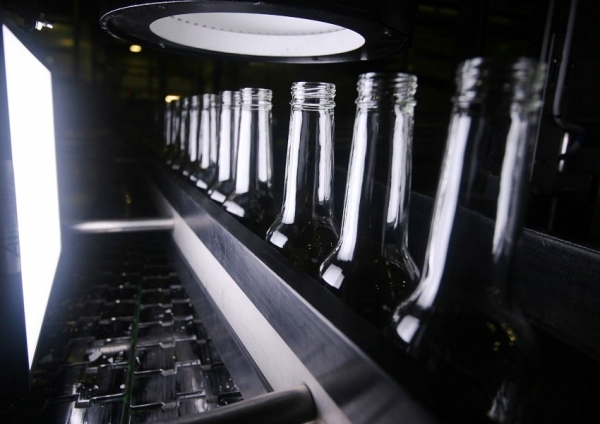 In Asia and around the world, innovation and growing middle classes are driving expansion in the bottled water market. But whatever the driver, the basics—such as proper coding and labelling—remain paramount. By Mark Dingley, general manager, operations—Australian coding, labelling and automatic data-capture leader, Matthews Australasia
The popularity of bottled water continues to grow globally—particularly in Asia, with India and China being two vast markets. Indeed last year, China overtook the US as the world's number one consumer of bottled water, while India sits at number 10.
According to Zenith International, the Asian share of the bottled water market was 41 percent in 2015, up from 35 percent in 2011. That figure highlights the double-digit growth of the past five years, yet consumption per person (at this stage) is relatively low. This is as opposed to the Western European and North American markets, which though they record high per-capita consumption, have a much lower growth.
The China-Australia Agribusiness Trade and Investment conference, held in Australia in mid-May, heard Bank of China executive vice-president Gao Yingxin signpost an increasing desire for Australian products. While one of those was dairy, another standout was bottled water.
In China, the draw card for bottled water—as is the case for many foods and beverages—is product purity.
According to Henry Heng, chief executive officer of Refresh Group, an Australian bottled water company, many Chinese people drink bottled water but the growing middle class is increasingly leaning towards imported products and they do not mind 'paying a bit more' for them. Therefore although it is a niche market, he said there is a 'fair bit' of imported bottled water in China.
Innovation
Today's bottled water products in the market do not merely contain water; bottled water manufacturers have invested much to innovate the category with unique ingredients, vitamins and minerals, and have churned out products that go beyond drinking water. One example is a 'super-oxygenated' water by the Refresh Group, which contains Himalayan crystal salt and up to 700 percent more oxygen than normal water.
Another example of innovation in bottled water is one made from rejected carrots by Australian producer AquaBotanical. Former wine industry chemist Dr Bruce Kambouris developed the product to demonstrate how manufacturers can tap into unutilised resources, such as the watery byproduct of fruit and vegetable processing which would otherwise be discarded. For every tonne of rejected carrots processed, up to 600 litres of water can be collected and purified, and to date, this product is being served as premium bottled water in a high-profile Sydney restaurant where it has replaced established international brands.
Doing The Basics
However, no matter how innovative the product, it will not go anywhere if it does not meet the basics in coding and labelling. There are five main codes for food and beverage processors to be aware of.
Date codes: Either use-by (the day and/or month by which the product must be consumed) or best-before (indicates when the product will begin to degrade from its optimal quality)
Batch codes: All packages with the same batch number are considered to be the same in all respects (raw ingredients from the same supplier, manufacture time, and so on); this is critical for traceability
Identification codes: Can be in the form of barcodes or alphanumeric codes, and are also used to trace a product through the supply chain; they can be printed on labels that are affixed to the product, or printed or engraved directly onto it
Barcodes: Used to identify food and beverages at product level, or at logistic levels on cartons or pallets
QR codes and promotional codes: QR codes are two-dimensional, computer-generated images that can be scanned by smartphones or tablets to generate an action; the biggest benefit is the ability to provide extra information to consumers without using up valuable packaging space
As well as offering product information, codes are also important for product traceability. Product traceability is vital throughout the supply chain—particularly with stringent product safety guidelines. However, it is also important to create a supply chain that does this cost effectively.
To be able to efficiently track and trace a product, it needs to be coded correctly. An integrated software solution, such as iDSNet, automates product coding, ensuring the right code is always applied—be it date code, batch code, barcode or whichever other type of code—and because it is automated, the integration software enables faster product change-overs.
Having the correct code applied— without the need for rework—is critical for lean manufacturing processes, which are essential to creating and maintaining a cost-effective supply chain.
Specifically Designed Technology
Several technologies exist that can be used in food and beverage coding and labelling.
Small Character Continuous Inkjet Coders (CIJ): These highly versatile, precise coders are ideal for high-speed lines and irregular products. They are well suited to coding variable information such as date codes, batch numbers, promotional codes, serialisation codes, product-identification codes, logo graphics and text.
Lasers: An extremely fast, cost-effective way to mark permanent codes onto food and beverage products. They can apply human-readable text (such as date and batch codes), as well as barcodes and graphics. Lasers can code onto glass, plastics (such as PET, polystyrene and polypropylene), metal and cardboard, and are often used in anti-counterfeiting and brand protection. They are suited where presentation is very important (e.g. wine), and on high-speed lines. Lasers can also code onto cartons and other secondary packaging.
Inline labelling: This suits a variety of applications and needs, including top, side or under labelling; wrap labelling; wrap labelling with seam orientation; front and back; a combination of front & back and wrap; wrap labels oriented to flip marks on different types of bottles; and wrap labelling or partially wrap labelling cones. Inline labellers are also perfect for promotional labelling.
Label Printer Applicators (LPA): These print onto pressure-sensitive labels then automatically apply those labels to a product, using a pneumatic applicator. LPAs differ from Label Applicators (LAs), which apply pre-printed pressure-sensitive labels. Labels can be thermal direct (which are thermal sensitive) or thermal transfer labels (which use ribbons to transfer ink onto the labels). LPAs are used for applying human-readable and barcode information to many different products, generally cartons or pallets. Because LPAs have excellent print quality, the barcode labels are fully compliant with all GS1 and retailer quality standards. LPAs are easy to-use, with integrated software allowing them to be programed without a PC on the production line (e.g. logic programming), such as for dates.
Besides innovation in products, packaging innovation is also excellent for creating shelf appeal, but it must also meet all coding requirements. The right coding technology can help meet all compliance regulations, without compromising on the product look. For instance, laser coding can be nonintrusive, and help with overall shelf appeal.
Case Study: Wet Fix
Queensland-based water bottler Wet Fix Proprietary Limited had no time for unreliable equipment, missing codes and extra manual quality assurance checking. Professional-looking new packaging needed coding to match—and equipment that did its job, with flexibility to allow them to grow. They found it all at Matthews.
The natural spring water company sells bottled deep-spring water from Mount Tamborine, though the bulk of its business is contract packing—servicing over 200 customised labels.
When Kayne Gill and his partners took over in 2004, the business was solely doing 19-litre bottles. Within a couple of years, they had entered retail markets and moved to their current larger premises. With the moves into retail and then customised labelling, came an expansion of bottle sizes.
Reliability Clamps Output
But while their output was increasing, their existing coding equipment was giving them a few headaches.
Mr Gill commented: "We had a laser that had reliability issues: it was very faint and would also miss from time to time. Then, changes to packaging meant we could no longer print and apply an adhesive label to shrink wrap, so we needed another solution there; and on a third line, we also had a very old hot-foil system. So the whole lot needed upgrading to remove the downtime hassles, plus give us a professional-looking result."
The company compared different technologies and suppliers, choosing two Linx CJ400 continuous inkjet (CIJ) coders and a 30- watt eSolarMark laser from Matthews Australasia.
Print Quality
According to Mr Gill, these were chosen because they are easy to use and flexible—both speed wise and in allowing them to code where they want.
Another reason was also because of the print quality. "We found other, similar options out there, but they didn't seem to have as good a quality print at that speed."
The company uses the laser and one of the CIJ printers to code onto a range of different-sized and shaped PET bottles, from 300 ml to 10 litres. The second CIJ codes best-before dates onto shrinkwrapped packs.
Professional Looking
With a CIJ to code onto a shrink-wrapped pack of 24 bottles instead of print-and-apply labels, the products have a more professional look, Mr Gill said.
Also, he said: "If you have print going onto a label, there has to be enough space, and on some applications the labels weren't very good quality either. This is much better, and warehouse wise, it doesn't take up a lot of space—unlike if it was pre-printed cartons."
Coding Flexibility And Speed
The laser coder and CIJ that code onto PET bottles sit straight after the clean room on the production line, with the second CIJ before the palletisers, directly after the shrink tunnel.
"At the moment we're using that for best-before dates, and traceability with regards to time, Julian date, line number and so on. In rare cases, we also print a message and we could, if needed, do logos. We're just doing two lines of text. The best-before wording is fairly large, so it's easy to find, while the actual date underneath is smaller," Mr Gill said.
The CIJ and laser can code onto the PET at 175 bottles per minute with three lines of text, more than the company's current needs, and the lines are operational 24/7.
Productivity Up
With the new equipment, the company's efficiency and productivity has improved.
Traceability coding is very important because without it, it is potentially very damaging to the product and brand, said Mr Gill. Before the new solutions, the company had resorted to manually checking everything as it went out because of the unreliability of the equipment they had then. This was even to the point of checking the products every five to 10 minutes—not a very efficient process as it impedes work progress.
Coding is a critical area. As well as giving a professional-looking result, the present equipment's reliability relieves the pressure of manually checking quality, making for an efficient and productive work process.
SHARE WITH FRIENDS:
TAGS: