Coconut-Based Beverages Surge In Popularity Due To Health Benefits
Wednesday, September 20th, 2017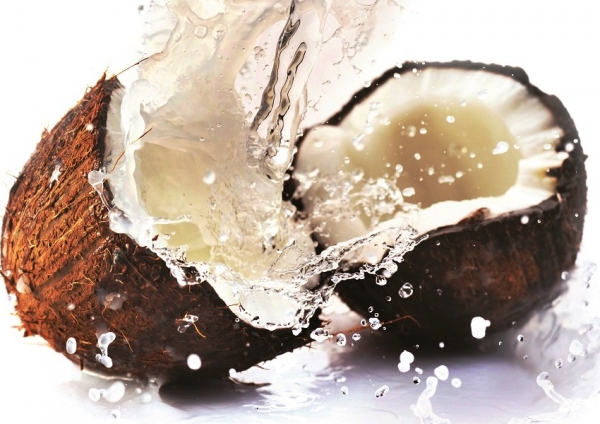 With multiple health benefits and a variety of applications for food and beverage categories, coconut is becoming an increasingly and popularly used ingredient. By Mei Hin Liew, general manager Soya, Tea and Coconut Centre, Tetra Pak
vinkjd
Asia is the unquestionable hub of coconut production, with approximately 75 percent of the world's coconuts being produced in Indonesia, India and Philippines. The region produces around 55 billion coconuts per year, thanks to continuous production across the tropical seasons. Over the last six years, the diverse health benefits of coconut have begun to overlap with a fast growing health and wellness mega trend, with consumers increasingly seeking products that offer maximum health benefits.
To help meet this global demand and develop expertise in a rapidly growing industry, a Coconut Knowledge Centre was established in Singapore by food processing and packaging solutions company Tetra Pak. The centre is strategically located to tap into local knowledge on coconut production, to collaborate with universities across the region and to support customers investigating the commercial viability of adding coconut beverages to their portfolio.
In April this year, the company has also launched 'The Coconut Handbook'. This is a single knowledge source covering the entire value chain (from tree to table) of coconut, and aims to support customers increase their understanding and expertise of this surging category.
The Healthy Attributes Of Coconut Products
The coconut is a source of food, oil, coconut water, coconut milk, and medicine. The health benefits of three of the most popular coconut products include the following:
Coconut milk—a popular plant-based dairy alternative ideal for lactose intolerant consumers, coconut milk contains a protein that has the potential to increase the levels of red and white blood cells and components important in building the body's immune system.
Coconut oil—contains fatty acids and medium chain triacylglycerides (MCTs) that are readily metabolised as an energy source, reducing the level of cholesterol transported and stored in the body. It has been claimed that the MCTs in coconut oil can increase our bodies' resting metabolic rate, leading to long term fat loss.
Coconut water—a natural, low calorie and low sugar drink often referred to as 'nature's isotonic', coconut water is rich in electrolytes and minerals ideal for rehydration.
Coconut Water: A Global Phenomenon
Phu Thinh Co
Coconut water is just one example of a coconut product, but one which has become famous as a zero-calorie, mineral-rich super-drink promoted by international stars such as Rihanna, Gisele Bündchen and Sienna Miller. Such international stardom has contributed to the growth of the global market for coconut water beverages, which is now estimated to be worth more than US$1 billion and still growing. This is particularly interesting given coconut water used to be (and sometimes still is) thrown away as waste, due to the combined complexity of handling and processing, as well as lack of demand.
One of the primary drivers behind the explosion in popularity of coconut water in the US and now European markets is the extensive health benefits discovered at such a crucial time, specifically:
Mineral-rich: Coconut water contains a range of electrolytes, primarily from minerals such as potassium, calcium and magnesium which are needed to rehydrate our bodies.
Active vitamins: Naturally occurring vitamin C and B-complex vitamins exist within coconut water, helping maintain healthy cellular function, boost immunity and promote an active metabolism.
A source of essential amino acids: These make up the building blocks of protein that are necessary for the growth and repair of your muscles, bones, hair, skin and eyes, as well as digestion and the creation of antibodies.
Cholesterol-free: As coconut water contains no fat or trans-fat in the beverage
Natural sweetness: Coconut water is relatively low in natural sugar compared to other beverages and yet it has a mildly sweet and pleasant taste.
As for the question of whether there is enough coconut water to meet surging demand, it is important to note that the coconuts used to create coconut water beverages today still represent a very small portion of the total amount available globally. The larger challenge for coconut-based beverage producers is the establishment of processing plants close to plantation sites and expanding pre-processing and processing parts of existing plants.
Brazil is by far the largest market for packaged coconut water and Kero Coco is the country's leading brand. Over in the US, coconut water brands such as Vita Coco, O.N.E. and Zico lead the market while in Europe, coconut water is making steady inroads as more people become aware of the health benefits of this nutrient-packed beverage.
The Future For Coconut-Based Beverages
With data showing that younger consumers are increasingly focused on health and wellness—for instance, 51 percent of millennials avoid fast food—the market for healthy beverages such as those derived from coconut is a promising growth area. Innovation currently occurring in the category includes the launch of on-the-go coconut milk beverages that are proving particularly popular in the US and China.
These products are designed to cater for consumers with busy lifestyles who are demanding healthy beverage and snack products in quality, sustainable packaging that they can consume while on the move. For example, there were 163 beverage introductions with "coconut water" in the product name launched in 2012, rising to 371 in 2015.
So it is clear to see that coconut water is a rising star in this category, and despite their being international brands already established in the market, there is still room and opportunity for those keen to learn more about this growing and exciting beverage segment.
SHARE WITH FRIENDS:
TAGS: