Catering To The Evolving Consumer
Monday, September 18th, 2017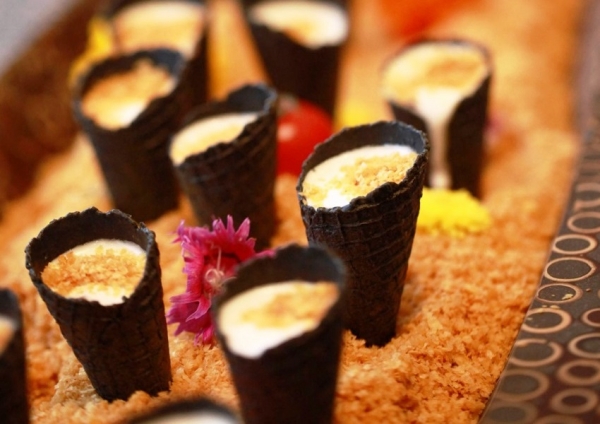 The catering industry, like all food and beverage industry sectors, is growing strong today. Jerry Sim, director, Strategic Business, Lavish, shares more with APFI on how the industry has changed and what can be expected for the future. By Michelle Cheong
Fresh canape set-up.
Catering in Asia and in Singapore is a growing market. In fact, for Singapore, the sector has grown by 35 percent in revenue and 31 percent in number of caterers between 2008-2013. Operating receipts show that this has translated to a growth of over S$200 million (US$150 million) in that five years.
Besides growing in numbers, caterers have also grown in various other ways, such as offerings to clients in terms of service and food, and use of food technology and equipment. With the constantly evolving consumers, caterers have no choice but to adapt to these changes in customer demands in order to maintain a competitive edge.
Accommodating To Customer Profiles
To date, food service professionals cater to a wide variety of customers, from small-scale events like simple luncheons, to large-scale ones such as corporate galas, product launches, weddings, or meetings, incentives, conferences & exhibitions (MICE) events.
As such, some caterers have also specialised in catering to differently-scaled events, and accommodating to the different customer profiles. There are also luxury caterers for events, and these provide premium catering services and food. However, these caterers only a number a handful as market forces of demand and supply play a controlling role.
Staying In Line With Trends
'Mini' is in fashion.
As a caterer, the most fundamental element of the service would be the food that is provided. Today's clients are demanding more than just 'edible' food. They want food that is trendy, in line with what their guests would want, and what their guests would love to see.
As a result, today, set menus are not 'in.' Rather, customisable menus that can be uniquely tailored would be a plus point for caterers. These personalised menus can be according to set themes by clients such as red theme canapés or pink theme cocktails. Caterers who are able to include menus from traditional ethnic food to more contemporary ones would also be favourable for clients.
Also, gone are the days when special diet simply means 'vegetarian.' Now, caterers are expected to provide menus that are gluten-free, shell-fish free, flourless, mushroom-less, or contains no pepper. Even Jain and Kosher are no longer the only special dietary requirements.
Besides these, there's also portion-size and presentation that is important in the client's eyes. For example, all things mini are in fashion. These can include mini sliders with pulled meats, mini soups in expresso cups, or mini canapés. These smaller-sized portions appeal more to clients and guests as it gives the sense of being healthier—by eating less—and it also alters their perception of how much they have really eaten as they are more likely to try more varieties of food because they are in smaller portions.
Providing More Than Just Food
A black themed gala.
Despite all the demands for food, caterers today are expected to also go a level beyond simply providing food. Just a decade ago, customers used to say, "Just give us good food and feed us well," informs Jerry Sim, director, Strategic Business, Lavish. Now, they do more than just feed their guests. Clients want to look good as well because of growing affluence and personal stature, and these clients are also well heeled, well-travelled and more exposed to overseas culture, food and ideas.
Naturally, the cost per person for events 10 years ago and now is also significantly different. In fact, in 2005 the average check per person was about S$60-70 (US$44-52), while that in 2015 ranged from S$120-150 (US$89-111). This is a jump of about two times the initial cost.
Still, despite this premium, clients are still willing to pay to engage premium caterers. Ranking as importantly as food, Mr Sims says, a holistic experience that delights all the senses is what clients want caterers to provide. This can be done through décor and mood creation, which can be used to help foster relationships between hosts and guests. Also, by helping to make the client look good in front of the guests, it also highlights positive experiences for guests.
The service that the waiting staff presents at the event is also important. Having highly experienced and trained staff who are able to deal with unexpected situations, who have the sensitivity for cultural differences and etiquette, and are always prepared for small mishaps such as spillage of wine would always complement the host's image. Therefore, it is important for staff to be trained to provide intuitive service so they can offer assistance even before a guest asks for it.
The Future To Come
Other than keeping in line with the latest trends, caterers would also be expected by customers to move towards sustainability and an environment-conscious operation process in the near future. Doing this would enable them to be seen as having a more responsible and reputable brand image by clients, as they become increasingly aware of the need for sustainability.
According to Mr Sim, mergers, acquisitions and consolidations will also be on the agenda as the economy cools off in the next couple of years. Some caterers will look to cement their market share, and if needed, easing their pricing, while market leaders innovate to stimulate the market.
SHARE WITH FRIENDS:
TAGS: