Case-Study: Saving Cacaolat
Saturday, September 16th, 2017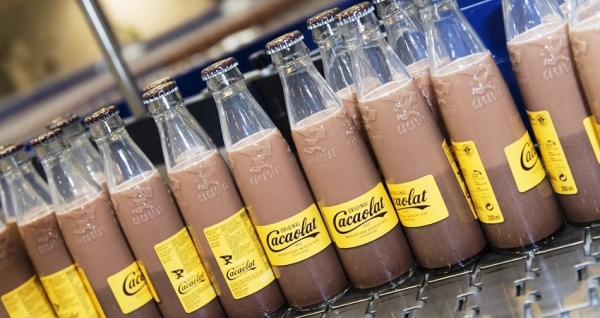 With the Catalan government's urgent call to help save the cacaolat, two companies have stepped up to revive the brand and much more through technological transformation. By Martin Popp, Krones
It all began back in 1931 when the co-founder of the Letona dairy, Marc Viander Bas, with his son Joan went to visit a trade fair in Budapest and there on the occasion of a wedding was served a cold milk-based mixed cocoa drink.
Both father and son were immediately taken by its taste, so much so that they developed a similar recipe for their dairy back home in Barcelona, which they premiered in 1933. It proved to be a resounding success, with an innovative product and the production capacities available at the Letona dairy combining felicitously.
Cacaolat became the world's first industrially produced smoothie. And one of the development's welcomed side-effects was that the Letona dairy had found a use for its superfluous whey. Cacaolat's makers were very smart in their new favourite product's advertising: 'Chilled Cacaolat in summer' and 'Hot Cacaolat in winter'. They turned this nourishing milk-based mixed cocoa drink into a beverage that could be enjoyed the whole year round, one that was equally popular with both young and old. As its trademark, they had 'Pepi' created, an athletic boy seen with his satchel in his hand and an overdimensioned bottle of Cacaolat on his shoulder walking to school.
To this very day, you will still encounter Pepi, but in a substantially reduced, rather stylised form, in Cacaolat's advertising, and also as an embossed figure on the neck of the striking, torpedo-shaped glass bottle.
From 1936 till 1950, production had to be interrupted, firstly due to the civil war, and then because there weren't any high-quality raw materials to be had. In the 1970s, the Clesa dairy group took over the Letona milk brand, and with it Cacaolat as well. This was followed by Clesa being incorporated into the Italian conglomerate Parmalat in 1998, which due to the latter's subsequent financial problems was not exactly conducive to Cacaolat's progress. Nor was the sale to the Spanish financial conglomerate Nueva Rumasa in 2007 destined for a happy end: in 2011, the company had to admit to a high level of indebtedness, with the tradition-steeped Cacaolat brand threatened with extinction.
It was in this situation that the Catalan government took a hand, with its call for help "Salvem el Cacaolat (Let's save Cacaolat)!" In November 2011, the Damm brewing group and soft-drink producer Cobega purchased rights to the brand and production facility for €130 million (US$142.5 million) with each partner paying half. In February 2012, a new company Grupo Cacaolat SL was created, completing the rescue operation.
Fresh Technology Start-Up
The existing dairy plant in Barcelona's Poblenou suburb then had a completely obsolete production operation, in which more than 500 staff had made the products largely by hand.
Therefore, the new company took possession of a former Damm brewery in the Santa Coloma De Gramenet district that was closed down in 2009 for a fresh start in terms of technology.
The buildings were refurbished and an entirely new process-engineering and filling kit was installed. The facility currently processes 50 million litres of raw milk each year, about 70 per cent of this as fresh milk under the brand name of Letona, and 30 per cent as Cacaolat. Other products, like almond milk Horchata, for example, were discontinued.
In the old factory, only the one-litre size was handled for filling milk in an ultra-clean line, nor was there any PET filling equipment for Cacaolat in this plant at Poblenou. That job was at the time being carried out by contract bottlers.
Now, everything has changed: the company produces both sterilised fresh milk with a shelf-life of 24 days, and UHT milk treated at 142 deg C with a shelf-life of six months, supplemented by the UHT milk-based cocoa mixed drink Cacaolat, which thanks to additional stabilisation has a shelf-life of at least eight months.
Three Bottling Lines
The general idea behind the refurbishment and the new kit was primarily a significant streamlining of the production operation, not least thanks to the introduction of SAP, tighter-focused sales planning.
To make Cacaolat, a white syrup and a dark syrup are produced, with the white syrup consisting of whey and milk powders, while the dark syrup is obtained from two different types of cocoa, which are then missed with sugar and some other constituents.
These, in turn, are blended with semi-skimmed milk to produce the finished article before being homogenised and sterilised at temperatures of above 140 deg C and held in readiness for filling in a 40 cubic metre sterile tank.
Besides the process-engineering kit for milk likewise newly installed for this purpose, Cacaolat utilises a single large hall for filling its products on three lines: one line for returnable and non-returnable glass rated at 10,000 bottles an hour with reference to the 1.0-litre bottle, a PET line with an hourly output of 12,000 1.5-litre and 20,000 0.2-litre bottles respectively, and the third but not least, a line filling small drinking cartons (fitted with straws), which will start up operation later.
Newly Bottle Design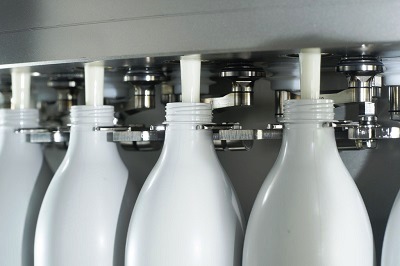 To coincide with the relocation to the new plant, the design of Cacaolat's 200ml glass bottle was also revamped. While previously, it had been cylindrical, it is now slightly conical in shape.
At the retailers, especially outside Catalonia, Cacaolat is sold exclusively in the non-returnable bottle; there is a returnable bottle for hotels, restaurants and catering (horeca) segment, which is delivered in plastic crates.
Returnable bottles are closed with a yellow crown, while non-returnables are given a brown one. The outer dimensions of both types are identical. Since the non-returnables feature thinner glass, though, their volume is bigger, which is why the fill level in nonreturnables is lower.
The glass line therefore had to be equipped for handling both types of bottle. The differences include depalletising of the crates of returnables by means of robot technology and an unpacker on the one hand, and a bulk-glass sweep-off depalletiser on the other.
The bulk glass bottles are then passed on roofedover conveyors through the empty-bottle inspector, and directly to the rinser-filler-closer-monobloc, where they are cleaned and filled.
The filler's product tank is fitted with an agitator so as to prevent the cocoa content from settling at the bottom.
Decontamination
On the other hand, the returnable glass bottles—once unpacked—are upstream of the empty-bottle inspector passed through a double-end bottle washer, which means they can bypass the rinser in the filler monobloc.
After they have been filled, a machine inspects the containers for correct fill level by means of gamma-rays, and for the presence of a closure. The filled bottles are now sterilised. For this purpose, Cacaolat installed a special hydrolock autoclave.
The containers are thereupon passed over a relatively large buffer table and then to the labeller, which dresses them in body and back labels on two cold-glue stations. After that, the bottles are inspected for label presence.
When it comes to packaging, there is again a difference in handling returnables and non-returnables. Returnable glass bottles are packed in plastic crates, while the nonreturnable glass bottles are packed on half-board shrink wrapped trays. Both types of pack are palletised by means of robots, with the pallets' load stabilised for transport by wrapping them in film.
Dry Aseptic Technology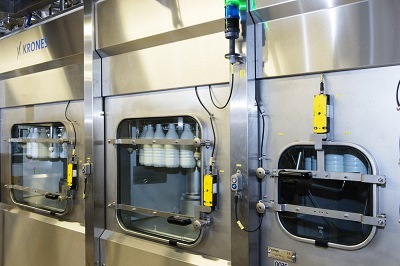 The PET line has been installed directly adjacent to the glass line and its heart is the aseptic monobloc. In the machine with ten blow-moulding stations, the preforms' interior is cleaned to start with, after which the preforms are inspected, and then blow-moulded.
After that, the bottles are swiftly and dependably decontaminated inside and out with gaseous hydrogen peroxide in the container steriliser.
The monobloc-synchronised aseptic filler determines the fill quantity using an inductive flow meter. Since it fills the bottles in non-contact mode, it offers a high level of microbiological safety. The product is passed into the machine from above, which reduces product losses at the end of filling to a minimum.
After the bottles have been aseptically filled, the fill levels and closure position are verified by means of gamma-rays. Letona fresh milk and UHT milk are then dressed in a wrap-around label.
For Cacaolat, the company also uses a labeller for applying sleeves, linked up to a shrink tunnel. Between them is another checker, which inspects the positioning of both wrap-around and sleeve labels.
For end-of-the-line packaging, the company has installed three packers side by side. An all-round packer forms full-size cartons holding six bottles of milk in the 1L and 1.5L sizes, plus open 21-bottle trays without film for 1L bottles of cocoa.
The second machine is a packer, which creates shrink-wrapped six-packs without a pad for all 1.5L UHT milk bottles, plus packages of six 1L bottles of cocoa on a tray. The packer also puts together four six-packs of the small 200ml bottles of cocoa to form a tray-based shrink-pack.
These six-packs with 200ml cocoa bottles come from a third packer. Finally handles are applied before the packs are passed to a layer preparation unit, after which they are palletised by a robot.
The two lines were acceptance-tested at efficiencies of 98 percent (glass line) and 92 percent (aseptic monobloc) respectively.
Amenable To Expansion
The company's products are selling well on the market. The figure estimated for Letona UHT milk in 2014 will be exceeding the original expectations by around 30 percent.
Cacaolat has likewise upped its figures as compared to 2013 even though it is relatively high-priced: ex-works selling prices are over 60 cents for the 200ml PET bottle, and more than 90 cents for its glass counterpart.
In Catalonia, the company achieves an area coverage of almost 100 percent. It also serves markets on the Balearic Islands and in the Basque Country. The aim is to expand sales to all of Spain, and to step up exports, which are at present restricted to North Africa, Ireland, Israel, Russia and Italy.
The group is confident of scoring highly again with its new product Cacaolat 0%. This cocoa-based mixed drink, with zero percent fat, is made from full-slimmed milk.
What's more, the company is using stevia sweetener here instead of sugar. This means that the calorie count is significantly less than that of normal Cacaolat.
SHARE WITH FRIENDS:
TAGS: