Case-Study: Automating For Efficiency
Tuesday, September 19th, 2017
Upon realising their block storage could no longer cope with production demands, Mineralbrunnen Rhönsprudel, primarily a mineral water company, looked to SSI SCHAEFER for a solution that could address their needs. They then replaced their existing warehouse with an automated high bay warehouse that has since improved their operation efficiency. By Martin Keller, project manager, SSI SCHAEFER GiebelstadtF
For over 230 years, MineralBrunnen RhönSprudel has been manufacturing beverages. Though primarily involved in producing mineral water, the German family-owned company also produces fruit juice and isotonic drinks. The company uses several warehouses for production and storage of the beverages, and one of these is the Ebersburg-Weyhers site that produces approximately 300 million containers of mineral water and other drinks per year with different container types (glass, refillable PET bottles, and nonrefillable bottles).
The company previously used a classic floor block storage in the warehouse to temporarily store the drinks. In time however, the positive amount of growth, increasing product range, and the different packaging types of the products led to an increasing amount of forklift traffic between production, storage and the ramps due to the relatively small number of storage locations in relation to the space.
The then existing facility could no longer support their processes efficiently, and the company looked to SSI SCHAEFER in 2013 for a unique solution that could address their needs, and integrate all their existing systems in neighbouring buildings—production, storage and loading, technical systems and supply connections—into a single warehouse.
Completed within 12 months without requiring additional space, the new facility was built on the existing site. It comprises a high bay warehouse that provides extra storage and improves efficiency through fully automated processes.
Efficient Material Flow Even In A Confined Space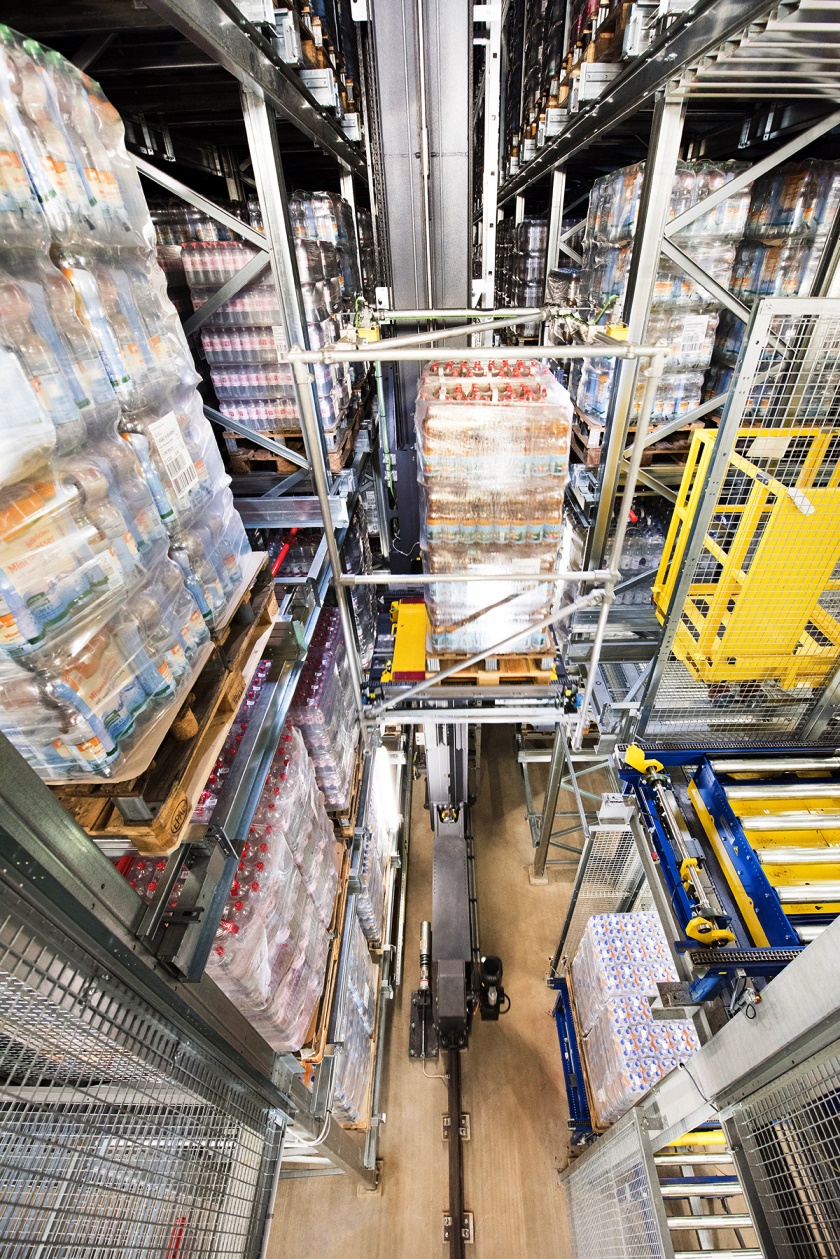 The new warehouse is equipped with three aisles that have channel storage four pallets deep and room for 9,384 pallets. This was in contrast to the maximum of 2,500 pallets that could be stored at the previous site.
In production, once drink packages are packed onto pallets, the loaded pallets are transported by an automated powered chain conveyor to a continuous vertical conveyor that lifts the pallets onto a platform. The i-point and contour check is also carried out automatically here and if the check is successful, the pallets are transported through the fire door to the pre-zone in front of the high bay warehouse. In addition to the automated transport and goods-in, there is a manual goods handover for fork lifts by the automatic lift, so that pallets from other production sites can be stored.
Each aisle has its own automatic storage and retrieval machine (ASRS). According to Andreas Koch, head of product management, SSI SCHAEFER, Giebelstadt, these are highly standardised ASRS that can be individually configurable to specific customer needs with short delivery and implementation schedules. With these ASRS, pallets transported on the conveying system to the pre-zone (in front of the warehouse) can be retrieved and transported to the respective storage channel without the need for manual labour.
Working with the ASRS is a load handling device that functions as a satellite for multi deep storage. It comprises a flexible shuttle system for channel storage with an ability to store and retrieve pallets up to 1,000 kg. The shuttles are supplied with electricity over maintenance-free power caps. Four high-resolution regulated drives and an innovative lifting mechanism without hydraulics provide the required power. The performance of the high bay warehouse is designed to carry out up to 100 double cycles per hour to ensure that there is enough capacity for turnover during high season in summer.
To coordinate the new logistics system and increase process efficiency, a logistics software is used to control the material flow towards all components in the distribution centre including goods entry, says Mr Koch. This software assigns and manages storage locations and interfaces with the existing warehouse management system, such that it is able to fill each storage channel dynamically, even varying in channel depth. This optimises storage capacity and performance of the system, allowing the company to store excess lot quantities efficiently. Further, with its system visualisation tool, users are provided with an overview of the entire system and individual conveyors so that manual steps can be taken if necessary.
Improved Energy Efficiency
Another advantage this new logistics system gave the company is that of an improved energy efficiency. The ASRS that the system uses has an integrated green logistics concept with energy feed-back either internally between travel and hoist or externally towards public net integrated in the central motion control, which allows for an efficient use of energy, shares Mr Koch. Also, the lightweight construction of the mast with an integrated counterweight for the lifting carriage leads to an additional 25 percent in energy savings.
Further, intelligent controlling of the drive unit and lift drive is able to transfer brake energy directly into operating power over an intermediate circuit connection. This can reduce energy consumption by up to 20 percent. On top of this, the operator can realise additional energy savings and reduce wear and tear by making adjustments to the speed and acceleration of the automatic storage and retrieval system based on demand.
Automated Through To Shipping
The new system also allows the company a fully automated dispatch process through to shipping. Located in an adjoining building section between the pallet checking station and the connection to production, this area has two gates for rear truck loading and another gate for the occasional side load, as well as a gravity roller conveyor.
Controlling material flow toward all components in a distribution centre, the logistics software identifies and retrieves specific quantities of items from particular lots, and transports these via an automated pallet conveying system to the shipping zone which encompasses four dispatch lanes per dock leveller.
A large advantage with this automated process is that only pallets that are going to be loaded onto the trucks for dispatching are brought to the retrieval area; all other pallets are left at the handover area. With this, the company can therefore send subsequent orders to the dispatch lanes for the next pick-up.
This automated solution has been very beneficial for the company, reported Thomas Storch, head of production at RhönSprudel. It has given them extra storage space and eliminated their need for external warehouses, and, allowing them to continue operation around the clock, it has also enabled them to improve production and increase delivery availability.
SHARE WITH FRIENDS:
TAGS: