Carving A Unique Space In China's Bottled Water Arena
Tuesday, September 19th, 2017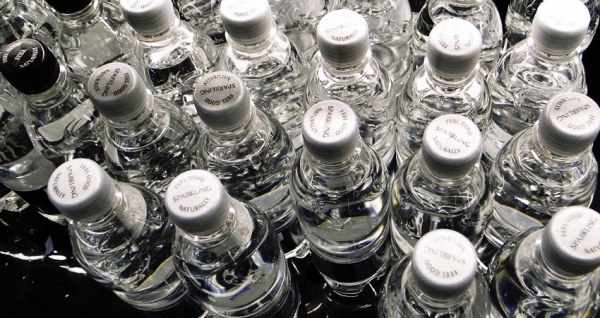 China's bottled water industry is an unforgiving landscape with increasingly intense competition. Even though the market is vast, the oversaturation of many international and local brands has driven sales down, making it hard for many to survive. With the economic slowdown, what can water producers do to stay competitive in the market? By Julia Lee, food and drink analyst, Mintel China
There is no doubt that China's consumer market is big. With an estimated population of 1.4 billion people, China ranks number one in the world by population. In most provinces in China, tap water is not safe for human consumption and serious health and social problems concentrate in areas where the water quality is poor. Currently, it is estimated that around 300 million Chinese people face shortages of drinking water.
In April 2014, for example, officials in Lanzhou, a city of three million people in western China's Gansu province, advised residents not to drink the city water because of contamination. Predictably, people flocked to stores to purchase bottled water.
Even with the vast consumer demand, the bottled water market is fiercely competitive in China, with hundreds of brands battling to seize a share. In 2013, Mintel reported that the market had seen a significant growth rate over the past five years; volume sales were growing at a CAGR of 24.4 percent. Volume sales was 18.1 million litres in 2007, and this figure jumped 2.5-fold, to almost 47.9 million litres in 2011. The growth is expected to slow down over the next five years, but continue grow at double digits.
Currently, the bottled water market is becoming increasingly polarised with a dominant low-end, squeezed profit margins sector and a booming high-end market which is also facing increasingly intense competition. Despite this, the sheer size of the market, and China's vast population, provides opportunities for new brands to enter and grow if they can attract consumers with a unique selling point, meet existing needs or even provide solutions to issues that have yet to be noticed by consumers. One such issue is producing waters which are designed specifically for babies and pregnant women.
The concept of 'baby water' has only recently emerged in China, with some traders introducing imported brands to the country and mainly promoting them online. Brands currently sold through the online retailer yihaodian.com include Sant'Anna, Nerea and Gaia, imported from Italy; Lake Mashu from Japan; and Nursery, imported from the US.
To convince consumers about the safety and purity of products, almost every brand comes with an information sheet. This typically includes the brand's story, water source, advanced production technology specifications, educational information about nutrition, and award certification. The retail price of these products is around 10 times higher than mainstream brands, illustrating their premium image and the cost implications of using such high-quality and pure water sources.
Some local brands are also launching baby waters, which are either processed with unique technology or contain special combinations of minerals and trace elements to suit the needs of babies. For example, the Kawagebo Company has launched a 'Baby Strong' product under its Micro Water brand, which is said to be processed to re-structure the molecular group of water, making it smaller and easier to enter the cells of the body.
Another example is the Qomolangma Glacier's Natural Water for Baby, which is sourced from the Qomolangma glacier. This provenance gives the water a natural, pure, unpolluted and high quality image that is suitable for the undeveloped digestive system of a baby.
High Quality Is The Top Criterion For Chinese Consumers When Buying Bottled Water
China is one of the biggest baby food markets in the world, with more than 16 million babies born each year. According to Mintel's Baby Food and Drink China 2014 report, the relaxation of the one-child policy could potentially drive this higher if its implementation is spread nationwide, with an extra one million newborns expected each year after 2015. However, water specifically designed for preparing baby food with is still seldom used by Chinese parents.
Product safety concerns and fears about contaminated water supplies have created great potential for baby water as 'higher quality' is now the top criteria for Chinese consumers when purchasing bottled water. According to the research, 'high water quality' ranks above 'well-known brand' in buying decisions.
Some 81 percent of Chinese consumers also agree that 'bottled water of higher quality (for example, better water source, strict production process) is worth paying more for', and this percentage is even higher among those with a family and children. This suggests that parents in China are paying more attention to protecting their children from harm by avoiding low-quality food and drinks.
European Markets More Active In Baby Water Innovation
Low sodium is the top claim in the global baby water segment, with nearly half of baby water innovation between 2012-2014 featuring the claim (per GNPD). Water source is also commonly highlighted.
For example, Christinen Carat Natural Mineral Water, launched in Germany, is sourced from the Fläming spring in Wiesenburg; the Azurelle Alpine Natural Mineral Water launched in Italy is sourced from the Vinadia spring; and the Volvic Natural Mineral Water launched in France is sourced from a volcanic ecosystem that provides a unique mineral composition.
This attention to provenance has made the European markets an ideal source of imports and a good reference point for new product developments in China. However, there are challenges for the future of the market, with some experts posting articles online to question the quality of products as there are no standards for baby water in China. This suggests that excluding low awareness, product trust is now the key barrier for wider baby water consumption.
Since baby water is still in its infancy in China, there is still plenty of room for brands to tap into this market to gain sales– especially considering the fact that China's birth rate is expected to increase as a result of the relaxation of the one-child policy.
A lack of awareness and product trust are the key barriers for further growth of baby water, suggesting that brands should conduct more educational marketing campaigns to convey these qualities. The relatively active European market could be a good reference point for the Chinese baby water segment.
SHARE WITH FRIENDS:
TAGS: