Capitalising On Protein's Consumer Appeal
Thursday, December 3rd, 2020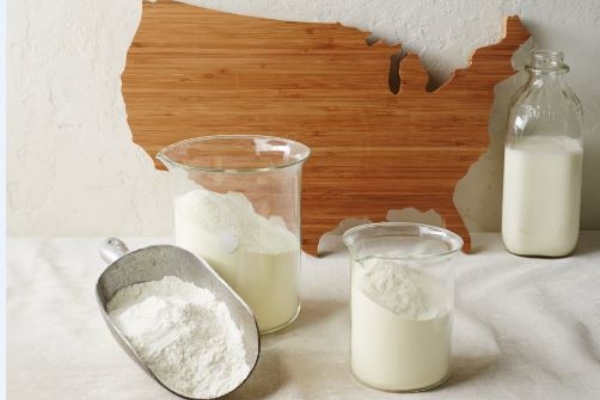 Eye-catching packaging solutions for U.S. dairy innovations.
Consumers today are inundated with a variety of brands offering different benefits when walking down a supermarket aisle or shopping online, where packaging design and information play an important role in the ultimate purchase decision. To find out more, APFI spoke with Shahirah Mustafa, Program Director at U.S. Dairy Export Council (USDEC) in Singapore to discuss the importance of packaging to gain a competitive advantage and help consumers select healthier options that fit their lifestyles.
"Packaging is really a form of science, and a craft which needs to be honed constantly—particularly for the Southeast Asia market, which is a growing region for protein foods," says Mustafa. "As we adapt to a 'new normal' brought about by COVID-19, more than ever, these are times where consumers are paying more attention to their health and value health information. Nutritional messages on packaged protein products, the integrity of those messages, and ultimately, the quality of ingredients within must deliver on their promises."
To this end, the organisation is sharing tips for eye-catching packaging, in addition to technical and innovation support on U.S. dairy ingredients' functionality, nutrition and usage versatility. This includes smart, appealing new packaging design concepts featuring U.S. dairy products tailored to this part of the world to help manufacturers create winning products that consumers put in their shopping carts.
BRIDGING THE PROTEIN GAP IN SOUTHEAST ASIA
Added protein has long been a key driver to enhance a product's appeal in the USA and Europe, especially for weight and fitness conscious consumers. With its diverse set of cultures, preferences and tastes, added protein has also been gaining popularity and traction in Southeast Asia in recent years. 
However, according to USDEC's consumer insights study in 2019 for Singapore and Thailand, Mustafa points out that consumers in this region, while passionate about protein, may not know exactly what they are looking for. "Our research shows that there are educational gaps that need to be addressed when it comes to protein consumption. For instance, consumers know that not all protein sources are the same but do not know how they differ. Consumers are also not sure exactly how much protein they should consume for their age or daily needs, nor the optimal timing and occasions for consumption." 
Also, while 98% of consumers surveyed were aware of the need for healthy aging, less than half (49%) felt well prepared for their journey ahead. Consumers also indicated they would be receptive to messaging around healthy aging and healthy families.
These findings present inherent opportunities for food and beverage manufacturers: to incorporate more consumer-friendly visuals and messages about protein on their packaging to guide decision making at the point of sale; and to innovate health and wellness products incorporating U.S. dairy proteins into diversified food and beverage products.
Similarly, formulators are also in a strong position to help consumers optimise protein intake in their daily food lifestyle through the development and introduction of wider choices of local-friendly foods and beverages containing dairy proteins. 
UNLOCKING OPPORTUNITIES WITH NEW U.S. CDE IN SINGAPORE
On 21 October 2020, USDEC unveiled the start of an exciting new chapter for its presence in Southeast Asia with the official launch of the new U.S. Centre for Dairy Excellence (U.S. CDE) in Singapore. As USDEC's first overseas physical investment, the U.S. CDE is envisioned as a gateway for collaboration between the U.S. dairy community and Southeast Asia's food and beverage stakeholders. A new area of focus is enhanced capabilities for delivering locally-tailored consumer insights such as protein perceptions and product concept testing.
"In the past few years, we have elevated capabilities to showcase innovative prototypes with U.S. dairy proteins through a focus on glocalisation that marries U.S. dairy ingredients like dairy proteins and permeate with local ingredients and flavours. With the launch of the U.S. CDE, we are taking that a step further, also developing mock-up packaging designs showing different ways to highlight dairy protein and its benefits for this region to catch the interest of health-conscious consumers. Our team of food scientists, marketers and research experts are here to help customers tap into these possibilities."
One of the latest products developed for local taste buds is a savoury congee, "Protein Instant Rice Porridge – Chicken and Mushroom" – that helps fill the protein gap at breakfast time. It is a healthy, nutritious, easy-to-prepare meal that is packed with 19 grams of U.S. dairy protein per serving with the added benefit of lower sodium, and friendly for the body and the planet. 
STANDING OUT ON THE AISLE
As the first point of contact with the product, packaging is an important conduit to convey concise, clear information on the products' benefits. "In other markets, the word protein is often featured in the product name, in packaging design or in messaging. The number of grams of protein contained may also visually be called out front-of-pack. The type of protein source can be called out too, such as whey protein isolate." 
As consumers today want to know where their food came from and that ingredients are sourced and produced in a safe, reliable and sustainable manner, highlighting the geographic origin is a key way to spark interest. "Our research found that Southeast Asian consumers perceive U.S. products to have high safety and quality standards."
Other useful packaging tips such as optimal times for consuming protein for the best results, or suggestions on where the products could be consumed – at home, on the go, or at the gym – creates more awareness on how best to consume. Some products also recommend daily intake amounts by age groups ranging from children to adults and seniors. "Of course, compliance with government regulations is always a must, notably, guidelines for any nutrition-related statements."
Packaging formats also offer ripe innovation prospects. "The recent emergence of single-serve, quick dissolving whey protein packs exemplifies convenience-driven packaging, offering a portable alternative to large tubs. We also see more squeezable dairy protein beverages, puddings, smoothies and yoghurt that consumers can grab-and-go with, and even whey protein fruit punches that are perfectly sized to fit kids' lunchboxes. This is just the tip of the iceberg. There are so many touchpoints on a package that can be used in meaningful ways to call attention and drive better understanding about protein." 
GEARED FOR THE FUTURE OF FOOD
A first-of-its-kind learning destination, ideation hub and collaboration space, the U.S. CDE also features a state-of-the-art demonstration kitchen, ISO standard-based sensory evaluation lab, flexible meeting and training rooms and the latest video broadcasting capabilities. 
The investments in the U.S. CDE are also expected to pave the way towards the Future of Food – committing to sustainability, strengthening collaboration and applying the latest consumer research. And the Centre is not wasting any time. Virtual programming from the U.S. CDE will kick off on 18 November with an online seminar on "Healthy Active Aging" with U.S. Dairy Proteins featuring nutrition experts from Singapore and Japan. 
"We look forward to supporting and innovating with our customers here to seize protein innovation opportunities, and to the bright prospects ahead for more Southeast Asia-friendly products that delight and nourish consumers."
Check these articles out:
PepsiCo Partners USAID To Launch $20 Million Partnership To Empower Women In Agriculture
Glanbia Nutritionals Acquires U.S.-Based Watson
SFA Finds High Level of Arsenic In Organic Brown Rice Baby Food
The Natural Food Safety Solution To Meet Market Needs & Consumer Demands
Sugar Reduction In Dairy Beverages—What You Need To Know
Dairy Proteins And Permeates: Ideal Nutrition-Boosting Ingredients In Ready-to-Drink Beverages
SHARE WITH FRIENDS:
TAGS: