Building The Foundation For Life-Long Health
Thursday, September 21st, 2017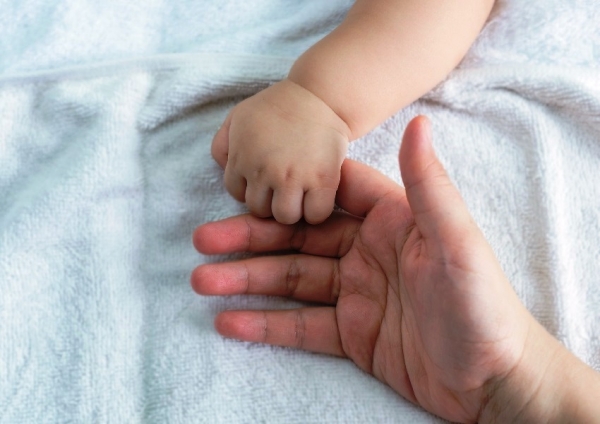 Research has revealed that getting the right nutrition for the 'first 1,000 days' of life lays the foundation for life-long health, so which nutrients in particular are important? By Marianne Heer, scientific marketing manager human nutrition, BASF SE
Early life nutrition presents a unique window of opportunity to make a life-long positive impact on the future health of every baby. Nutrition is the cornerstone for healthy development, growth, learning, and performance during the first years of life.
Further, recent studies revealed that it also has mid and long-term effects on the immune system, cognitive and visual functions, gastrointestinal comfort and metabolic health.
Beyond just focusing on the baby after birth, the current understanding of early life nutrition also encompasses the prenatal period. Thus, in order to fully benefit from tailor-made nutrition during the 'First 1,000 days,' this means for mothers to start watching their nutritional intake early in pregnancy. The formulators who embrace the existing and evolving science of this field are best equipped to serve these young people, and to capture market opportunity.
Nutrition During Pregnancy—Eating For Two?
The answer to this age-old question is both 'no' and 'yes'. On one hand, pregnant women must avoid excessive calorie intake and weight gain during pregnancy to prevent complications and to improve pregnancy outcome. On the other hand, they need to make sure to meet the increased demand for essential nutrients are met. This is especially true for women who are already nutritionally impaired.
A recent systematic review including women from various regions (US, Australia, New Zealand, Japan, Europe) showed that micronutrient consumption often failed to meet recommended levels. Micronutrients of particular concern are folate, iron and vitamin D. Moreover, a recent survey of pregnant women from eight cities in China showed similar discrepancies between dietary intake and the 2013 dietary reference intakes (DRIs) for pregnant women.
There is global consensus among the medical community that sufficient docosahexaenoic acid (DHA) intake is of utmost importance during pregnancy. Paediatric and nutritional societies around the globe are gradually implementing adequate intake levels. The Food and Agriculture Organisation, European Food Safety Authority and Chinese DRI 2013 recommend a DHA intake of 200 mg/ day, and eicosapentaenoic acid (EPA) of 50-100 mg/day. Some studies also suggest that higher DHA intakes (600-800 mg/ day) could have additional benefits by protecting against early preterm birth.
Breast Milk—The Universal 'Superfood' For Babies
Breast milk provides the optimal nourishment for young infants. This position is based on the premise that it has evolved over the millennia to match the precise nutritional needs of human infants. This is why the World Health Organisation recommends exclusive breast feeding for the first six months and continued thereafter for as long as possible.
Breast milk meets infants' needs by providing nutrients appropriate to their developmental stage. These include growth factors, oligosaccharides, antimicrobial peptides and proteins to support the developing immune system, gastrointestinal tract and brain morphology and functions.
However, this superfood does not come 'for free' to the mother. A breast feeding mother generates about 800 ml of milk a day on average. This leads to increased requirements of energy, macro- and micronutrients. Increased needs for energy and protein are easier to meet with everyday food intake. Essential nutrients however, such as vitamin D, folic acid, iron, zinc, iodine, calcium and the omega-3 fatty acid DHA may require additional effort. Formulators who tailor supplements for breast-feeding women have a significant responsibility to serve the vital needs of mother and child. This responsibility extends to their choice of ingredient suppliers, with a preference for those that ensure consistent, uncompromising quality.
Infant Formula—The Best Substitute If Breast Feeding Is Not Possible
Infant formulas are the right choice when the mother cannot or chooses not to breast feed her baby. These formulas aim to imitate the composition of breast milk, the 'gold standard' for infant nutrition. Infant formula can be used for exclusive feeding or in combination with breast milk. To reflect the variations in human milk during the lactation period, there are two types: starter formulas (from birth to six months) and follow-on formulas (from 6-12 months of age). Main differences between starter- and follow-on formulas concern the type and amounts of proteins and carbohydrates.
Human milk is the guiding principle for designing infant formulas. Human milk research has paved the way for important innovation milestones like including long-chain polyunsaturated fatty acids (mainly DHA and arachidonic acid), probiotics (e.g. Lactobacillus cultures), prebiotic oligosaccharides (e.g. galacto-oligosaccharides, fructooligosaccharides) and lutein. Formulas with extensively hydrolysed protein are specifically designed to manage cow's milk protein allergies and tolerances in early life.
Infant nutrition is all about safety. It is key to avoid formula contamination during processing and handling. Advances in packaging and application like ready-to-drink formats and single-portion packs are important steps to make products as safe as possible. Ingredients from world-class suppliers with appropriate International Organisation For Standardisation (ISO) and Good Manufacturing Practices (GMP) certificates, ingredient registrations, and a proven track record of consistently high quality are key contributors to product safety.
Growing-Up Milk To Close The Nutritional Gap
Growing-up milk (GUM) is an important source of nutrients for young children. These come in two types: toddler milk (between 12 and 36 months) and pre-school milk (for children aged three years and above.)
In developed countries, the necessity of GUM is sometimes debated. Children above a year old would be able to consume normal food and numerous nutritional recommendations are in place for age-specific dietary plans. However, covering the nutritional needs of young children by a balanced diet consisting exclusively of natural and unfortified foods is difficult, reflecting the challenges when introducing the family meals.
Data from European countries has shown that dietary intakes in children aged 1-3 years are not complying with intake recommendations. Whilst protein consumption was too high, important deficits of micronutrients (especially vitamin D, iron, iodine) and omega-3 fatty acids have been identified.
In Asia, while child nutrition is moving away from undernutrition and trending instead towards an increasing obesity prevalence, a new risk group for micronutrient deficits is the growing number of so-called 'picky eaters'. A study has recently found that more than 54 percent of children aged 3-7 years from various areas of China showed a picky eating behaviour.
Cow's milk is not the best option to compensate for micronutrient deficiency as it comes with higher than necessary protein levels. Elevated protein consumption during infancy and childhood has to be avoided since it may lead to an increased risk of being overweight and obese in childhood and adult life.
Recently, an international expert panel has published nutrient recommendations for GUMs: protein content should be limited to 10-15 percent of energy. A 200 ml serving should deliver 20 percent of estimated average requirements of micronutrients, based on an average daily consumption of 2-3 servings.
The expert panel concluded that GUM is an important source of nutrients not only for children at risk of protein-energy malnutrition; it also compensates for nutritional deficits that may occur in the transition phase from infant nutrition to family food or as a consequence of 'picky eating', busy lifestyles or inappropriate food choices in the family.
Which Nutrients Require Special Attention During Early Life Nutrition?
Dha—Food For Thought
Dha is an integral component of cell membranes and as such, is involved in normal cell functionality especially in the retina and the brain. There is convincing evidence from human studies that DHA significantly enhances the development of visual acuity.
Early childhood is the key phase of brain development—a particular growth spurt occurs from the last trimester of pregnancy up to two years of age. By the age of five, brain mass has increased by about 3.5 times compared to birth and about 90 percent of the brain architecture is in place. Since endogenous DHA formation is low, adequate nutritional supply is key to ensure optimal conditions for structural brain development, neuronal cell growth and differentiation.
Apart from these proven benefits on structural brain development, DHA may also have a direct impact on cognitive functions. Several recent reviews have tried to consolidate the evidence and found mixed results. Supplementing DHA in infants significantly improves cognitive development, whereas data for younger children are more diverse. Weaknesses in study designs (e.g. lack of sensitivity to cognitive performance tests) make it difficult to draw firm conclusions.
However, DHA seems to enhance cognitive performance in learning, cognitive development, memory and speed of processing information. These are important factors in a wider range of competencies like reasoning and problem solving.
While supplementation with DHA is unlikely to be 'the magic bullet' creating bright children, DHA deficits should be avoided by all means. Since the DHA uptake from a toddler's or children's diet is usually low, adequate supplementation (e.g. with GUM) can make an important contribution to reaching the child's development milestones. Choosing a DHA supplier with particular expertise in producing a clean-tasting DHA will help ensure best tasting formulations.
Lutein—Looking At Eye Health And Beyond
The relationship between lutein and visual health is compelling. Lutein is highly concentrated as macular pigment in the central region of the retina. It can act as a blue-light filter, provide protection from photo-oxidation and enhance visual performance.
Today, the majority of data about the benefits of lutein in eye health stems from adults. However, there is also evidence to support the role of lutein in early visual development: lutein is concentrated in the area of the retina that is most immature at birth.
Experimental data showed that monkeys raised on a lutein-free diet did not develop macular pigment and showed retinal abnormalities in their later life. Since 1997, it was found that lutein is preferentially enriched in breast milk in comparison with other carotenoids, underpinning the importance for early life nutrition.
Research shedding light on the role of lutein in early life neural and cognitive development is still in its 'infancy'. Studies have shown that lutein is the major carotenoid in infants' brains: there was significantly greater accumulation of lutein, zeaxanthin and cryptoxanthin than that of other carotenoids (e.g. beta-carotene or lycopene) in all brain regions associated with memory, executive function, hearing and vision. The relative contribution of lutein to total carotenoids in the brain was about twice the ratio found in adults (59 percent vs 31 percent), suggesting a possible additional role in early life development.
A separate study saw that breast fed and formula fed infants had the same lutein plasma levels at birth. But after one month of feeding, lutein concentrations increased significantly in the breast fed group while they decreased in the formula fed group. Therefore, lutein should be a focus when looking at narrowing the nutritional gap between human milk and infant formula.
Vitamin D—Strong Arguments For Strong Bones
Papers published in recent years discuss the implications of insufficient vitamin D-status in a multitude of health platforms. Vitamin D in early life nutrition is most relevant for preventing rickets and for ensuring normal immune functions and thus supporting normal growth and development.
Despite widespread awareness, the actual supply situation in pregnant women, infants and toddlers is alarming. High prevalence of vitamin D insufficiency in pregnant women and infants has been identified in all parts of the world. At the same time, the prevalence of rickets is increasing.
A global expert group took action and recently published 'Consensus Recommendations on Prevention and Management of Rickets'. The experts advocate for vitamin D supplementation for all pregnant women (600 IU/day) and infants (400 IU/day), independent from the way of feeding.
Options For Nutrient Supplementation in Early Life Nutrition
Pregnant &
Breast-Feeding Women
Infants
Toddlers & Young Children
Formula
Milk(Powder,Ready-to-drink)
Infant formula*(Starter,
Follow-up formula)
Breast Milk
Supplements
Growing-up milk(Powder,
Ready-to-drink)
Supplements
Capsules
Tablets
Syrups
Gummies
Liquid supplement drops
Dissolving tablets
Capsules
Tablets
Syrups
Gummies
Food
Cereals & cereal bars
Juices & smoothies
Dairy & analogues
Weaning food (Cereals, juices,
pureed fruits& vegetables)
Cereals & cereal bars
Juices & smoothies
Dairy & analogues
*providing basic nutrient supplementation as total or partial breast-milk substitute
The Magic Of Epigenetics And Metabolic Programming
More than 25 years ago, researcher David Barker published his groundbreaking thoughts about preventing chronic diseases like diabetes mellitus type 2, cardiovascular disease and obesity. Instead of focusing on adults' genetics, diets and lifestyles, he suggested to look deeper into how the environment in early life influences adult health. The emerging research in epigenetics is focusing on the effect of environmental factors—including nutrition—on peoples' genes.
In the meantime, many studies shed light on potential connections between adult health and feeding practices/ nutritional status during the first 1,000 days of life. For example, we know today that the mothers' health and nutritional status during the prenatal period, and even in the pre-conception phase, is linked to the risk of obesity and developing Type-2 diabetes.
Feeding the mother and baby is—and will remain—the main topic of early life nutrition. Exciting new insights in the area of metabolic programming and epigenetics will open up completely new opportunities for nutritional strategies for formulators. With the scientific evidence already firmly in place, it is clear that nutritional support of both mother and baby are critical to lifelong health and wellbeing of children.
SHARE WITH FRIENDS:
TAGS: