Bottled Water & Natural Hydration Fuel The 2017 Global Soft Drinks Industry
Tuesday, September 12th, 2017
The lines between soft drink categories are blurring, as consumers are seeking options that can provide everything they desire—hydration, natural, low- or no-calorie, yet nicely flavoured drinks to quench their thirst. How can manufacturers better position their products? By Howard Telford, senior beverages analyst, Euromonitor International
For the soft drinks industry as a whole, 2016 proved to be a year of changing consumer attitudes and aggressive innovation to meet new and fast-changing beverage demands. Similarly, 2017 is shaping up as a big step in the same direction.
The ongoing decline of sweetened, carbonated soft drinks (CSDs) suggests that providing indulgent, high caloric refreshment without nutritional or functional benefits is no longer a winning formula. Successful, high growth refreshing beverages in 2017 must present a health advantage, in many cases emphasising clean, natural hydration.
It should come as no surprise that bottled water is emerging as the category winner as tastes and habits evolve. In 2016, bottled water reached 50 percent of global per capita soft drinks consumption—up from just 36 percent in 2002, according to Euromonitor International. By 2021, bottled water is expected to account for 55 percent of per capita volume consumption of packaged soft drinks.
Plain, reliable bottled water accounts for the vast majority of expected beverage volume growth across all regions while added value hydration beverages—including lower volume but higher-priced flavoured waters, enhanced waters, sports drinks and functional juice drinks/stills—vastly outperform sparkling beverages and refreshment options in terms of value growth.
Healthier Consumers Seek Natural Solutions
This may be because everyday hydration itself has emerged as one of the key global health concerns among consumers. When asked which habits matter most in a recent Euromonitor International Global Consumer Trends Survey, "drinking plenty of water" was near the very top of the list of responses for global consumers.
Adequate water consumption even finished ahead of access to medical care and limiting the consumption of fat, salt and alcohol in recent Euromonitor International surveys.
Improved (meaning protected wells or available via public utility connection) access to drinking water is now available to 90 percent of the global population. 'Hydration' beverages in a consumer goods context must also involve some value addition in retail markets that are otherwise water-secure, whether through convenience, functionality or added natural flavours, i.e. simple, natural ingredients that do not adulterate the positive, healthy appeal of water for consumers.
Avoiding sugar is a priority across beverage categories. In both advanced and developing markets, consumers are becoming attuned to the health risks posed by excessive sugar consumption. Calorie and sugar reduction is a major and growing priority for consumers, driving sales of bottled water, but avoidance of artificial ingredients and a desire for 'natural' food and beverage products is also near the top of desired consumer attributes alongside hydration.
Perhaps somewhat puzzlingly, a growing consumer concern about sugar intake and health and wellness has not prompted meaningful growth in low- or zero-calorie carbonates. In fact, low-calorie or diet products (particularly colas) have underperformed full-calorie alternatives in many markets since 2010.
As evidenced by the success of brands like LaCroix seltzer in the US, unsweetened water—plain, flavoured and sparkling— has become the low-calorie alternative of choice for a growing number of consumers rather than diet soda or artificially sweetened options.
In part due to a lack of trust in sweeteners and other ingredients, major carbonates brands in soft drinks face a trust deficit with many consumers, who generally lack confidence in the motives of large food and beverage companies and are skeptical of ingredient quality (particularly with regards to artificial sweeteners). Bottled water brands are filling the gap in demand and consumption.
A Wider World Of Hydration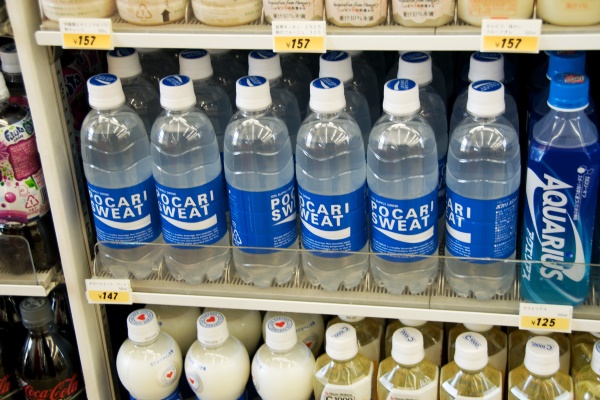 Hydration is not limited to plain packaged water. Shifting consumer preferences toward natural ingredients and away from artificial additives propel growth in plain, pure bottled water at the expense of CSDs, but also disrupt isotonic sports drinks and other advanced hydration positioned beverages. Low-sugar, plant-based but nevertheless functional hydration options are increasingly preferred in these products.
This is not just among athletes and gym-goers. Everyday hydration and replenishment is taking on a higher priority for everyday consumers. Rehydration drinks in Japan, known locally as "netsu-sho taisaku inryo" (literally meaning "beverages to prevent heat disorder"), are drinks intended to rehydrate and prevent heat disorder with their mineral or electrolyte content. The category has grown substantially over the last five years, spurred by both a wave of hot summers as well as energy saving efforts, which made average indoor temperatures higher.
Pocari Sweat and Mizone—popular rehydration drinks— increasingly resemble bottled water in terms of their lack of colour and packaging. Clear or translucent colours coupled with light flavour profiles enhance the connection to the health and hydration properties of water. In addition, these advanced hydration drinks are successfully merchandised next to plain bottled water in many retail locations.
While sugar and additives are a cause for concern, flavour remains important for consumers. Pocari Sweat has been successful with its unique taste (which has been described as "mild grapefruit flavour with little aftertaste"), whereas Mizone offers new flavours ranging from Dazzling Apple Guava to Mango Kiwi. By combining the look and hydration of bottled water with the sweet flavour of refreshment soft drinks, these products can compete across a variety of occasions.
We can expect a growing number of global beverages positioned as hydration solutions that cross traditional category lines. In mid-2016 Monster Beverage Corporation unveiled Monster Hydro, described as a "non-carbonated energy hydration drink". While the product was explicitly described as "not a water", the influence of bottled water is clear. Hydro likely represents an outer limit of how far "waterlike" positioning can be taken.
As energy drinks brands compete for more occasions, the category will also come into closer competition with water. Striking a balance between advanced functionality and essential, authentic simplicity will prove tricky for many.
Plant Water And Natural, Premium Competitors
As category lines are blurring, successful growth brands remain tied to satisfying clear need states. The intersection of hydration and plant-based nourishment/nutrition has produced growth in coconut water and other plant waters, which are frequently consumed as a more natural alternative to mass-market sports drinks.
While still small on a global basis in volume terms, packaged coconut water and other plant waters have emerged as a high-value growth opportunity in Western Europe and North America. Globally, coconut and other plant waters will be one of the fastest growing categories in soft drinks through 2021.
Coconut water may be understood as the all-natural plant-based hydration option and a direct competitor to traditional sports drinks. In addition, 100 percent coconut water is an expensive lifestyle beverage for affluent Western consumers, while coconut water is increasingly the base ingredient in new, successful flavoured sports drinks (like BodyArmor, one of the fastest growing sports drinks in the US in 2016).
As the plant water category continues to develop, it is important not to squander the premium reputation and added value of coconut water. New entrants to the category in massmarket channels may undermine the health and wellness credentials of 100 percent coconut water, leading consumers to seek alternative products in super premium water (socalled "fitness waters") or other plant/root waters.
Could E-Commerce Be The Next Frontier Of Bottled Water Growth?
One untapped area of opportunity for bottled water and advanced hydration beverages may lie in e-commerce. Packaged ready-to-drink beverages are cumbersome and expensive to transport, meaning bottled water (and soft drinks more generally) have lagged behind other consumer packaged goods categories in terms of e-commerce retail adoption despite urbanisation trends and the greater convenience that home delivery may offer older or less mobile consumers.
But as habits are changing regarding habitual at-home consumption of sugary drinks, bottled water may now be poised for online growth as more consumers reach for packaged water in the home instead of soda and juice.
Shipping costs are an obstacle. Some hypermarket and supermarket chains offer free delivery services for bottled water, although only if the value of purchases exceeds a certain threshold. Subscription models may alleviate the problem of expensive on-time shipping costs. Once a consumer commits to a set number of bottles and the frequency that they want deliveries, online retailers can omit the burden of additional ordering or payment processes after set-up.
There is evidence that bottled water is at the forefront of online beverage development, albeit from a small base. Bottled water brands are both the first and second ranked products in the Coupang top 100 grocery items list in March 2017 (a prominent South Korean internet retailer). Furthermore, six of the top 20 grocery items on Amazon's US best-seller list were bottled water SKUs, with Smartwater and Fiji water in the top 10 in May 2017.
Bottled water brands themselves are also making e-commerce investments alongside retailers. For example, Nestlé's recent revamp of its ReadyRefresh HOD water business in the US has introduced a direct-to-consumer online ordering feature alongside its traditional bulk water delivery to offices.
Clearer, Simpler, Cheaper: Portfolio Balance Is Key For Soft Drinks Operators
Bottled water has clearly been the main volume beneficiary of consumers defecting from CSDs thanks to the zero-calorie, zero-sweetener ingredients and demand for everyday hydration. Another key component of the growth in flavoured water brands, like LaCroix in the US or Volvic Touch of Fruit in the UK, has been more experimental flavour combinations that keep consumers engaged and interested in trialling new products.
Functional benefits from added electrolytes and pH balanced formulations are also creating growth in premium fitness waters, led in the US by brands like Smartwater, LIFEWTR and Essentia.
Traditional category lines in beverages—between water, carbonates, juice and brewed drinks—continue to blur or disappear. Evolving consumer demand will necessitate a rethink in how big beverage brands reach their consumers, how they responsibly and sustainably meet nutritional needs with their products, and how they create profitable growth strategies as consumption declines in some areas (most notably CSDs) but booms in others—most prominently, bottled water.
Bottled water takes centre stage in this strategy shift. Major CSD manufacturers are completing the transition from soda companies to total beverage companies, prioritising low-calorie all-natural beverages in their portfolios.
A full array of hydration beverage options must exist across occasions and need states, extending from 'everyday' replenishment to active, advanced electrolyte replacement for athletes and reaching all the way to the all-natural lifestyle appeal of super-premium sourced bottled waters and plant waters.
SHARE WITH FRIENDS:
TAGS: