Beverage Packaging Sustainability In Southeast Asia: What Can We Expect After COVID-19?
Wednesday, November 10th, 2021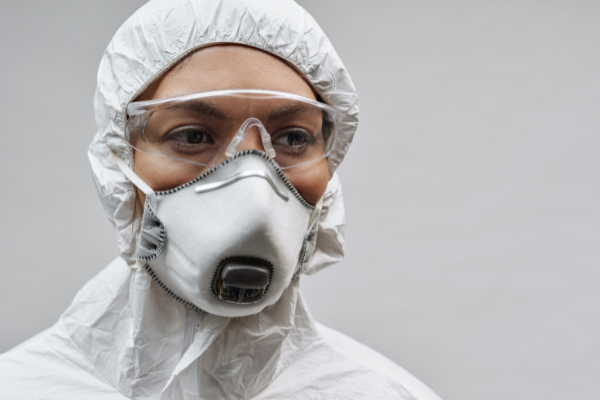 In 2021, there is renewed attention on environmental issues, with companies in Southeast Asia resuming and strengthening their environmental initiatives. Contributed by Euromonitor International.
---
The COVID-19 pandemic has caused massive disruption to lifestyles, industries and corporate sustainability priorities both globally and in Southeast Asia. The world has witnessed a short-term shift in attention from environmental (eg progress on sustainable packaging) to social issues.
COVID-19 restrictions and lockdowns have had a negative impact on supply chains, business operations and short-term investments in green initiatives, while causing an acceleration of social action to help, protect and support local communities, employees and suppliers.
In June 2020, 62 percent of food and beverage companies prioritised social over environmental initiatives, 72 percent were supporting local communities and 75 percent helped their suppliers and other business partners, based on Euromonitor's Voice of the Industry Sustainability Survey 2020. In contrast, many environmental initiatives were inevitably put on hold, especially those related to sustainable packaging, such as waste, recycling and development of sustainable products.
Amidst weakened consumer demand, many beverage players saw the short-term prioritisation of social issues relating to COVID-19 and community support as crucial in strengthening their long-term brand equity.
For instance, in Southeast Asia, the Philippines' San Miguel Corporation, which includes major business units selling alcohol, temporarily repurposed its liquor plants in 2020 to produce disinfecting alcohol for healthcare facilities nationwide. Similarly, Heineken Vietnam donated 10 billion Dong towards COVID-19 efforts – funds that had originally been earmarked to be used as the marketing budget for the launch of its Bia Viet product in 2020. In 2021 in Thailand, Coca-Cola teamed up with recycling giant Indorama Ventures to recycle collected PET bottles into fibres for the social cause of producing personal protective equipment for healthcare workers and hospitals in the fight against COVID-19.
What's Ahead In 2021? Expect Greater Importance Attributed To Sustainability In Beverage Packaging 
While the pandemic has broadened the sustainability conversation, reflecting new social awareness, this is not expected to cast a shadow over pre-COVID-19 environmental concerns, such as climate change, with 71 percent of food and beverage companies expecting to keep their pre-COVID-19 environmental sustainability commitments, despite the unfolding economic crisis, and 59 percent planning to balance social and environmental initiatives as the crisis evolves.
Sustainability is now perceived by 88 percent of food and beverage players as extremely or very important to build resilience against unexpected risks, based on the Voice of the Industry Sustainability Survey 2021. As the COVID-19 pandemic turns into an endemic, forcing the world to live with and adapt to it, both social and environmental initiatives are required to speed up a sustainable recovery from COVID-19.
In 2021, there is renewed attention on environmental issues, with companies in Southeast Asia resuming and, in some cases, even strengthening their environmental initiatives. For instance, in August 2021, Coca-Cola introduced a new packaging design with its "Recycle Me" message on its label across its brands and products in its Southeast Asian markets. In Thailand, the company additionally sponsored the "Coke Recycle Me with Trash Lucky", offering consumers who returned their empty bottles or cans a chance to win prizes.
Post-lockdown, environmental issues top the list of corporate sustainability investments planned between 2021 and 2026. Over 70 percent of food and beverage companies plan investments in areas related to the development of sustainable products, sustainable sourcing, recycling, waste and employee support programs.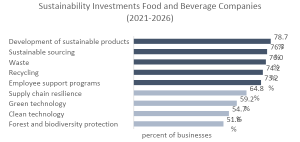 Source: Euromonitor International Voice of the Industry: Sustainability Survey, 2021
For Plastics, Recycled PET Is Set To Grow As Companies Prioritise Environmental Progress In Packaging
The coming years will see a key sustainable packaging trend continue to develop, in the form of a growing market for 100 percent recycled PET (rPET). Rigid plastic in beverages mostly refers to PET bottles, accounting for around 73 percent of soft drinks unit volume in Asia Pacific in 2020, although it is expected to contribute 91 percent of unit volume growth by 2025, driven by its key application of bottled water, which is set to benefit from increased health-consciousness globally and a need for hygienic forms of hydration, particularly in developing regions with a lack of potable tap water. 
The sheer volume of PET bottles in beverage packaging makes finding sustainable alternatives to its use in virgin material form a key priority among beverage players. Recycled resin content even to 100 percent rPET is becoming widely accepted as a more sustainable alternative to using virgin PET bottles, as many global beverage giants include 100 percent rPET packaging among their mid-to-long-term sustainability goals.
In Western Europe, Coca-Cola bottles its entire portfolio of locally produced beverage brands in Sweden, the Netherlands and Norway with 100 percent rPET, while PepsiCo has targeted to sell only 100 percent rPET in nine European countries by 2022. Europe's generally robust legislation and stronger recycling infrastructure, relative to Southeast Asia, supports the development of sustainable packaging, making it an ideal testbed for sustainable packaging innovation and trends, which can then be replicated in other regions, such as Southeast Asia.
The increased prominence of sustainable packaging types such as 100 percent rPET in the Southeast Asian region is spearheaded by global companies. For example, in Indonesia, Danone first developed 100 percent rPET for its Aqua bottled water brand at the end of 2018. It is heartening to see that local players have followed Danone's trail, with PT Sariguna Primatirta launching the 100 percent rPET Cleo EcoBin bottled water brand in late 2020. The introduction of 100 percent rPET by other global players like Coca-Cola in the Philippines since 2019 is expected to continue spurring more innovation and development of 100 percent rPET packaging, as brands increasingly compete for the hearts and minds of consumers through a sustainability positioning.
However, Southeast Asia may still find it difficult to match the scale of 100 percent rPET prominence in Western Europe. Legislation such as the existing ban on food and beverage packaging in rPET has proved to be a hurdle in markets like Thailand, while the quantity and quality of recycling infrastructure in the region still has room for improvement. 
In addition, the largely developing region of Southeast Asia has a lower disposable income than Western Europe, contributing to greater cost-consciousness among Southeast Asian consumers. Should there be higher material prices for rPET, relative to virgin plastic, this could prove an additional challenge to local packaging and beverage manufacturers, as it would be difficult to pass on cost increases to consumers.
Nevertheless, the return to a focus on the environmental aspect of sustainable packaging coupled with a need to appeal to an increasing pro-sustainability millennial and generation Z consumer base, provides a sufficient push towards ensuring a greater prominence of sustainable packaging such as rPET in the Southeast Asian region moving forward.
You might be interested:
Dominant Trends In The Beverage Industry
Food For Thought: The Impact Of Nutrition In Childhood Development
Child Nutrition—Status & Industry Trends In Asia-Pacific
Embracing Plant-Based Aspects In Our Diet
Innovating Better With Smart Carbohydrates
Health & Wellness Lifestyle Shifts: Five Consumer Behaviours that are Reshaping Food, Beverage & Supplement Innovation
Plastic Waste Becomes New Packaging
Pushing The Boundaries Of Sustainable Packaging Materials
To not miss our exclusive articles, follow us on our social media platforms LINKEDIN, FACEBOOK, TWITTER
WANT MORE INSIDER NEWS? SUBSCRIBE TO OUR DIGITAL MAGAZINE NOW!
SHARE WITH FRIENDS:
TAGS: