Belt Conveyor Splicing 101: Mechanical Fasteners Or Endless Splicing
Thursday, September 14th, 2017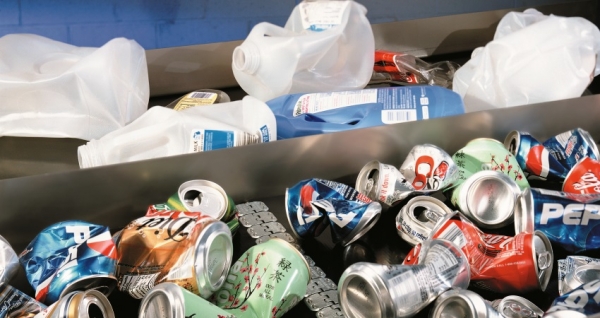 Downtime caused by conveyor maintenance is not a given. Jerry Loh, general manager, Flexco Southeast Asia, shares how conveyor system maintenance affects productivity and which belt splicing method optimises your food processing site.
When stepping inside a food manufacturing site—be it meat, seafood, bakery, confectionery or condiments—you will see numerous belt conveyors carrying raw ingredients, finished products, right up to and including the packaging stage. So it is no surprise that the entire process could easily be hindered by a belt line if it fails or is not working properly.
While belt conveyor systems naturally demand a certain amount of downtime for maintenance and parts replacement, it is a challenge for many production facilities, big and small alike. Productivity is affected by downtime and product quality may be compromised in the process.
Avoiding breakdowns and preventing downtime is therefore key, and achieving the optimum belt splice and joint can be a huge factor in the success of an operating conveyors.
Recent Developments In Light-Duty Belt Installation
Belting designed for light-duty applications such as food processing has improved greatly in the past few decades, but has grown into many specialised variations. Once basically cotton plies with rubber covers, belting is now often infused with synthetic alternatives reflecting European influences—offering higher efficiencies due to thinner, lighter constructions with less drag and lower power consumption.
Generally built on polyester fabrics, with binders or covers of various thermoset materials, today's light-duty belting thicknesses range from about ¼ inches (6.4 mm) down to an almost-paper-thin 0.03 inches (0.76 mm), with working strengths from 20 to 200 PIW (3.5–35 KN/m).
When connecting conveyor belt ends together, there are two basic methods—endless splicing and mechanical fasteners. Endless splicing joins the two belt ends together either through heat or chemical activation, making the belt a continuous, endless band.
The alternate method, mechanical fasteners, physically attaches a row of fasteners to each belt end. These fasteners are then meshed together and connected with a hinge pin.
Mechanical Fasteners Or Endless Splicing?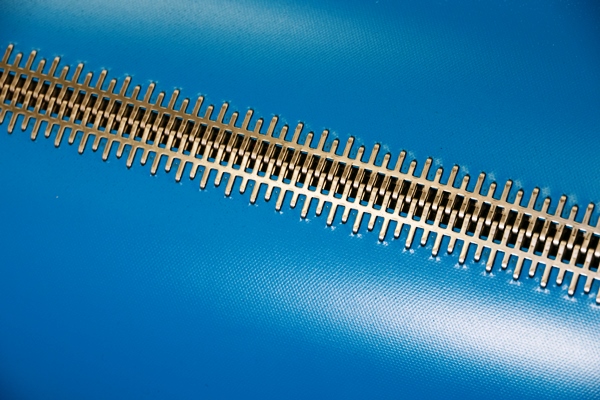 Various types of mechanical fasteners are available, but all offer optimum benefits when it comes to a quick repair. The splices are easy to install, long lasting, and reliable, requiring only basic mechanical skills and affordable tooling. Unlike endless splices, the wear on the splice is visually apparent, allowing maintenance crews to complete the repair during a scheduled downtime.
Mechanical belt splices also carry an advantage when it comes to splicing used belts. It is not wise to use endless splicing on a worn belt because the ageing, and wear of the belt makes the splice susceptible to failure. With mechanical belt splicing, fastener splice strength is maintained without having to worry about contaminants such as oils and dirt making their way into the splice.
In addition, mechanical splices offer the advantage of being hinged or separable. This feature allows the belt to be installed or replaced without having to disassemble the conveyor system or remove the belt from the conveyor structure, which is a huge time saver. It also allows for easy cleaning of conveyor components by simply removing the hinge pin, pulling the belt ends apart, and then putting them back together upon cleaning.
An endless splice is very quiet in operation, will not leave any marks on the conveyed product, can operate over very small pulleys, and is a smooth, strong, long-lasting splice. Other than the fact that it is not recommended with worn belting, newer technologies have overcome the traditional drawbacks of the endless splice—which involved large and bulky installation tools and the need for high-skilled specialists to install and manage the splice.
Now, the process is much easier and faster with all-in-one air-cooled presses that provide endless splicing in a fraction of the time, without lengthy set-up or the need to hire external help.
Mechanical Fastener Options
Low cost, easy installation, and quick repair makes mechanical splices popular in food processing facilities. More importantly, the mechanical fasteners are joined by a connecting pin that can be removed to open the hinged splice for quick cleaning or conveyor maintenance.
Mechanical splicing for light-duty belts presents three basic choices of metallic fasteners (wire hook, staple-style, and stamped lacing) and two non-metallic choices. Each type of light-duty belt splice offers the most suitable option for certain applications, but the key offerings and advantages are shared among all types of mechanical splicing. The variety allows users to select the option that best fits their needs.
Metallic Fasteners
1. Wire hook fasteners
Wire hook fasteners offer users an economical, low-profile, yet long-lasting splice. They are available in a wide variety of sizes, metals, and configurations for belt thicknesses up to 10 mm and pulley diameters as small as 24 mm.
Wire hook segments are supplied in strips with hooks held in proper spacing and alignment by either carded or welded assembly. Carded assembly holds individual wire hooks together with a stiff paper channel for easy handling and is disposed of once used. Welded assembly means that individual hooks are welded in position along a common crosswire.
Both types offer the advantage of a low-profile fastener that is machine-installed, which assures a consistent, even splice. Installation machinery offers a variety of alternatives, from powered shop units to small portable tooling that allows anyone with basic mechanical skills to repair splices within minutes, directly on the conveyor.
The wire hook fasteners are often used in general food processing, agriculture and package handling operations.
2. Staple-style fasteners
Staple-style fasteners present a strong and abrasion resistant fastener choice, often applied for agricultural harvesting and package conveying. This design gains extra holding strength through a combination of compression between upper and lower fastener plates (which sandwich the belt ends), and the dual staples penetrating through both plates and cross-clinching on the bottom side.
Installation requires only a hammer and a portable tool, making it very easy to install these splices on-site. Staple-style fasteners are suited for applications with belt thicknesses from 1.5–6.4 mm and pulley diameters as small as 50 mm.
3. Stamped lacing
Lacing is often the best choice for low-volume users who want a low-profile, hinged mechanical splice, with no investment in installation tooling. This design provides a continuous strip of hinge loops formed with pointed teeth that are simply hammer-driven through the belt end. Lacing is not as strong as wire hook or staple-style fasteners and should only be used in less demanding applications.
Flat and consistent splices can be achieved from using the precision stamped, corrosion-resistant lacing options such as Flexco's clipper G series lacing. The series is ideal for use with PVC, PU and PES belting for food manufacturing, packaging and parts handling.
Non-Metallic Fasteners
Non-metallic fasteners combine the convenience and economy of hinged mechanical splices with the advantages of being non-metallic. Most notably, non-metallic fasteners are non-marking, non-abrasive, compatible with metal detectors, and made of FDA approved materials.
This combination of properties makes them a viable alternative to endless splicing in applications involving x-ray or scanning, food handling, and finished products that are sensitive to being marked. There are two basic types of non-metallic splicing—plastic rivet and plastic spiral fasteners.
1.Plastic rivet fastener
The plastic rivet fastener produces a non-metallic splice that can be installed on-site with a portable installation tool. Installation requires punching holes into the belt, fitting the fasteners onto the belt through the holes, then using the application tool to spin-set the moulded-in "rivets."
Non-scratching, non-magnetic fastener options can suit low-tension applications that forbid metal fasteners, on belt thicknesses up to 3.2 mm, operating at less than 65 PIW (11kN/m) and over minimum pulley diameters of 38 mm.
2. Plastic spiral fastener
The plastic spiral fastener provides a non-metallic alternative with an extremely low-profile and the ability to operate over pulley diameters as small as 13 mm. Hinged splices are constructed via two fastened belt ends and joined by a hinge pin. For belts requiring frequent removal, such as for regular sanitation of food applications, the hinged splice can save hours of downtime with removal and cleaning.
Endless Splicing Options
Despite the traditional preference for mechanical fasteners among various light-duty industries, endless splicing technology brings new development and innovation to the table with smooth, non-marking splices that minimise any chance of contamination for any items that are being transported. This is especially vital for those in the food processing industry.
Belts with thermoplastic binders such as PVC, RMV (rubber modified vinyl), and urethanes lend themselves to endless fabrication because these materials flow together under heat, and cool into a homogeneous mass.
If endless splicing is chosen for an application such as meat, poultry, or seafood handling, this process is significantly eased by using the latest portable, air-cooled press.
Without needing to worry about handling multiple components or finding a water source, the job can be done quickly and easily. The fast cycle times, often only 7-12 minutes, and lightweight nature of air-cooled units make them the obvious choice over traditional water-cooled presses.
Proper Installation Is Important
Proper installation practices affect both splice life and belt life, ultimately enhancing the productivity and minimising the extra cost and downtime caused by belt maintenance. Effective and well-managed conveyor belt installation ensures manufacturers have a competitive edge in proactively meeting regulatory compliance.
At the end of the day, a proper system delivers safe and clean food to consumers, whose expectation of product quality and hygiene is growing higher than ever before.
In the case of fastener installation, proper installation begins with a straight, squared belt end; otherwise tracking problems and belt-edge damage can follow.
Also, care must be taken to not 'over install' the fastener, which can damage the belt or deform the fastener itself. This issue can accelerate hinge-pin deterioration and make pin replacement difficult. The edge of the trailing belt end must always have its corners notched inward to prevent catching on the belt framework.
Proper belt end preparation is also important with endless splicing. It is important to follow the manufacturer's directions on proper techniques and use of the machine. Proper installation of endless splices will lead to strong, long-lasting splices.
Which Option To Choose
There are a number of options available when it comes to joining belts. If having a seamless splice is the highest priority, an endless splice may be most appropriate. The condition of the belt, the need for sanitary conditions, the type of material being conveyed, and the time needed to splice the belt can also factor into the choice of endless splicing.
If a seamless splice is not necessary, and the convenience and economy of mechanical splicing is more appealing, you can select the right fastener for your application by first determining which types are sized to fit your belt thickness and which are compatible with the minimum pulley diameter used in your system.
For example, if you are looking for overall speed in repairing a belt, the wire hook fastener may be your best choice. If splicing with high strength and abrasion resistance is important, you may opt for staple-style fasteners. Or, if metal fasteners are not an option for your application, yet you want the advantages of a hinged splice, you'll want to investigate a non-metallic fastening solution.
Remember, just because the conveyor started out with mechanical fasteners or an endless splice, this does not mean that it needs to continue being spliced in that manner. For assistance with selecting the proper splice for specific food processing application, expert guidance is always available from your belt conveyor product supplier or industrial belting distributor.
SHARE WITH FRIENDS:
TAGS: