Balancing Quality And Profitability In Powder Handling
Monday, November 20th, 2017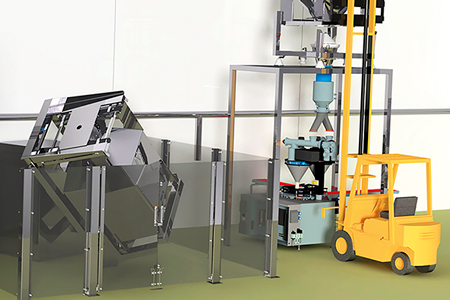 The key to sustained success can be summarised as "quality with profitability" but the manufacturing and consumer landscape is changing so rapidly that achieving these two elements in harmony is becoming increasingly difficult. This article explores some of the challenges faced and explains how they can be overcome. By David Newell, general manager & director of business development for the Asia Pacific region, Matcon
Quality is of paramount importance because there is intense competition from both domestic and international companies to win over the consumer with a consistent and flawless product experience every time. Should the product be sub-standard, it is likely that the consumer will go elsewhere and probably not return.
With food and beverages, there may also be the need to adhere to Halal or Kosher standards, or to ensure no allergens are present in the product. These are non-negotiable for consumers and strict regulatory standards must be met without compromise if the brand integrity is to remain intact.
In certain industries, it is essential to guarantee that each serving contains the correct ingredients so that there is no risk from under or over-dosing. For instance, in infant nutrition or elderly nutrition, each dose/serving should include the right amount of vitamins and minerals.
At the same time, increasing utility rates, wages, property prices and rising taxes all serve to squeeze profits from all angles. It is therefore essential to run an efficient production plant which provides a high return on investment. Ideally, equipment must be economical to run, have a small footprint to save on space or clean room costs, and be able to be automated to reduce the wage bill of operators.
Gone are the days of producing high volumes of a small number of recipes, which can be dedicated to a single product line and then optimised for efficiency. Today's plants must cater for thousands of different recipes as demanded by consumers who have become used to variety on the shelves, and which gives you the competitive edge in the marketplace.
What Is The Legacy You Are Coping With?
Conventional manufacturing plants—comprising a mixture of large storage silos, blowing systems, screw conveyors, fixed hoppers and mixers, all bound tightly together by a system of conveyors or pipes—are no longer efficient for today's demands. Handling all that product diversity in such a system is extremely difficult from the point of view of both quality and profitability.
Providing traceability and avoiding cross-contamination of raw materials and batches is more of a challenge with these systems. Large storage silos take a long time to clean out before a new product can be introduced and it is possibly all too easy for plant operators to be tempted to take damaging short cuts if not carefully managed.
Blowing lines, pipework and screw-conveyors cannot be easily emptied or cleaned and validated before new product is introduced. Historically, manufacturers relied on achieving minimal residue of one product before introducing the next—accepting a proportion of cross-contamination while the fresh material 'sweeps' the old material out of the system.
With growing emphasis on allergenic, biological, kosher or similar ingredients, such crude methods are simply not acceptable by today's standards.
From a profitability point of view, any break in the process chain can stop the entire production stream, and the reliability of each of these processes depends on getting raw materials and batches delivered effectively into the process from the previous step at the optimum flow rate and accuracy. No flow—no go. Conventional systems using screw conveyors and blowing systems must be designed to handle specific products with certain flow properties at certain flow rates and accuracies.
This means that only very limited variation of material flow properties, flow-rates and dosing accuracies is possible before familiar problems emerge such as blockages, leaks, under- or overdosing—all of which adversely affect process reliability impacting on profitability as time is taken to rectify the issue or product is scrapped.
The Future Is More Flexible
As an alternative solution, a well-designed container-based system allows flexibility for changing out products and getting high efficiencies from each process step. Individual raw materials and batches are held in totally discrete containers or Intermediate Bulk Containers (IBCs) and are brought to a specific process on demand. As these process steps are not 'locked' together, each stage may be carried out at its optimum speed and efficiency.
Cleaning and maintenance are carried out on one part of the process without stopping any of the other procedures. A further benefit is that most IBC solutions are modular and scalable, allowing production to start small and grow easily as production demand increases.
From a profitability point of view, the decoupled nature of the system means that downtime is significantly reduced. There is no longer any need to close the line for a six-hour cleaning regime as containers are washed off-line. IBC blenders do not need to be cleaned as there are no product contact parts, so all that remains is for the filling and packing equipment to be cleaned which may in some cases have quick change-out parts.
Not only does this reduced cleaning time lessen the burden of operator cost, it also frees up more production time to improve efficiencies and increase capacity—without more capital spend.
Because the blender can be instantaneously switched out, it means that multiple recipes can be processed during the same shift, as long as the IBC system being used has high containment levels so that there is no risk of general cross-contamination in the working space. This helps to reduce the amount of inventory needed as campaign manufacturing becomes a thing of the past.
Also, because there is better product flow, the amount of work-in-progress (WIP) can shrink, yet the equipment can still achieve high overall equipment efficiency rates. All these would contribute to improving the cost per kilogram of the finished product.
From the viewpoint of quality, containers or IBCs provide an inherent level of traceability as raw materials and batches are stored in individual, identifiable containers. Easier stock management helps to reduce human error and therefore decreases the chance of product scrappage which would have taken place to protect brand security.
IBCs also inherently minimise the opportunity for cross-contamination to occur. Once a container is emptied, it is cleaned off-line—an easy option due to their simple design. If more time is needed for drying or swab testing, other IBCs are 'in-play' on the factory floor to make this possible, thereby ensuring that production is not compromised. This helps to avoid any chance of cross-contamination from the primary storage and transfer vessel. Closed IBC docking and transfer systems prevent ingress of foreign materials or the escape of dust into the plant.
Automation Takes It A Step Further
Automated solids handling technology can be used to further improve efficiency and safety throughout the entire process chain. This not only reduces the cost of manufacture, but also has a great impact on achieving a validated operation that provides a quality product every time.
Because IBCs are easily transported and identifiable, they can be transported by automatically guided vehicles (AGVs), roller conveyors or pillar lifts, making them an integral part of a fully automated production facility.
When operating autonomously, it is vital to keep processing equipment such as milling, sieving and packing machines working effectively; they must be supplied with a regular and controlled feed of product. Too much and the system will choke, too little and the equipment risks damage. Therefore any selected IBC system must provide:
• Guaranteed discharge, without any bridging or blockage of powders
• Controlled discharge at each process feed step
• No segregation of the blended solids
What Will You Do In The Future?
As the New Year approaches and we start drawing up our plans for 2018, what are the key challenges you wish to overcome? Is improving profitability a major concern for you? What will you do to win over new consumers and protect the base that you already have? Are new flavours and new recipes being designed by your R&D team? How will you accommodate these in your production schedule?
Maybe it is time to look at making a change and getting more out of your facility and preserving the all-important consumer loyalty.
SHARE WITH FRIENDS:
TAGS: