Asian Consumer Preference For Natural Colours And What It Means For Dairy
Wednesday, September 20th, 2017
Asia continues to be a growing market for dairy products, and as consumers becoming increasingly health-conscious, they are demanding for more naturally coloured flavoured milks. By Christiane Lippert, head of Marketing (Food), Lycored
Asia's Preference For Natural Ingredients
Across the world, consumers are sending a powerful message to manufacturers that they want the colours in their food and drink products to be natural. According to Nielsen's August 2016 report on ingredient trends, 61 percent of consumers internationally say they try to avoid artificial colours.
And there's one market where preference for natural over artificial is particularly strong. Eight in ten consumers in Asia-Pacific say they are concerned about the long-term health impact of artificial ingredients—more than in any other region. Almost two-thirds (65 percent) say they avoid artificial colours—again more than consumers anywhere else.
The trend is expected to continue well into the future, with more and more manufacturers keeping pace with customer preference by replacing artificial colours with natural alternatives. The proportion of new product launches containing natural versus artificial colours is steadily rising in Asia-Pacific, as it is worldwide.
Meanwhile, Asia continues to grow as a market for dairy products. Last year, the Association of Southeast Asian Nations was the second largest market for US dairy exports. In the five years to 2015, dairy sales in the region more than trebled in value. This is partly driven by increasing awareness, sometimes driven by government initiatives, of the role that dairy can play in health and nutrition.
What Does Consumer Preference For Natural Mean For Manufacturers?
As the Chinese saying goes, we eat with our eyes first, and for consumers looking for nutritious products, colour matters. Milk drinks for example, are recognised as both natural and healthy, so it's important not only that they contain natural ingredients, but also—given that colour sends powerful visual cues about nutritional value—that they look natural.
So exactly how important is the use of natural colours in dairy, and how can manufacturers benefit? Lycored commissioned both quantitative and qualitative research to measure the extent to which consumers value natural colours in a dairy matrix—specifically flavoured milks—and the implications of their preferences for manufacturers.
First, an online poll of 506 health-conscious mothers was carried out. They were shown three samples of strawberry flavour milk—two coloured with natural red colourants derived from lycopene from tomatoes, and one with the artificial Red 3 (erythrosine). The respondents were then asked for their impressions of appearance, including taste impression and flavour association. The researchers also asked pricing questions to assess whether there was any willingness to pay more for a naturally coloured product.
When asked directly, "Would you be willing to pay more for a product with natural flavourings and colours?" almost nine in 10 survey respondents (88 percent) said they would. They were then told that the average flavoured milk beverage costs US$1.50 and asked how much they would be willing to spend on a product if it was made with natural ingredients. On average they said they would pay up to US$2.20—47 percent more.
A qualitative study was also commissioned to explore reactions to the same three coloured milk options among opinion-leading, on-trend consumers. Comments on the natural samples included: "Looks the most natural to a blended strawberry, therefore potentially most healthy for my children"; "Reminds me of a drink from my childhood…and more likely to appear in nature"; and "more attractive to the mom in me. I believe it looks like it has less artificial ingredients in it."
There was a clear 'feel-good factor' from buying children a product that looked like something they would make in their home, with both the naturally coloured samples associated with smoothies or other home-made items. Comments included "Looks like a smoothie so this one looks like something I would purchase for my kids."
Feedback on the artificially coloured sample, however, indicated that consumers are turning away from non-natural colours that are too vibrant. Comments included: "Brighter or more neon-looking colours seem unnatural in appearance, and tells me as a mother that they also probably have unnatural and unhealthy ingredients as well." It was also described as looking "neon", "fluorescent", or like "Pepto Bismol".
Conclusion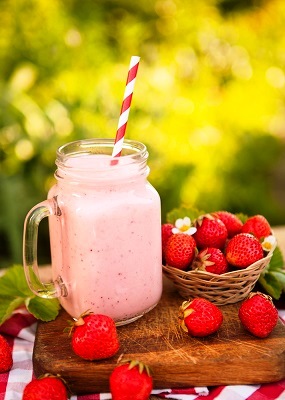 There is sometimes a perception that there has to be a pay-off for making the shift from natural to artificial, but when we tested the stability of the same lycopene-derived colours in UHT conditions, they outperformed the artificial alternative across all tests.
The research offers two very clear conclusions for dairy product manufacturers. First: consumers find natural colours more visually appealing. Second: their preference for naturally coloured products is so powerful that they will pay significantly more for them.
Given that artificial colours can easily be replaced with natural options without sacrificing the resilience necessary in UHT conditions, the advantages of going natural in dairy are obvious.
SHARE WITH FRIENDS:
TAGS: