Asia Cheese Exports From The U.S. On An Upward Trend
Monday, April 23rd, 2018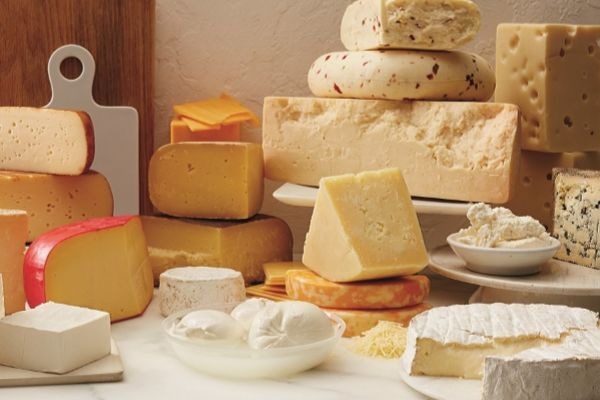 Ahead of Food&Hotel Asia, APFI speaks to Vikki Nicholson-West, senior vice president, business unit director, Southeast Asia, USDEC, regarding dairy trends in Asia. 
What are the causes for the increase in dairy sales in Asia?
Dairy offers a tremendous source of nutrition and taste for vibrant growing economies in Asia. The ASEAN Community is the world's fourth largest economy and the dairy deficit region benefits from the high quality ingredients and cheeses offered from the United States, the largest producer of cow's milk in the world. Baked goods have long used U.S. milk powders and dairy ingredients throughout the region and the recognition of U.S. cheese is building. Since Singapore is an influencer, it becomes a gateway to capture the growth and demand in the broader region.
As we are seeing increasing varieties enter the Singapore market and the taste of fine U.S. cheeses becomes more well-known, it is spurring the growth of demand. As a trend-setter, success at FHA and Singapore can get the word about U.S. cheese taste and versatility to the rest of Southeast Asia.
How does Asia's upward trend of dairy sales compare with the West?
Dairy sales in the West are more ingrained into everyday life and eating patterns, so the growth is more representative of a mature market. Cheese consumption is a staple in the diet and continues to grow with all of the innovative uses and flavours.
In contrast, dairy—particularly cheese—in Southeast Asia is newer to the daily diet. But, with the introduction of cheeses from Western cuisine initially, it can become more mainstream and grow into making interesting sandwiches and bakery items to a fine dining experience. The momentum just continues as cheese is worked in local cuisines from multiple levels.
What does USDEC hope to gain at FHA?
We look forward to surprising and wowing the show visitors with our wide variety of great tasting and unique cheeses. These quality cheeses can stand alone or excel as an ingredient in innovative cuisines, whether Western or local style. Whether a chef, restaurant owner, distributor, retailer or food manufacturers, come experience firsthand the inspiring lineup.
Regionally-renowned chefs Vindex Tengker and Jill Sandique will showcase how they use U.S. cheese in a variety of delectable dishes. Plus visitors will be able to better understand the ever-growing presence of U.S. suppliers committed to the region. The show serves as a one-stop opportunity to learn how the U.S. Dairy industry is at the forefront of responsible milk production and sustainability progress. Throughout the entire supply chain from farms to processors, we are continuously improving to provide exceptional animal care, preserve natural resources and produce sustainable, nutritious foods for the world.
Are there any new launches that you're excited about?
USDEC is proud to be the Official Dairy Partner of the World Gourmet Summit (WGS) in 2018. This has allowed us to elevate culinary innovations and delight consumers with U.S. cheese. This includes giving back to the impressive talent in the region by serving as a WGS Awards of Excellence Partner for Gourmet Retailer of the Year, Gourmet Distributor of the Year and the Chef's Choice Award earlier this month.
Have cheesemaking processes changed over the years?
Cheesemaking is booming with innovation because cheese is the ultimate flavour carrier. The four simple ingredients in cheese—milk, salt, starter culture (good bacteria) and rennet (an enzyme)—make the perfect landscape for countless flavour profiles. One small addition to the formulation and a new cheese is born. This creative ability is used by U.S. cheesemakers to produce more than 600 cheese varieties ranging from soft, fresh options all the way to hard, aged varieties.
The U.S. cheese industry is forging a reputation of being an artisan hotbed for the proliferation of all types of cheeses imaginable. While still a major producer of the most popular cheeses like mozzarella and cheddar, the United States is also home to hundreds of specialty cheeses, from European and Hispanic styles—among many others—to hundreds of American Originals, many of which have earned countless awards in globally recognised cheese competitions.
The care and detail involved in cheesemaking puts cheese in the craft foods category. Natural cheese is particularly known for its natural flavours and hand-crafted process. The new flavour combinations and elegant details cheesemakers are introducing increases cheese's appearance and quality. Ingredients such as rubs and decorative rims give a tasty, naturally flavourful twist to meal items.
Starting with humble roots and a melting pot of cultures, the history of U.S. cheesemaking dates back to the 1600s when the first settlers arrived in America. Since then, the wide availability of quality milk, found in all 50 states, has fuelled the entrepreneurial spirit and the industry has grown exponentially to become the world's single largest cheese producer with over five million metric tons of cheese manufactured every year.
Want more insider news? Subscribe to our e-book now!
SHARE WITH FRIENDS:
TAGS: