A New Level Of Flexibility
Monday, June 14th, 2021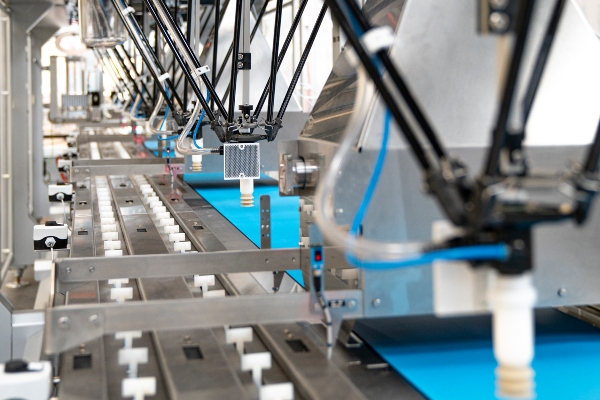 Streamlining handling and packaging processes by integrating robotic solutions
To remain competitive, food manufacturers need to cater to the everchanging demands of their customers. As innovation cycles in the industry become shorter, consumer preferences change even quicker than before. That puts manufacturers in a tough spot: They need to satisfy the industry's need for increased flexibility, while not compromising on the efficiency of their production. For many manufacturers, the solution involves increasing their production's level of automation. Depending on their capacities and individual requirements, they automate critical process steps, for example by integrating automated cartoning or product handling solutions. Alternatively, food manufacturers also opt for fully automated processing and packaging lines equipped with robotics technologies. Given their agility and high reliability, robots are able to address frequent product changes and can handle different products with ease. They ensure reliable, automated labour where repetitive tasks have to be carried out at high speeds, helping food manufacturers to increase efficiency and food safety.
Robotics Solutions Are On The Rise
The most important automation step for food manufacturers are robotic pick and place solutions, which make up the biggest segment in food robotics with about 40 percent—which equals a total market value of 700 million euros (Grand View Research). Seeing how the global megatrend towards more automation is far from slowing down, analysts predict that the robotic segment in food will triple in size within the next ten years. The pandemic has only added fuel to the fire, emphasising the need for efficient solutions that minimise manual handling by human operators—a task robots are perfectly suited for. Especially when handling and cartoning individually wrapped products and sensitive items, like cookies or bars, robotic top-loading equipment is key to meet the particular challenges of these products. 
Aided by integrated camera-based vision control systems, for example, robots can be used for a wide range of applications, such as handling multiple product streams in both primary and secondary packaging. 
Automating The Future
Recognising the megatrend early, Syntegon Technology has been offering robotic solutions for process and packaging technology for many years. Recently, the machine expert has added the Sigpack TTMD topload cartoner with seamlessly integrated delta robots to its portfolio. This solution combines the core technologies of the tried and tested TTM platform with delta robots, increasing its versatility and efficiency. The robotic solution's camera-based vision system detects products, which arrive in random order and orientation on the infeed belt. This way, each robot can pick single or multiple products and reliably places them in cartons, trays or other containers in a flat or on-edge position, which increases presentation options at the POS. Fast and tool-less format changes allow for quick vertical restarts and high overall equipment effectiveness. 
Check these articles out:
Coca-Cola Trials New Plastic-Free Packaging In Vital Sustainability Movement
Firmenich Opens Culinary & SmartProteins Innovation Hub In Singapore
Flexible Manufacturing: Adapting Quickly To Changing Markets & Events
The Value Of Blockchain Technology For The F&B Industry In Asia
Growing Applications Of HPP For Dairy Products
Rich, Indulgent Bakery Products Are Possible With Carabuta NH
SHARE WITH FRIENDS:
TAGS: