HKTDC Food Expo PRO and Hong Kong International Tea Fair
Monday, June 26th, 2023 | 1840 Views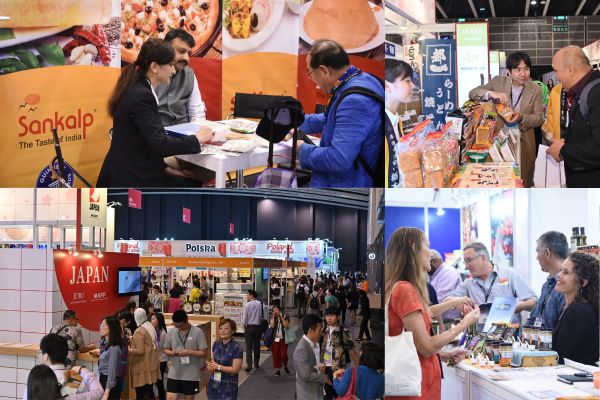 HKTDC Food Expo PRO and Hong Kong International Tea Fair to be staged together in August
Providing a one-stop professional business platform for F&B industry players
Food Expo PRO and Hong Kong International Tea Fair will be staged together from 17 to 19 August 2023 at the Hong Kong Convention and Exhibition Centre. The fairs are organised by the Hong Kong Trade Development Council (HKTDC). It will bring together a wide range of global speciality food and beverages, tea, and other related products. The purpose is to provide a one-stop sourcing platform for F&B importers, wholesalers, retailers, restaurants, hospitality groups, department stores and e-tailers. The fair is open to public visitors with ticket admission on the last day (19 Aug).
HKTDC Food Expo PRO: Asia's Key Trade Event for the F&B Sector
This year, the Food Expo Trade Hall will transform into Food Expo PRO. It will focus on B2B elements, providing a one-stop professional platform to help F&B industry players explore opportunities and build connections. Food Expo PRO will feature the 'Food Science and Technology' zone. There are also pavilions from various countries, including Mainland China, Japan, South Korea, and Poland. Other product categories include food packaging, labelling and logistic services, food processing products, machinery, and halal food and beverage products.
The concurrent Hong Kong International Tea Fair brings together a variety of products. It will showcase tea and related products such as tea packaging, teaware and tea technology. Serval provinces from Mainland China will set up group pavilions at the fair. Also, the Sri Lanka pavilion is returning this year, bringing in Ceylon tea products.
The two fairs will continue to adopt the HKTDC's EXHIBITION+ model, which integrates online and offline elements. Face-to-face interactions from physical events will be extended to the smart business platform, Click2Match, which will be open to participants from 10 to 26 August.
International Conference of the Modernization of Chinese Medicine and Health Products (ICMCM)
In addition, the International Conference of the Modernization of Chinese Medicine and Health Products (ICMCM) will be held at the same venue as HKTDC Food Expo Pro on 17 and 18 August. The ICMCM is jointly organised by the Modernized Chinese Medicine International Association (MCMIA) with the HKTDC and eight scientific research institutions. It aims to deliver professional insights into Chinese medicine at the show.
Visit these website for more information:
Food Expo PRO
Hong Kong International Tea Fair
ICMCM
Concurrent public fairs:
Food Expo
Beauty & Wellness Expo
Home Delights Expo
For enquiries, please contact:
Media Relations, Exhibitions Department
Hong Kong Trade Development Council (HKTDC)
Doris Cheng Tel: (852) 2240 4606
Email: [email protected]
Leila Cheng Tel: (852) 2240 4049
Email: [email protected]
About HKTDC
The Hong Kong Trade Development Council (HKTDC) is a statutory body established in 1966 to promote, assist and develop Hong Kong's trade. With 50 offices globally, including 13 in Mainland China, the HKTDC promotes Hong Kong as a two-way global investment and business hub. The HKTDC organises international exhibitions, conferences and business missions to create business opportunities for companies, particularly small and medium-sized enterprises (SMEs), in the mainland and international markets. The HKTDC also provides up-to-date market insights and product information via research reports and digital news channels. For more information, please visit: www.hktdc.com/aboutus. Follow us on Twitter @hktdc, LinkedIn
More Industry News
New Kerry Manufacturing Site in Indonesia to Create Authentic Asian Flavours
The Paris Agreement & What It Means for the Food Industry
Reducing Salt Without Compromising Taste
Solein, Protein Out of Thin Air
Food and Nutrition Top 5 Technologies Watchlist — 2023 and Beyond
WHO Advises Not to Use Artificial Sweeteners for Weight Control
Demand for Scientifically Proven Prebiotics
Proagrica and Lexagri Partnership to Benefit Global Agriculture Industry
Fish-Free Tuna Is in the Can
Sustainable Food Predictions 2023
Subway's Chocolate Chip Cookie, But Lower in Sugar
Cleaner Labels In Infant Milk Formula