Hiperbaric Receives 2019 European Technology Award For High Pressure Technology Innovation
Tuesday, December 10th, 2019 | 1138 Views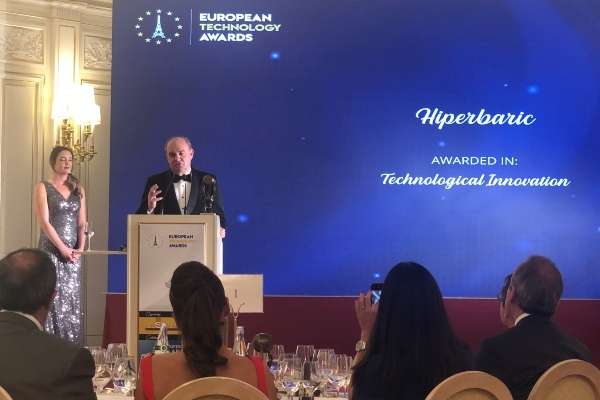 Hiperbaric received The European Technology Award on December 6 at the Ritz Hotel in Paris.
The organisation rewards the work of professionals, companies and institutions in the European technology sector. The European Technology Awards create a space for exchange and knowledge, bringing together leading professionals, companies and institutions. As a technology-based and benchmark company in its sector, Hiperbaric was awarded in the Technological Innovation category.
"We are honored to receive this award, which recognises leading European professionals and companies that have made innovations in their industries," said Andres Hernando, Hiperbaric CEO. "Hiperbaric has a 20-year history of innovation and we continue to make R&D a major focus of our company."
Hiperbaric invests more than 10 percent of its net profit in R&D and more than 20 percent of its staff is directly or indirectly involved in R&D projects.
Hiperbaric recently celebrated its 20th anniversary at which it announced the expansion of its facility in Burgos, Spain, and its latest innovation, Hot Isostatic Pressing (HIP) for post-processing metal parts with additive manufacturing.
The company began its journey in the field of high pressure in 1999 with the development of its first HPP (High Pressure Processing) equipment, a technology that employs high isostatic pressure (up to 6000 bar) to extend the shelf life of food and guarantee food safety. Hiperbaric is the world leader in this technology, thanks to its commitment to R&D and its more than 20 innovation projects.
Check these articles out:
Harnessing The Trend For Better Carbohydrates
Exploring Technology In The Food & Beverage Industry