F&N To Open S$80 Million Smart, Sustainable Facility In Singapore
Thursday, December 5th, 2019 | 1563 Views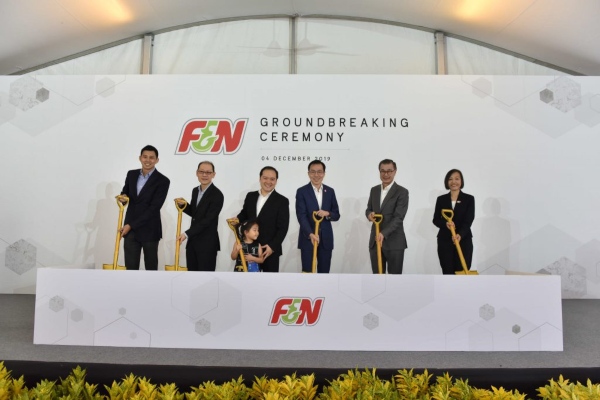 Fraser and Neave (F&N) is investing more than S$80 million to build its new smart and sustainable food and drinks facility in Tuas, Singapore. The new facility will consolidate its non-alcoholic beverages operations and will be completed in second half of 2021.
Occupying 375,000 square feet, this facility will expand its capabilities across various aspects—from production and warehousing to research and development. Housing its innovation centre, the company will accelerate translation of innovative ideas into finished products and expand its offerings with sustainable packaging solutions.
"Our investment in this new facility marks our confidence in Singapore's future, as well as its ability to meet rising global and local challenges. This investment also affirms our belief that Singapore has the best resources, infrastructure and talent to sharpen F&N's competitive edge locally as well as in the international marketplace," said Mr Koh Poh Tiong, Chairman of the F&N board executive committee.
Designed as a future ready, smart factory, the facility features state-of-the-art automated storage and retrieval system, which will support improved vertical integration and connectivity within the supply chain. It is among the first in the region to use this integrated system for manufacturing, warehousing and distribution of chilled products. Furthermore, the building will feature sustainable initiatives such as installation of solar panels and targets to obtain 10 percent of energy from renewable sources and recover 30 percent of water.
Singapore has focused efforts in the war on sugar, by introducing new nutritional labels and a total ban on advertising of packaged drinks with very high sugar content most recently. In line with this, the facility will help the company address the growing demand for healthier products.
"F&N's vision for growth mirrors the aspirations of Singapore on three fronts: Promotion of a healthier lifestyle for Singaporeans; championing liveability and sustainability, and challenging new frontiers as an innovation launchpad," commented Koh.
Check out these articles:
Could Sustainable Foods Save The Amazon?
Nutrition Options For The Immune System
Natural, Clean-Label Solutions For Beverages