Boost In The Consumption And Growth Of The Food Preservative Market
Thursday, May 26th, 2022 | 700 Views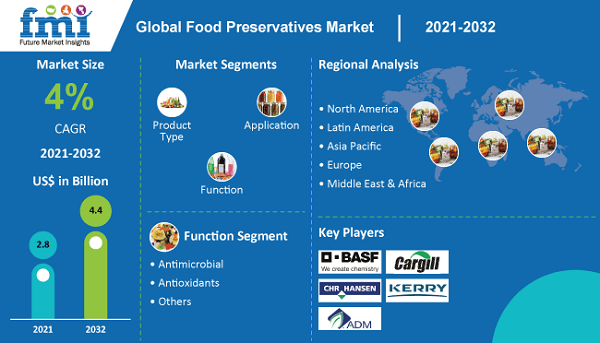 In 2021, the global food preservative consumption market is predicted to be worth USD 2,600 million, growing with a CAGR (compound annual growth rate) of 6.8% to reaching USD 5,019.8 million.
Customers' demand for convenient food such as ready-to-eat or ready-to-cook that has a longer shelf life due to changing lifestyles and dynamic routines has increased and is predicted to grow rapidly because additives are widely utilized in most processed foods to extend shelf life.
Despite the fact that synthetic preservatives are more efficient, customers are opting for natural ingredients, which has fueled the expansion of natural food preservatives and additives like rosemary extract, which has antioxidant characteristics. The growing popularity of natural & organic preservatives and chemical-less foods may provide a challenge to the sector's expansion.
As a result, companies should focus mostly on natural preservatives in order to connect with consumers' interests and sustain preservative demand. The global food preservative consumption market is expected to rise in response to rising health consciousness and increased demand for processed foods.
Key Takeaways:
Increased sales and demand of alcohol such as beer and wine, and also soft drinks and fruit juice, is expected to boost growth for food preservatives in the beverage market.
In 2021, the worldwide antioxidants market is predicted to be worth USD 4 billion, which is predicted to grow at a CAGR of 6.6 percent to reach a worth of USD 8.1 billion for the forecast period.
In terms of food preservative sales, North America is one of the most important regions due to various driving factors. Having a market valuation of USD 642.2 million and a market share of nearly 65 percent in the North American region, the United States is considered to be the market leader in this region.
China has a market share of about 32% in the Asia Pacific region, with an approximate valuation of a market of USD 166 million. It is expected to rise at an astounding rate, with a prospective market expansion.
"Various driving factors like rising population worldwide, changing taste and preference, hectic and dynamic lifestyle and demand for food products with longer shelf life have influenced the manufacturers to include the use of food preservatives in order to align with consumers interests and hence increasing the application and demand for this segment assisting the growth in the global market," says a lead analyst at Future Market Insights.
Competitive Landscape:
The food preservative market has huge potential for growth and expansion owing to various driving factors. Companies are investing in the research and development of various practices that can boost the production of natural preservatives as there doesn't exist any mass production method to manufacture natural preservatives.
With a wide array of applications from the pharmaceutical industry to the food & beverage sector, preservatives are considered one of the important components that not only increase the shelf life but also provide confidence to consumers about the safety of consumption.
Antioxidants are used in the pharmaceutical industry as supplements and in the food industry to help preserve food products.  Developing economies have discovered fresh growth potential by concentrating on natural antioxidants like rosemary extract. In the food & beverage industry, antioxidants are commonly used as preservatives. Other companies, such as the pharmaceutical industry and animal feed, are expected to see greater demand as the world's population rises exponentially.
Explore More Valuable Insights
An ESOMAR-certified market research and consulting firm, in its new report, offers an unbiased analysis of the global Food Preservative market, presenting historical data (2017-2021) and estimation statistics for the forecast period of 2022-2032.
The study provides in-depth insight on Food Preservative based on Product Segment (Natural, Synthetic), Function Segment (Antimicrobial, Antioxidants), application (Dairy and milk products, meat, poultry, and seafood products, Bakery products, Beverages products) and across seven major regions of the world (North America, Latin America, Europe, East Asia, South Asia, Oceania, and MEA).
These insights are based on a report on Food Preservatives Market by Future Market Insights.
MORE FOR YOU:
What Mintel's 2022 Global Consumer Trends Research Mean For South East Asia
Coca-Cola Announces Change To Its Bottles
India Stands Between World And Food Riots
Evo Foods And Ginkgo Bioworks Announce Partnership To Develop Animal-Free Egg Products
Next Gen Foods Appoints Two New Board Members
Edible Fungus Market To Surge At 8.5% CAGR Due To Reluctance To Meat Consumption
Tradition Meets Trend: Soyfoods are a Mindful Choice
Smart City Kitchens Expands With Its Newest Facility In Bedok, To Revolutionise Singapore's F&B Industry
To not miss our exclusive articles, follow us on our social media platforms LINKEDIN, FACEBOOK, TWITTER
WANT MORE INSIDER NEWS? SUBSCRIBE TO OUR DIGITAL MAGAZINE NOW!