Asia Pacific Agri-Food Innovation Summit: Accelerating Innovations In Post-COVID Recovery
Tuesday, September 29th, 2020 | 1375 Views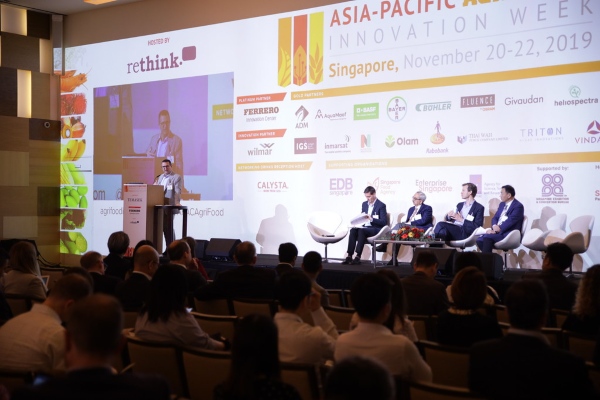 The Covid-19 pandemic has placed unprecedented stress on our global food system, from labour shortages at harvest time, to broken distribution channels leaving produce stranded at source and unable to reach consumers, as entire countries faced national food shortages.
As we start to emerge from the crisis, armed with new clarity about which new solutions are needed to boost supply chain infrastructure and safeguard against such global shocks in future, the Asia-Pacific Agri-Food Innovation Summit on November 18-20 is poised to provide a vital platform for knowledge exchange and new partnerships.
The summit, organised by UK-based Rethink Events, is delighted to welcome global investment company Temasek as Key Partner for a second year, with the valued ongoing support of the Economic Development Board of Singapore (EDB), Enterprise Singapore and A*STAR (Agency for Science, Technology and Research). Major industry partners already confirmed include ADM, AquaMaof, Bayer, Givaudan, Roquette, Thai Wah, Triton and Yara.
Rethink's Managing Director, Jennie Moss says: "With Food Security top of the agenda, the summit presents a timely platform for critical conversations focused on building resiliency in the Asia-Pacific agri-food system, drawing together experts from across the region and globally. There's never been more urgent need to discuss how technology and investment can have the greatest impact on the agri-food value chain."
Building resilience post-Covid is just one of the challenges faced by a region already at the sharp end of climate change and population growth, forcing farmers, food brands and governments to take notice of new sustainable solutions to tackle soil health, crop resilience, localised food production, obesity and diabetes.
From digital technologies that support the region's smallholder farmers, to new frontiers in urban farming, alternative proteins, health and nutrition, the summit will address the most important challenges and opportunities in the Asia-Pacific Agri-Food system.
Supporting the continued growth and development of Singapore as a global agri-food innovation hub, the summit's Start-Up Pitching Sessions will spotlight the game-changing regional innovators tackling the challenges ahead – a must-see for investors and corporates vying to work with pioneering start-ups.
The online virtual format opens the summit to a wider local and international audience, with major agri-food businesses and investors joining from the US, Europe and Australia in addition to regional government agencies, SMEs and start-ups from Singapore, India, China, Thailand, Vietnam, Malaysia, Indonesia and the Philippines.
Geared to maximise networking and opportunities for collaboration, the summit platform offers one-to-one video meetings, small group discussions, and a networking power hour to meet new faces and enjoy informal networking. Recorded sessions will be available to watch on demand for one month after the summit.
Jennie Moss, Rethink Events said: "Innovation and investment in agri-food never stand still, and nor can we. We're excited to bring our proven virtual format to this important summit, continuing to connect all the keystone influencers throughout the Asia-Pacific agri-food value chain. The outcomes from the strategic partnerships and technology discoveries made during the summit will have global impact, and we're honoured to be able to facilitate that process."
Check these articles out:
Kerry Ranked #5 On FAIRR list Of Global Companies Actively Providing Plant-Based Ingredients For Foods And Beverages
GlobalData: China-Australia Tensions Scupper Dairy Deal
The Value Of Blockchain Technology For The F&B Industry In Asia
Bühler Develops Digital Solutions With Microsoft For A Sustainable Food Industry
GrabFood Unveils Merchant Solutions And 1st GrabKitchen In Singapore
CP Kelco Stays Connected With Innovative Virtual Experience
Grow Asia Announces New Collaboration With Philippine Business For Social Progress
Launch Of The First Global Urban Farming Platform